Klopp's Eleven: The Missing Piece
Throughout the decades of supporting Liverpool, it's always felt like we needed a few top class additions to the team.
I've seen us win almost everything on offer and am hoping that this season makes it a full house. Yes, the last time Liverpool won the league, I was 3 years old.
We've had some great players over the years but it's never really been the case that we've had a great overall team for long periods of time.
Before Klopp arrived, the best Liverpool team I'd watched play was undoubtedly Rafa Benitez's 2008/09 team.
We had Reina, Arbeloa, Carragher, Hyypia, Aurelio, Mascherano, Alonso, Gerrard, Riera, Kuyt, and Torres.
If you're looking for weaknesses in that team, it's probably the wingers. Nevertheless, it was a team that should have won a lot of trophies.
When Klopp arrived at Anfield, he had a huge task on his hands. Most people, including rivals, would admit that Liverpool were still one of the biggest names in world football. However, we'd certainly fallen from grace in the trophy-winning department.
It wasn't that long ago that I was having to watch the likes of Manquillo, Cissokho, Poulsen, Spearing, Cole, Lambert, Balotelli, Borini, Aspas, and Assaidi play in the Red shirt. There are countless others, too, who simply weren't anywhere near the required standard.
Since then, Klopp has created a team that fills me with pride. So much so that there aren't really any players that I'd want to be replaced. Even taking away my bias for the team, the first 11 is littered with players who would be considered to be in the top 5 in their positions in world football.
Alisson, Roberston, van Dijk, Alexander-Arnold, Fabinho, Mane, Salah, Firmino. These are all names that could easily feature for other top teams in the world. Even after those, we have players who are more than capable of playing for a club the size of Liverpool. Wijnaldum, for example, is one of my favourite players at the club and plays his role so well these days.
Nevertheless, there is one player that I believe would truly improve this team and would fit perfectly into Klopp's plans.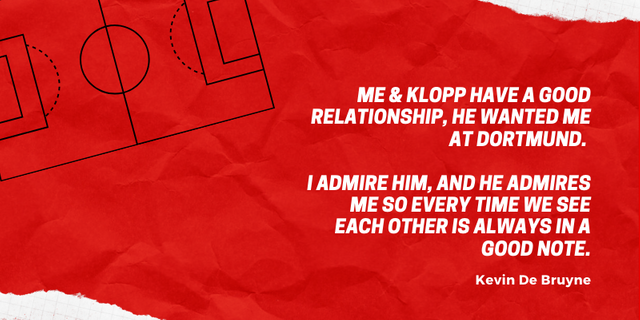 That player is Kevin De Bruyne.
Unfortunately, De Bruyne plays for Manchester City and they're very unlikely to sanction a deal that sees him move to Liverpool. But can you imagine how intimidating it would be for other teams to see him lining up in this current Liverpool side?
Alisson; Alexander-Arnold, Matip, van Dijk, Robertson; Fabinho, Wijnaldum, De Bruyne; Mane, Firmino, Salah.
For me, he's the one potential missing piece of the jigsaw for Klopp but we're probably never going to see it happen. For now, I'll have to dream of him in that famous Red shirt.