The Rock Siap Kabulkan Permintaan soal Sabuk 'Abal-abal' di UFC 244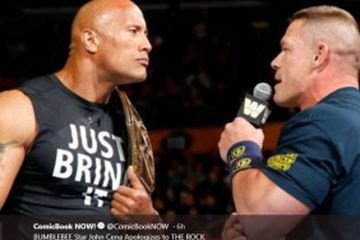 The Rock bersedia mengabulkan permintaan petarung UFC, Jorge Masvidal, dalam duel melawan Nate Diaz pada ajang UFC.
Ajang seni bela diri campuran UFC mengonfirmasi petarungan tanpa perebutan gelar juara di kelas welter antara Nate Diaz dan Jorge Masvidal pada event UFC.
Duel Nate Diaz vs Jorge Masvidal direncanakan akan menjadi tajuk utama dalam UFC yang rencananya digelar pada 2 November 2019 di Madison Square Garden, Amerika Serikat.
Pertadingan Diaz vs Masvidal bakal menjadi main event UFC, menggantikan perebutan gelar juara kelas welter Kamaru Usman vs Colby Covington yang terkendala negosiasi.