LIVERPOOL FC CONFIRMED MANCHESTER CITY TO 4TH POSITION
The English premier league is one league that I can't get tired of. Everything about the league is awesome, the other thing I love about the league is that you can get beaten by any team.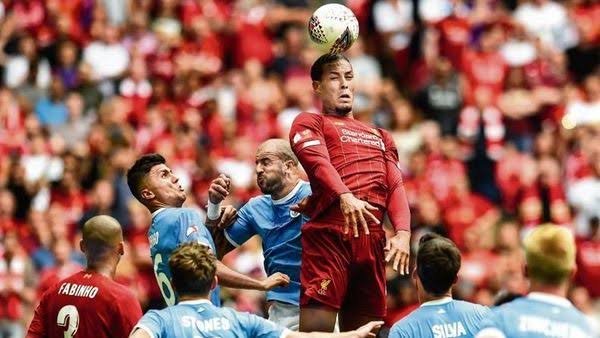 credit
Now back to the Liverpool fc game between them and Manchester city, it was one game full of suspence amd anxiety. You just have to see how I was really focusing on the game. What really caught my eyes is that Fabinho awesome long distance goal, the goal was superb. You just have to consider the power behind the ball, and how he manage to place the ball.
After that crazy drive from Fabingo, another goal came from Mohammed Salah. The dude was so much on good form against. Manchester city were trying to play Mane out, thereby leaving Nohammed Salah to shine. So the pull out cane through Arnord and it was neatly converted well. I thought it will end there but Liverpool fc makes it 3rd from mohammed Salah cross to Sadio Mane. Later, Manchester city got a consolation goal and it was not bad, the only issue is that Machester city fall to 4th position following that lost.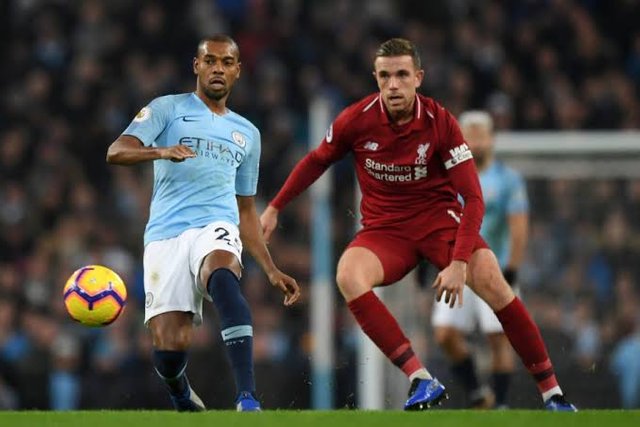 credit
Match fixtures
England - FA CupNovember 12
20:45Yeovil Town? - ?Hartlepool United
England - National League NorthNovember 12
20:45Hereford? - ?Alfreton Town
20:45King's Lynn Town? - ?Leamington
20:45Spennymoor Town FC? - ?Boston United
England - National League SouthNovember 12
20:45Billericay? - ?Wealdstone
20:45Welling United? - ?Dulwich Hamlet
England - EFL Trophy:: North: group ANovember 12
20:45Scunthorpe United? - ?Sunderland
England - EFL Trophy::2 North: group CNovember 12
Canc.Bury? - ?Aston Villa Academy
20:45Tranmere Rovers? - ?Salford City
England - EFL Trophy:: North: group DNovember5 12
20:45Port Vale? - ?Newcastle United Academy
England - EFL Trophy:: North: group ENovember 12
20:45Burton Albion? - ?Mansfield Town
England - EFL Trophy:: North: group FNovember 12
20:30Bradford City? - ?Rochdale
England - EFL Trophy:: North: group GNovember 12
20:45Morecambe? - ?Carlisle United
England - EFL Trophy:: North: group HNovember 12
20:45Lincoln City? - ?Rotherham United
England - EFL Trophy:: South: group ANovember 12
20:00Gillingham? - ?Tottenham Hotspur U21
20:30Colchester United? - ?Ipswich Town
England - EFL Trophy:: South: group BNovember 12
20:45Crawley Town? - ?Oxford United
England - EFL Trophy:: South: group DNovember 12
20:00Walsall? - ?Forest Green Rovers
England - EFL Trophy:: South: group ENovember 12
20:45Cheltenham Town? - ?Newport County
England - EFL Trophy:: South: group GNovember 12
20:45Milton Keynes Dons? - ?Wycombe Wanderers
England - EFL Trophy:: South: group HNovember 12
20:30Peterborough United? - ?Cambridge United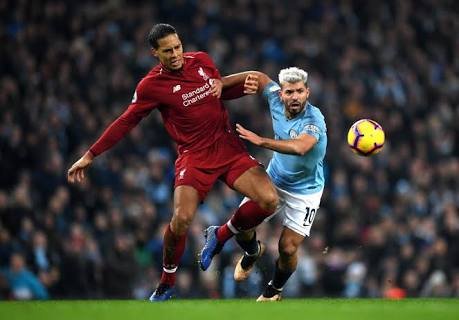 credit
Scotland - League 2November 12
20:45Annan Athletic? - ?Brechin City
International - Friendlies :: womenNovember 12
10:00Australia? - ?Chile
14:30Argentina? - ?Colombia
20:15Czech Republic? - ?England
World Cup U-17 - Play-offNovember 12
00:00Italy? - ?Brazil
Euro Women - Qualification:: group ANovember 12
20:00Netherlands? - ?Slovenia
Euro Women - Qualification:: group BNovember 12
14:15Italy? - ?Malta
17:00Israel? - ?Bosnia and Herzegovina
18:00Denmark? - ?Georgia
Euro Women - Qualification:: group CNovember 12
20:45N.Ireland? - ?Wal
Euro Women - Qualification:: group DNovember 12
18:00Poland? - ?Spain
Euro Women - Qualification:: group ENovember 12
19:30Portugal? - ?Finland
Euro Women - Qualification:: group FNovember 12
20:00Hungary? - ?Latvia
Euro Women - Qualification:: group GNovember 12
17:55Austria? - ?Kazakhstan
Euro Women - Qualification:: group HNovember 12
19:00Switzerland? - ?Romania
20:30Belgium? - ?Lithuania
Euro Women - Qualification:: group INovember 12
14:00Greece? - ?Ireland
Argentina - Primera B Metropolitana:: aperturaNovember 12
01:10Los Andes? - ?Flandria