CHRONICLE MATCH MALE VOLLEYBALL SM2 VOLLEYBALL ROTOGAL BOIRO - CALASANCIAS CORUÑA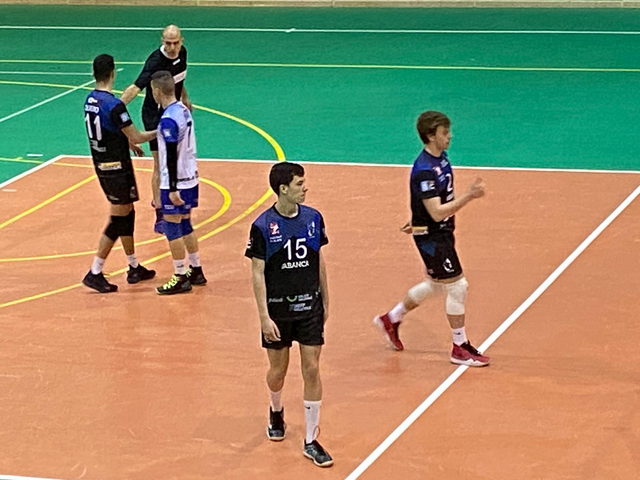 Saturday, February 1st. Alonso Rodriguez Municipal Pavilion (Noia). 19:00 h
ROTOGAL BOIRO: Alvarez, Iglesias, Cebrian, Giraldo, Retuerto, Moreno and Alves (initial team), Garcia, Dieste, Negrón, Iglesias, Davila, Souto, Ordóñez and Outeiral
CALASANCIAS CORUÑA: Isma, Pena, Queiro, Asier, Ioritz, Deus and Joel (initial team), Hinojosa, Tito, Besteiro and Losada
REFEREE: Suárez de Tena y Vázquez
RESULT. 3 - 0(25-14, 25-17 and 25-22)

Clear victory of the Rotogal Boiro against Calasancias Coruña in the match played last Saturday in Noia in the 15th day of the Superliga 2 Men Volleyball. The local team, displaced to Boiro due to problems in their pavilion, showed clearly why they are in the first position of the classification, and how the great team is strengthening high level players to fight for the promotion to the first category of national volleyball.
The first set was totally dominated by Boiro, with a Calasancias Coruña with too much respect for the rival, making numerous errors in reception and attack, which was enough for Rotogal Boiro to totally control the set, thanks to his good serve and a powerful block.
In the second set Calasancias Coruña started to develop his normal game a bit more, with a good placed block and a good defense, starting to attack effectively, even in spite of the great local block. The dominance of the home game was clear in the second half of the set, which served Rotogal Boiro to score without major complications.
The third set was the most disputed of the match, with a good defense of both teams against good combinations of attack from both sides, offering the d os teams in some moments of this set a good level of play. The score remained very even throughout the set, although always controlled by Rotogal Boiro. At the end of the set Calasancias Coruña committed again some errors in reception and attack, which served Rotogal Boiro to finish the set and the match in a comfortable way.
Calasancias Coruña will receive next Saturday the junior national team in the Barrio de las Flores, which although it is not an easy rival for the Coruñeses, it will serve to start taking the pulse of the competition, which from that moment on will be vital for Calasancia's aspirations to achieve permanence in the competition, as in the next four matches they will face direct rivals for that objective.