Entrepreneurship life, a new networking community, and a Splinterlands maxed summoner raffle!
Life doesn't always seem fair.
Not everyone can be like Jeff Bezos, and have their own Amazon.
Nor can they be Bill Gates and end up founding the Microsoft corporation.
Let's face it, not many people can compete against the skills of entrepreneurship demonstrated by the legendary Warren Buffett.
That doesn't mean you can't be as financially successful as any single one of those 3 guys, of course it's not usually a roll-of-the-dice to make it happen, so you typically have to work night and day to achieve the lofty lifestyle that so many people desire.
Granted, of course, not everyone has it so hard. Some people are born into wealthy families and don't have to work too hard for much of anything. To be honest, this can lead to much more trouble later in life, I would say to anyone reading this to try out being financially poor, at least once, for a few weeks, if not longer.
not financial advice
Don't give all your money to charity then come complaining to me about it! lol
Aside from those who are just born into more financially supportive situations, people are naturally talented in certain areas of life which make them more efficient with their skills than others who can do the same thing, just maybe not quite as good or as fast. But that's life, we take what we're given and work with it.
I wish everyone had more success stories, because I want to live in a world where people are happy. Nothing makes me smile more than seeing someone else who has started from the bottom and is either climbing their way to financial freedom, or has already successfully achieved it.
Far too many people are struggling to survive, living on the streets, begging for food, stealing, and plenty of even worse things. I want to do as much as I can to help this terrible situation.
I've been as close as it gets to living under a bridge without having to actually set up shop there, but I did start looking at one point, weighing my options. I know exactly what it is like to be down to your last straw, and penniless to top it all off.
Sadly, life in modern society is excruciatingly expensive! Basic necessities and simple everyday needs are being ignored in favor of things like hospital bills, rent, and credit card debt. People are going without food, water, and other things like soap, toothpaste, clean clothes, the ability to cook anything if they could afford to buy it, etcetera.
I'm sure many of you will understand what I'm saying. It's horrifying to see the cost of living in places like Las Vegas, or tourist destinations like San Francisco, Chicago, Miami, and others (too many to list).
High and rising costs are mainly the biggest reason I have chosen to work for myself for most of the last 20 years. Ever since I was a teenager, I was much happier buying bike parts and selling custom built bicycles than I ever would have been flipping burgers or bagging groceries. Through my twenties, I was buying and selling electronics that needed work, computers, phones, gaming consoles, and more.
It isn't always super successful, and I definitely have brought myself into what has seemed like it could be an even worse situation, but I am thankful every single day that I am MY OWN BOSS! I can choose who I want to work for, doing whatever it is I want to do, when I want to do it!
I have never been the type of person to settle for something I didn't really want, especially when it comes to employment. I've had job after job and not a single one of them was ever as fulfilling as sitting at home in a basement, doing my own thing, however, and whenever I wanted.
For several entrepreneurs nowadays, it's not much of a choice at all. With the job market the way it is, general education being as bad as it's ever been, and what seems like a (USA) government that not only doesn't care, but advocates for it to stay the way it is. People are likely to want to break away from all that madness and do something not involving working to keep a broken machine running.
Who can blame anyone that would decide to avoid being a part of what people call civilized society, today? Especially when you look around at the way things are being handled, and realize, there isn't much left that's civil, is there?
So I keep thinking, and thinking, and plotting, on how I can make the world a better place, for everyone.
Then, Steem-Engine came along.
As soon as I realized what was going on, I got more and more interested by the second! I was reading posts about how people who had virtually zero coding skills were making their own websites and tokenizing their own brands without much effort at all!
I'd heard of Palnet and Splintertalk, along with a couple of other front ends starting up, and it got my wife & I thinking, every day for the last few weeks. What can we set up, that will not only help us, but everyone else who uses it? A question we asked ourselves a few dozen times, was finally answered one night when we came up with what we thought may be a new word altogether. Intrepreneur.
As it turned out, the word wasn't completely "new" but it had a slightly different definition than that of what I had been considering for this brand itself.
Since we have a lot of friends who live all over the world, we figured something international made the most sense, not to mention, our aim is to help people everywhere, regardless of their geographic location. Particularly those who help themselves, which would be all but an incomplete list if it didn't include Entrepreneurs,
Thus, that has been the main focus while getting this mission started, Find entrepreneurs, tell them about Intrepreneur, and start building a community of people who are interested in talking about being their own boss, + all the fun (and not so fun) things the entrepreneurial life entails.
One of the first things we did was buy the website https://intrepreneur.life, We felt like the name described things quite well. Intrepreneur is about 2 things. Entrepreneurs living internationally, and life itself. Perfect!
Just to be clear, we have only purchased the domain, it is not yet active on Scot Bot but it will be soon.
Once all goes well, the site will be directed in the right place and working. Allowing those of you who have an interest to start using the int tag when making your Entrepreneurial-related-articles.
Staking has already been enabled, so if you have some INT already you can feel free to start staking them while the rest of the site is finished.
Intrepreneur is at the point now where it's almost able to function at a pretty basic level, including having a custom website. This has happened in less than a total of 3 days. (It's a lot faster when you have more disposable income to work with)
Income for us right now, is not exactly what I would call "disposable" We're cutting it close and have already started dipping into the few remaining dollars of our savings.
That's why I am about to ask for your help.
As you can see below, another 1000 ENG is needed so I can then submit the custom website information, and there is a certain amount of ENG required to be staked for each account as well. Which can add up.
Which is why there is INT currently sitting on the market for sale, in hopes that this project is attractive enough to persuade a few people into buying them, which would then allow me to buy and use/hold the ENG necessary to complete the rest of the setup.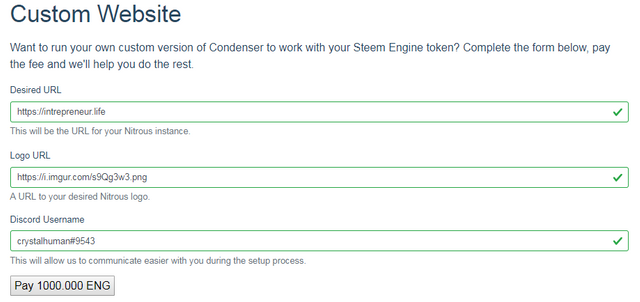 Will you help us with our mission?
Let's work together, and make the blockchain work for all of us!
@intrepreneur is currently seeking partners / team members. Please DM me (crystalhuman#9543) on discord if you have any interest in being a part of something completely new and potentially profitable.
I, @crystalhuman, will be giving out a few prizes to those of you who are interested in participating.
Since I still need at least 1000 ENG, I will do a couple raffles to go along with this cry for help fundraiser.
The prize for the first raffle will be a MAXED Delwyn Dragonscale! from everyone's favorite STEEM blockchain game, Splinterlands!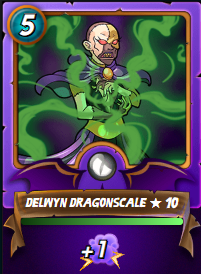 If you don't already know, this card is beastly!
I haven't even used this one, he's ready for his first battle! Will you be the lucky winner?
2nd, 3rd, and 4th place winners will each receive a level 4, Gold Foil, Delwyn Dragonscale!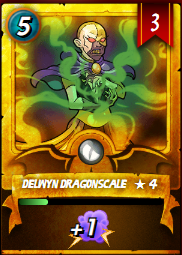 To enter to win one of these Delwyn Dragonscale summoners, all you have to do is send any amount of ENG to @crystalhuman, no memo required.
Price: 1 ENG per entry, for every 10 ENG you send, you get one extra free entry. (per 10)
Alternatively, you can enter the raffle by using STEEM or purchasing INT from the Steem-Engine market, here. For every 2 INT you send in you will receive 1 entry.
Send 20 or more INT for a free extra entry. (per 20)
Send 10 or more STEEM for a free extra entry (per 10)
I have set a minimum reserve of 250 ENG / 250 STEEM / 500 INT for the raffle to take place, if there aren't at least 250 ENG/STEEM or 500 INT sent in then the raffle will be canceled and all entries will be refunded! (totals will be combined)
Raffle ends on 7/15/2019
Good luck to all who enter!

Read @intrepreneur's first post and participate in the quest for free INT!