Splinterlands Daily Quest Rewards 08/11 - Silver League I

Falta menos de uma semana para acabar mais uma temporada do Splinterlands Steem Monsters. Reparei que estava estagnado na Silver League II e por isso decidi jogar até atingir a Silver League I, a daily Quest foi com o Water Splinter o que ajudou bastante para conseguir subir.
No começo deu um certo receio de gastar todo o capture rate e não conseguir sair do lugar... mas com algumas vitorias fui ganhando confiança e no final deu tudo certo, fiquei ainda com 75%.

Levei aproximadamente duas horas para ide de 1453 trofeus para 1602. Mas garanti 18 cartas de recompensa da temporada e agora recebo 4 quartas na quest diária.


Minha recompensa: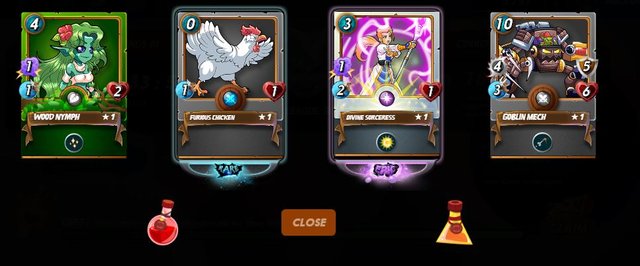 Wood Nymph
Furious Chicken - Rare
Divine Sorceress - Epic
Goblin Mech
Quero agradecer especialmente ao @viniciotricolor por ter me emprestado um Ruler of the Seas que me ajudou bastante.