Rental contracts for Splinterlands through PeakMonsters.com are the bomb!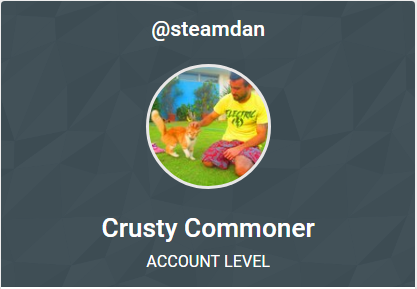 So, did you know you can deposit any amount of credits to your https://peakmonsters.com profile and start bidding, buying, selling and now renting other people's cards? This is an unbelievable feature as many players, don't have the resources to level up or max out, sometimes not even have cards that now don't need to sit through every season in some card hodler's collection, whom and this could be the case for many as well, don't have the time or hold too many cards... and that's how the rental market provides an opportunity for both parties to start leveraging each other out.
---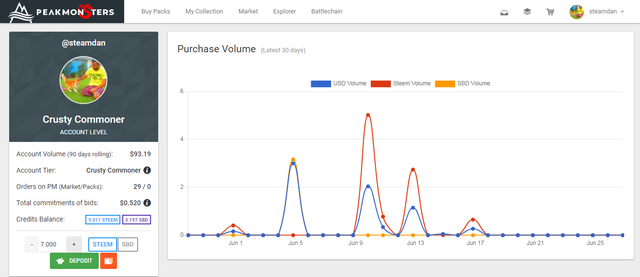 ---
If you want to rent a card you just need to first deposit enough credits in your PeakMonsters account, go to the MARKET tab and after opening any card stats, you will be able (as long as you're logged in) to click on the CARD RENTALS menu, as well as the bidding one, CARD BIDS tab, which serves to set buy orders for any card you want and for how many you can afford.
---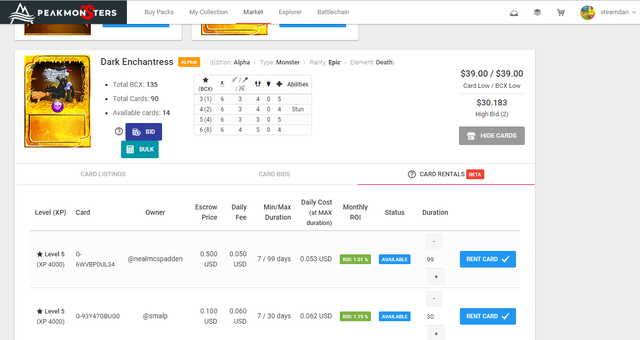 ---
This is a list each renter can take a look at in their profile as well.. There's a tab named Rental Contracts and it displays all of the cards you have rented plus their value and stats, such as length, remaining payment between others.
---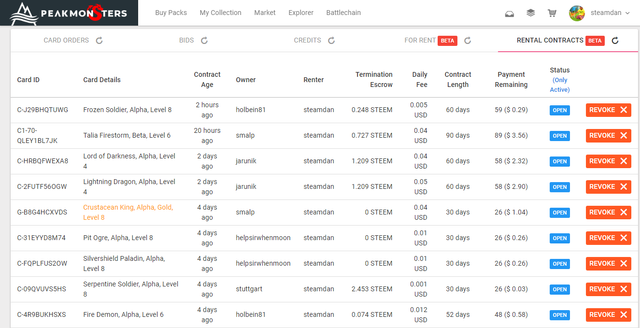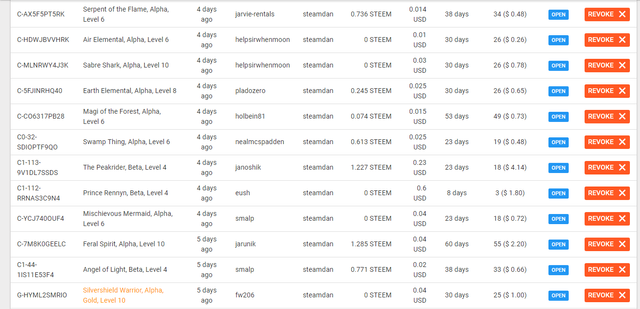 ---
If you check my list you will see that I have rented some cards even for three straight months (you can rent a card, depending on the owner parameters up to 180 days), this is plain awesome. And not only that but taking into account the fact that being a Gold level player myself, I have a decent set of cards but at the end of each season I had to basically get slammed and slow my pace as my cards aren't fully maxed for Diamond and Champion tiers, but now this rental feature has allowed me to finally take my playing a step further. I have reached the Champion II league for two seasons in a row, after barely making it to Diamond II in previous seasons. I can barely keep my happiness to myself, as now many members of the community have also helped me out, not only renting me cards but encouraging me to keep doing my best and allowing me to play with better cards.
---
Finally but not least I want to personally thank @mattclarke @beeyou @clove71 @sashas @em3 @jarvie @nealmcspadden and @yabapmatt, you are the main reason I am able to post this today, as you have made of me a greater player and improve towards my goals and overall path. I'm grateful to be a part of this momentum we have as a community and engaging members.. did I say the words Monsters Hodlers? Thank You!
Special thank you to @asgarth as well. As I know he is the wizard behind all of https://peakmonsters.com/ coding!
---
What are your thoughts on the rental market and using third party tools such as peakmonsters.com. Do you think leveraging both playing and functionality helps the game succeed at a much better level?
---
Still don't know what Steem Monsters is? It's a card collection and battle game built on the STEEM Blockchain! Get over here and start your SM journey!
---
Steem Monsters Official Discord server