STEEM Power UP Day! Guess Who Just Became Dolphin
Hello my dear Steemians!
My name is Ciska and today it is a SUPER important day for the Steem Blockchain! Sinds over a year there is a contest called STEEM POWER UP DAY!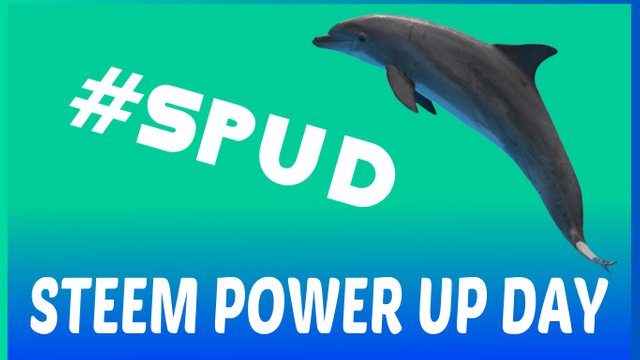 What is Steem Power Up Day?
These are the original rules:
On this day no one sells and no one sends Steem to any exchanges. On this day no one powers down and if you are already powering down, then Stop it for that one day and then start powering down the next day... those who can or are willing too, Power Up on the Designated Day.
Since I just started my witness 2 days ago, and publicly stated my goals for the Steem Blockchain, I think it is obvious that I am not going anywhere, quite the opposite actually.
Since recent developments, I believe now, more than I ever have, that the Steem Blockchain and Steemit will flourish and grow to an incredible sustainable ecosystem. Proud to be part of that!
I can call myself a dolphin now! For this, I had to reach 5000 SP and today I powered up 1400 to achieve that goal!
So don't panic sell your STEEM, POWER IT UP and increase your value and influence on the Steem blockchain!
Use the hashtag #SPUD and we will FIND you!
THANK YOU FOR BEING PART OF STEEM! 😍
@ciska is a WITNESS of the Steem Blockchain. If you want to read my statement and goals for Steem: My Witness Statement
If you like it, I appreciate your vote!
Click here to vote via Steemconnect
Or on the page > https://steemitwallet.com/~witnesses
Scroll down and type: ciska 👊