SPUD 5: STEEM POWER HOLDERS CAN PROSPER POST HF21/22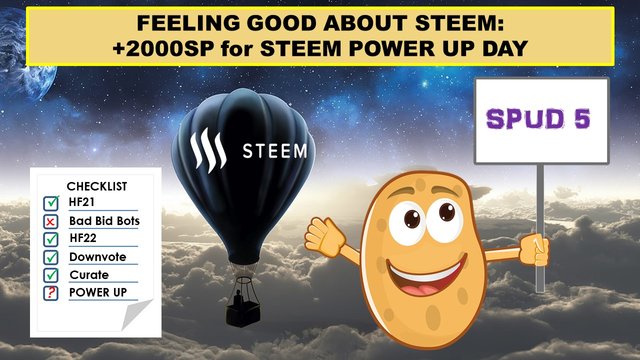 Today, 1 September 2019, is Steem Power Up Day FIVE organised by @streetstyle on his post here. I have joined the initiative by buying and powering up 2,000 SP to land at just over 13,000 STEEM POWER. I don't post on every SPUD day but this one is important - it feels great to be investing post HF21.
This move would have been unthinkable two months ago, I was demotivated by human behaviours on the Steem Blockchain and had some grave reservations about the incoming changes from the proposed hard fork.
My mindset has done a complete 180-degree shift; I'm comfortable investing and powering up as I have seen some significant improvements in both behaviours and operations as a result of HF21/22.
I wanted to celebrate SPUD 5 this week by mentioning 5 key benefits from HF21/22 and tagging 5 influencers to raise the awareness of SPUD 5. Maybe they would do similar and raise the profile of powering up in #newsteem.
5 Key Benefits I see from HF21:
Injured Bid Bots: For too long the reward pool has been abused and this has been facilitated by the bid bots allowing poor quality posts to earn high rewards. The bid bots earned Steem profits but surely, they contributed to a loss in Steem reputation and a major devaluation in the currency. It's easy to see the new economic model has disrupted the bid bot empire. They are injured and not performing, and I now hope that some of the owners will pivot their enterprise to earn curation rewards from sourcing high quality content.

Trending Cleanse – for the first time in my Steem journey I can see that trending is full of genuine organic posts which will showcase Steem in a better light compared to trending pre-HF21. We will no doubt see some post promotion which is absolutely fine with me as long as the author has a high regard for quality or adding value to the blockchain.

Curation rewards can fuel demand for SP - with a new economic model that supports a higher cultural regard for quality we could see an improvement in the content on the Steem Blockchain. What we might also see is an increased demand to hold SP and to earn from the curation rewards. A greater demand for SP should help the price of the token.

SPS Implementation - I liked the idea of carving out some of the reward pool to invest in community proposals, and I can see that this is now working, with the first payments going out to @inertia for the first approved proposal the "Documentation for Application and Tool developers on the Steem Blockchain" Here.

Proof of Tech Community – this tech community is impressive – HF21 went well & HF22 was seamless. I have confidence in the developers at Steemit inc, the witnesses and the decentralised independent developers that bring out Apps and Tools. The witnesses have shown vision, dedication and a high degree of technical competency. Development on Steem is high quality and we can count on even more positive change now that we have the SPS.
#NewSteem is great. The reputation of the Steem Blockchain can improve off the back of HF21 and perhaps we can now expect the downward pressure on price to diminsh and our collective investments to rise again.
Naming Five Influencers
Hey you guys…….@theycallmendan @pennsif @abh12345 @aggroed @starkerz have you powered up today: the community listens to your voice. Power Up & Share the News of SPUD 5 and maybe mention your top 5 benefits from HF21. There are prizes on offer for all redfish, minnows and small dolphins based upon their % of power up. SPUD 5 Prizes & Rules are Here.
PS. The only reason I'm not mentioning Mark @exyle here is because he treats nearly every day as a STAKE & SPUD day!! (So in that way I am sure he is already partaking in SPUD5).
Extract from Original SPUD Gangster: @streetstyle on prizes available:
SPUD5 PRIZES _The prizes are meant to incentivize the smaller Steemians, the planktons, minnows and barracudas out in the Steem Ocean to participate in powering up on SPUD, and hopefully create more understanding as to why Steem Power is what backs the Steem Economy.
1st Place
- 2500 Steem Power Delegation for 3 Weeks - Sponsor = @xpilar
- 2000 Steem Power Delegation for 3 Weeks - Sponsor @sultan-aceh - 15 Steem Power Gift - Sponsored by = @steemit-nz
- 20 Steem Basic Income Levels Gift - Sponsor @jlsplatts
- 5 Steem Basic Income Levels Gift - Sponsor @improv
- 1 Steem Basic Income Level Gift - Sponsor @braaiboy
- 0.1 BRAAIB token - Sponsor @braaiboy
2nd Place

-1500 Steem Power Delegation for 3 Weeks - Sponsor = @reflektor
- 1000 Steem Power Delegation for 3 Weeks - Sponsor = @hingsten
- 15 Steem Power Gift - Sponsored by = @cryptocurator
- 10 Steem Basic Income Levels Gift - Sponsor @jlsplatts
- 5 Steem Basic Income Shares Gift - Sponsor @improv
- 1 Steem Basic Income Level Gift - Sponsor @braaiboy
- 0.1 BRAAIB token - Sponsor @braaiboy

3rd Place

-1000 Steem Power Delegation for 3 Weeks - Sponsor = @bippe
- 5 Steem Basic Income Levels (shares) Gift - Sponsor @jlsplatts
- 5 Steem Basic Income Levels (shares) Gift - Sponsor =@improv
- 1 Steem Basic Income Level Gift - Sponsored by @braaiboy
- 0.1 BRAAIB token - Sponsor @braaiboy
4th Place


- 750 Steem Power Delegation for 3 Weeks - Sponsor = @streetstyle
- 5 Steem Basic Income Levels Gift - Sponsor @improv
- 1 Steem Basic Income Level Gift - Sponsor @braaiboy
- 0.1 BRAAIB token - Sponsor @braaiboy

5th Place


- 250 Steem Power Delegation for 3 Weeks - Sponsor = @streetstyle
- 5 Steem Basic Income Levels Gift - Sponsor @improv
- 1 Steem Basic Income Level Gift - Sponsor @braaiboy
- 0.1 BRAAIB token - Sponsor @braaiboy

6th - 20th Place


- 5 Steem Basic Income Levels Gift - Sponsor @improv
- 1 Steem Basic Income Level Gift - Sponsor @braaiboy
- 0.1 BRAAIB token - Sponsor @braaiboy
Plus

All eligible SPUD Prize participants
All who qualify will be entered into a giveaway of 5 STEEM (1 lucky winner) - Sponsored by @traciyork
(1 BRAAIB is worth ~ 13 STEEM (for South Africans anyway, when using them to buy food/beer in the real-world - non-S. Africa folk will have to wait a few more weeks before they have online value/use.)