15 Hours till #spud4steem
We are only 15 hours away from the start of the October 1st edition of #spud4steem, With over 14,000 in Steem power delegations to be won this promises to be the biggest #spud4steem on record.
🌎🥔🌎🥔🌎🥔🌎🥔🌎🥔🌎🥔🌎🥔🌎🥔🌎🥔🌎🥔🌎🥔🌎🥔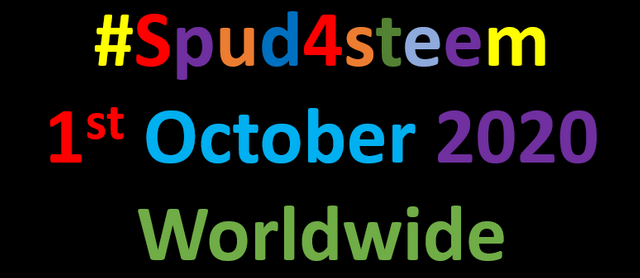 🌎🥔🌎🥔🌎🥔🌎🥔🌎🥔🌎🥔🌎🥔🌎🥔🌎🥔🌎🥔🌎🥔🌎🥔
What are the Prizes?
Check this list of AWESOME prizes on offer - imagine YOUR wallet for the next 21 days with one of these prizes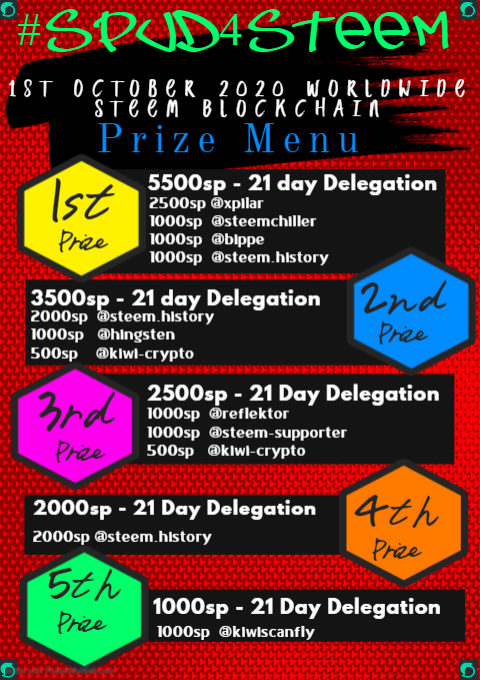 🌎🥔🌎🥔🌎🥔🌎🥔🌎🥔🌎🥔🌎🥔🌎🥔🌎🥔🌎🥔🌎🥔🌎🥔
@steemcurator02 will also provide some awesome upvotes, check this out!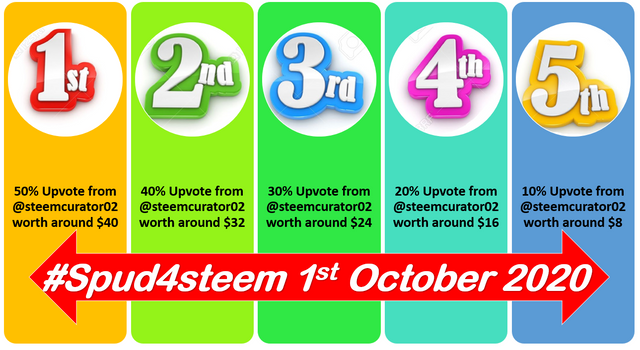 @stephenkendal is also providing some SBD's as prizes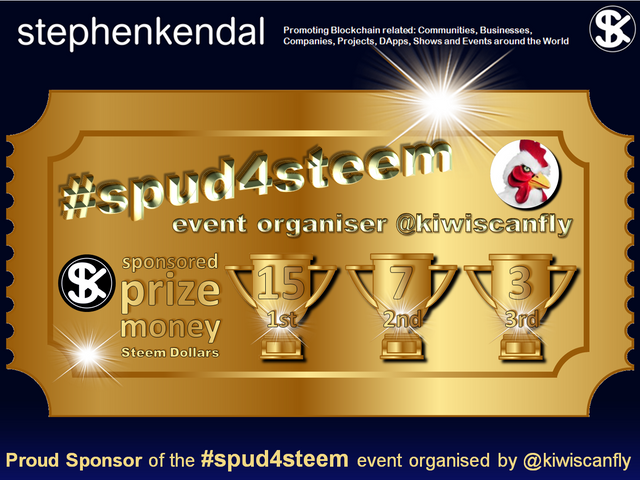 https://steemit.com/spud4steem/@stephenkendal/with-an-overwhelming-support-for-the-promotion-of-the-spud4steem-event-organised-by-kiwiscanfly-i-am-pleased-to-say-that-x21
🌎🥔🌎🥔🌎🥔🌎🥔🌎🥔🌎🥔🌎🥔🌎🥔🌎🥔🌎🥔🌎🥔🌎🥔
Entry requirements
This will show you the #spud4steem guidelines
https://steemit.com/spud4steem/@kiwiscanfly/5wqo3z-t-minus-5-days-till-spud4steem
🌎🥔🌎🥔🌎🥔🌎🥔🌎🥔🌎🥔🌎🥔🌎🥔🌎🥔🌎🥔🌎🥔🌎🥔
Sponsors
These awesome sponsors provide the great prizes on offer
@xpilar
@steem.history
@reflektor
@hingsten
@bippe
@kiwi-crypto
@steem-supporter
@stephenkendal
@steemchiller
@kiwiscanfly
@steemitblog
@steemcurator02
🌎🥔🌎🥔🌎🥔🌎🥔🌎🥔🌎🥔🌎🥔🌎🥔🌎🥔🌎🥔🌎🥔🌎🥔
Let the Countdown begin......
All pictures and graphics are designed and owned by me :)
I am @kiwiscanfly