Color Challenge Sunday - Purple
Pisaster Ochraceus - The Purple Sea Star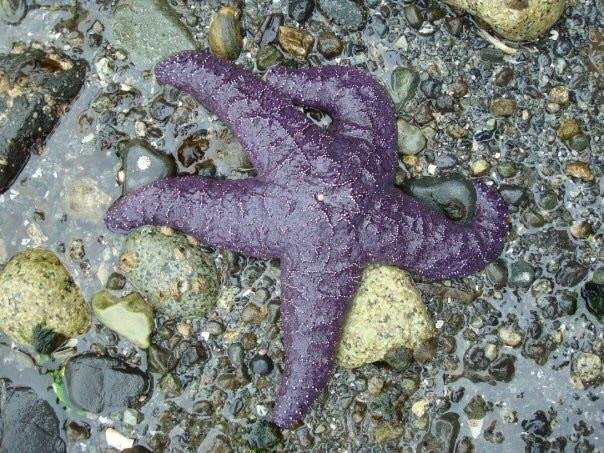 Photo by @dfinney Jan. 2010
The purple sea star (or starfish) used to be one of the most prolific creatures living along North America's western shore. Found in the Pacific Ocean's intertidal zone, the purple sea star is a keystone species for its habitat and a top predator feasting upon sea urchins and mussels. Their territory extends from Alaska in the north down to Mexico's Baja California.
The past several years have been a struggle for this species.
Beginning in 2013, this sea star, along with 20 other species, began dying off at an unheard of rate. The culprit was determined to be a disease called Sea Star Wasting Syndrome. While the cause of the illness is still undetermined (Virus? Climate Change? Bacteria?), the syndrome basically causes the rapid decay and melting away of the sea star's body. Some photos of the sad progression may be found HERE.
But all is not lost for this lovely echinoderm.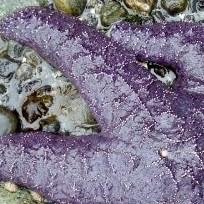 So purple. 💜
During recent surveys conducted in Washington State's San Juan Islands, population numbers of the purple sea star have made a comeback! 481healthy specimens were counted at a site on Orcas Island. This included both purple and orange sea stars which had also seen their populations decimated. Scientists hope a resistance may be developing to the disease.
So next time you are at the coast, take a moment to admire these resilient predators.
💜 dfinney
---
This post is part of the color challenge, originated here on Steemit by @kalemandra. To learn more about the color challenge visit her post HERE.
The photos in this post were taken by me on Washington State's Lopez Island in 2010.
This post originally appeared on my Narrative Blog August 23, 2019.😊
---