Happy sallah
I would like to wish you and your family a blessed Eid al Adha. Make the most of this auspicious occasion which fulfills the rites our Rubb (Lord), Al Mughni (Enricher) and Ar Razzaaq (Sustainer) has upon us and revives our faith!
5- Simple Reasons Eid al Adha Uplifts your Faith
1- It's Part of the Sunnah!
There is no better way to observe Eid al Adha than to follow in the footsteps of our Prophet Muhammad (peace be upon him) who said:
"The first thing to be done on this day (eid ul adha) is to pray; and after returning from the prayer we slaughter our sacrifices (in the name of Allah) and whoever does so, he acted according to our Sunnah (traditions)." (Bukhari)
Holding onto the traditions of our Noble Messenger (peace be upon him) always restores our faith and purpose in life.
2- Commemorates Prophet Ibrahim's (pbuh) Sacrifice
Is there a parent living today, who'd be willing to sacrifice a beloved son simply based on a dream?
Yet Prophet Ibrahim (peace be upon him) was willing to do just that. He put all his faith and trust in Allah Almighty, thus setting a remarkable example for generations of Muslims to follow. Contemplate and reflect on his sacrifice to give deeper meaning to your own faith.
3- The Spirit of Udhiyah – Sharing the Sacrifice
For many needy families, meat is a luxury that very few can afford. The Eid al Adha sacrifice is a great source of meat that is distributed to those in need as well as those closest to us.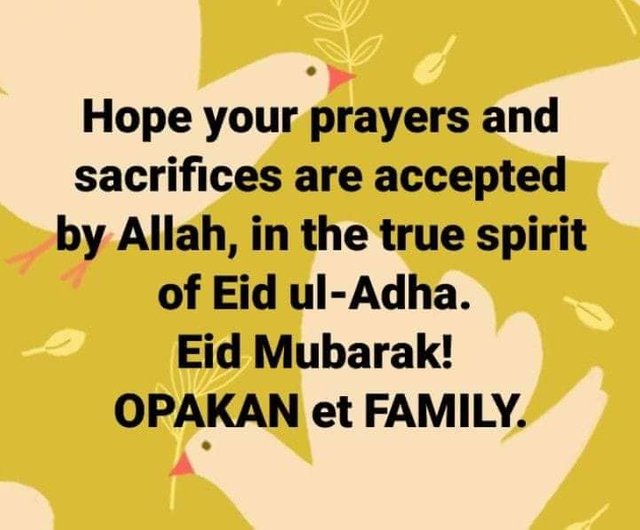 As the Prophet Muhammad (peace be upon him) said,
"I had forbidden you to eat from the sacrificial meat for more than three days so that those who could afford it could give to those who are poor, but now you can eat as you wish, feed others from it, and preserve some." (Tirmidhi)
Extending a helping hand to the less fortunate will give a boost to your faith and strengthen your heart.
4- A Sense of Community
For Muslims all over the world, waking up and rushing to attend the Eid al Adha prayer at the mosque is one of the greatest feelings in the world. To stand side by side with your fellow brethren in faith and in the worship of the One and Only Allah, rejuvenates your heart and mind.
5- It's a Family Affair!
Eid al Adha is truly a family affair! Family from near and far gathers on the blessed day of Eid to engage in worship and to share a meal that is cooked with the meat from the sacrifice. There is no denying the sense of gratefulness to Allah Almighty for all of His favors upon us and celebrating with your family works wonders in revitalizing your faith.
Personally, I honor the spirit of charity and sacrifice that brings community around the world together.
To all my Muslim brothers and sisters, I wish you Happy Eid Mubarak.
May the blessings that come with the season be for you and your family.
Vote for @surpassinggoogle as witness, simply visit https://steemit.com/~witnesses and type in "steemgigs" into the first search box for witnesses.
If you want @surpassinggoogle to make witness voting on your behalf, simply visit https://steemit.com/~witnesses and type in "surpassinggoogle" in the second box for proxy.
Join the Steemgigs Community on discord: https://d
Temmy8284