Pray for lautech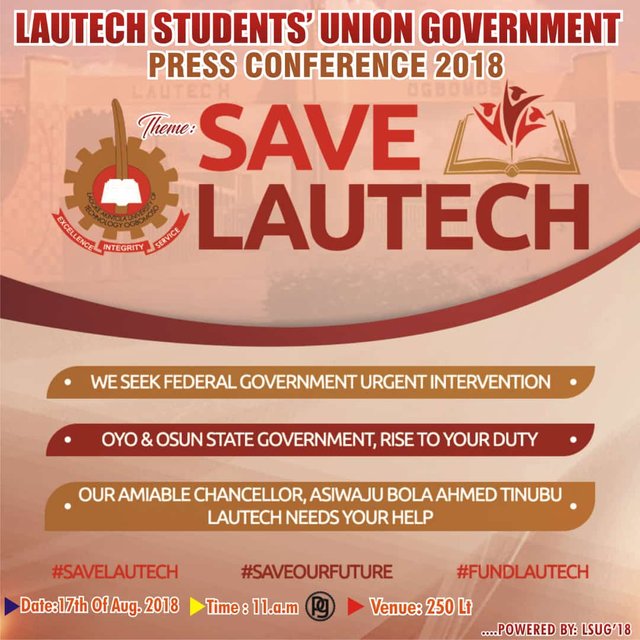 Due to some baseless and ridiculous accusation going viral on the person and office of the Speaker LSUG. In order for the students populace to know the true situation of things and so as not to mislead the public, I am compelled to write this rebuttal to set the record straight.
In line with the resolution of Lautech Parliament to firstly engage and consult appropriate quarters in order to have fact and figures so as to know where to direct our agitations to when confronting, we've met the leadership of ASUU, management and also a failed attempt to speak with the Governing council Chairman on phone due to his unavailability. We also intended to engage leading candidates in next month Governorship election in Osun state that will be the next occupant of the Government House to hear their plans towards the sustainability of our dear Institution. Lautech is in a critical situation and any aspirant willing to occupy the Government House of Osun must prioritize Lautech in his Agenda.
We've also engaged the Commissioner of Education, Osun state on Lautech issue of which he highlighted that the result of the Audit conducted by KPMG firm is yet to be received by the Government. This is a claim we are in a process of affirming.
While we intend to complete all consultations, after which the Speaker in exercising his constitutional power will convey a congress of the entire students so as to give a detailed briefing and the Congress will decide the next point of action.
Let me make this clear,
At no point did I or any of my representatives demanded or received the sum of #250,000 as alleged from anybody during our consultations so far, I challenge the mischief makers to give evidence to proof otherwise
Just because someone was alleged to have met with the S. A to the Governor or because I went against a Press Conference that I knew nothing about in its planning doesn't mean we should politicize these laudable consultations from the Parliament.
We shall never be deterred by anyone who want to score cheap political scores or who is benefiting from this current Lautech crisis..
We are committed to finding a lasting solution to this current Lautech crisis.
Lautech shall rise again!!!
Vote for @surpassinggoogle as witness, simply visit https://steemit.com/~witnesses and type in "steemgigs" into the first search box for witnesses.
If you want @surpassinggoogle to make witness voting decisions on your behalf, simply visit https://steemit.com/~witnesses and type in "surpassinggoogle" in the second box for proxy.
Join the Steemgigs Community on discord: https://discord.gg/CGuPyyT