STAR GIST - 42nd Birthday: 20 Facts About Nwankwo Kanu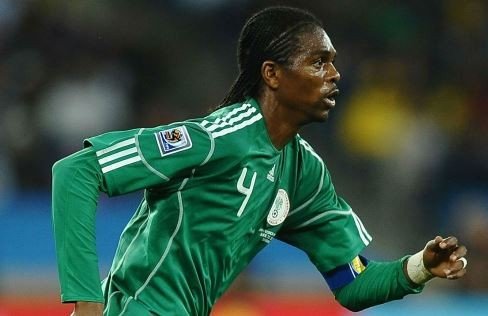 Kanu was born on the Nkwo market day and that led to him being named 'Nwankwo', born on Nkwo day.
He started out his professional career with Iwuanyanwu Nationale in the Nigeria Professional Football League in the 1992/93 season after impressing at Holy Ghost College in Owerri.
With five goals, he was second joint top scorer at the 1993 Fifa U17 World Cup alongside Peter Anosike and Manuel Neira. Nigeria won that tournament by defeating Ghana in the final.
He played for Iwuanyanwu Nationale, Ajax, Inter Milan, Arsenal, West Bromwich Albion and Portsmouth in his career that spanned 20 years.
Kanu is the first and only Nigerian footballer to be named African Player of the Year twice.
He captained the Dream Team, Nigeria's U23 team, to win Gold at the Atlanta '96 Olympics in the United States of America, the first time a team outside of Europe and South America had won the title.
In 2016, Kanu was named one of the 48 greatest footballers ever by the International Federation of Football History and Statistics (IFFHS). He featured in three World Cups (1998, 2002 & 2010) and six Africa Cup of Nations tournaments (2000, 2002, 2004, 2006, 2008, 2010).
Kanu was also a member of the Arsenal 'Invincibles', the Arsene Wenger-led side that went a whole season undefeated in the English Premier League.
Papilo is an Officer of the Order of the Niger (OON), the sixth highest Nigerian national honour.
In 2014, the Nigerian government named Kanu among the 100 most distinguished Nigerians during a ceremony to mark the centenary of the unification of Northern and Southern Nigeria.
Kanu did not score in all the Africa Cup of Nations and Fifa World Cup tournaments he featured in.
He won 86 caps and scored 13 goals for Nigeria and is the third most capped Super Eagles player of all-time.
He was owed wages of up to £3 million by Portsmouth from 2006 – 2012 but dropped the case against the club due to their financial difficulties.
Kanu made the third most substitute appearances in English Premier League history, appearing from the bench 118 times.
In 2015, he was named the 13th greatest player to have ever played for Arsenal.
With 60 games under his belt, Kanu holds the record for highest number of appearances by a Nigerian player in the Uefa Champions League.
His miss on November 14, 2004 against Middlesbrough was crowned English Premier League Miss of the Season.
He retired from international football after the 2010 Fifa World Cup in South Africa where Nigeria crashed out after the first round.
Kanu is a UNICEF Goodwill Ambassador and he runs the Kanu Heart Foundation for children and runs other businesses.
Compiled by Shina Oludare for Goal.com
Source:
https://www.tori.ng/news/102870/42nd-birthday-20-facts-about-nwankwo-kanu.html