STEEM-POCALYPSE SURVIVAL GAME SEASON 5 - DAY 4 ROUND 1 - 175 SBD Prize Pool So Far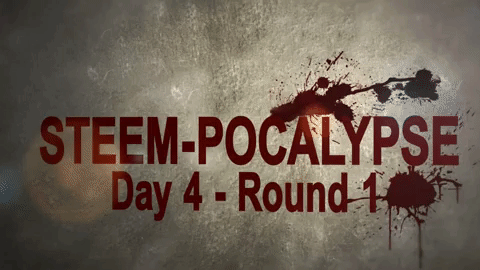 Exactly who was that man out there in the woods, and what happened to him?
---
In the last round, the players found a man in a tree. He appeared to be alive and unarmed.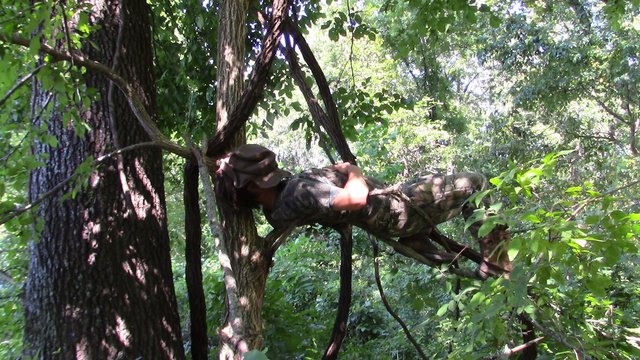 They were given the options of either leaving him alone and moving on, attempting to wake him and make friends, or trying to sneak up on him and strangle him to death so they could search the body for supplies. Let's see how they did.
To help @papa-pepper run this game, please DO NOT reply if you are not already playing this game. If you are playing this game, please do not reply to this post either, reply to my comment below that contains the option that you want to pick. I will provide a separate comment for each option given. If players do not reply to an Option Comment, they will be eliminated. Thank you.
DAY 3 ROUND 2 RESULTS
---
OPTION 1 - Try awake and greet the man.
---
The players who chose option one in the last round did not want to startle him, but they still wanted to awake him. The last thing they wanted was for him to fall out of the tree that he was sleeping in.
Gently, they began to say "Excuse me, sir" and lightly shake his shoulder. Before too long, he took the hat off of his head and looked around.
"Well, I ain't dead so must be friendly. Whatcha up to friend?"
The players are relieved that the man seems kind. "I was just fleeing the city because of all the mayhem and pressing on, looking for a safe place to settle down for a bit."
"Well," the man begins, "Getting out of that city is huge step in the right direction. I've been out here helping a few of those who have fled the city get ready for life in the woods. I'm glad that you woke me. Also, I'm not sure if that 'safe place' you are looking for can still be found these days, but I wish you the best of luck." The man signals for the players to follow him.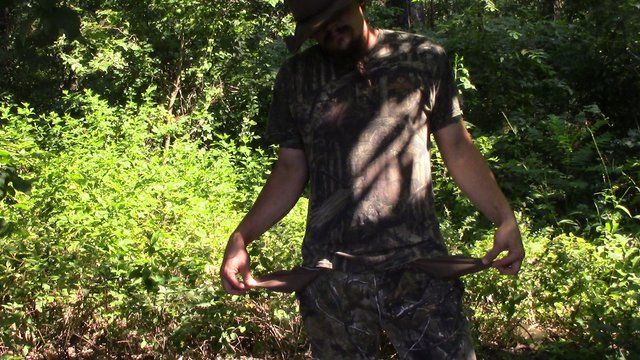 It could be a trap, but the man seems genuine so far. After a short distance, he turns and pulls out his pockets. "I've got nothing on me to give, but I can help you out a bit."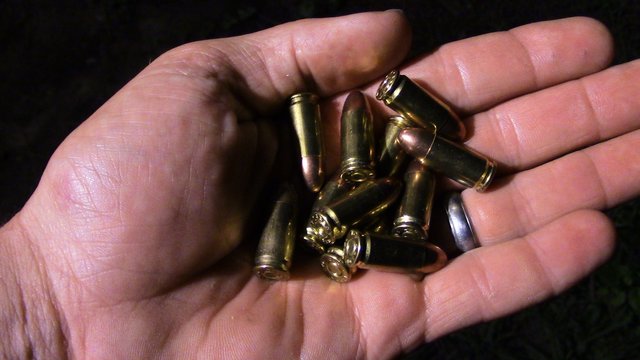 From under a nearby log, he pulls out a handful of ammunition. (The handful was not going to contain more than 4 or 5 rounds, but @xtrodinarypilot insisted that I load you guys up a little more.) The man says, I'm not sure if you are armed or not, but these could come in handy anyway."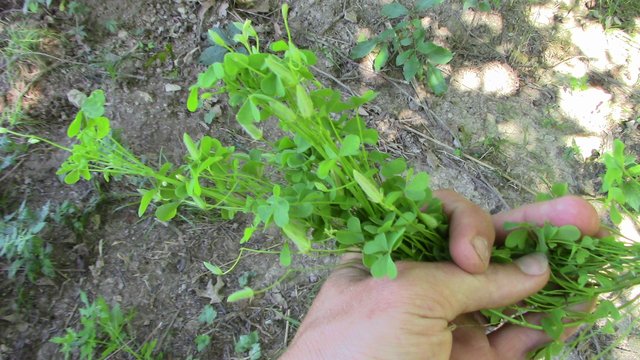 The man continues, "Also, this here is a good plant that can help you stay alive. Get familiar with the look, smell, and taste of it. That information might just save your life later." The man grabs up a handful and passes it to the players to eat. They know that this too could be a trap, but they choose to trust the man, and eat the plant.
"You've got to get going and I've got more people fleeing the city to find. I hope that that stuff will help you out… Also, please don't shoot me if you see me later." With that, the man disappears back into the woods and the players are left alone once again.
The players who chose Option One last round must now eat prior to the end of Day 5 in order to avoid starvation. They also have 11 rounds of ammunition. Please add the ammo count into your reply in order to not lose the ammunition.
---
OPTION 2 - Try to leave without disturbing the man.
---
Unsure of who the man is and what the situation was, many players chose to just sneak away without disturbing the man. While they did not gain anything by doing so, they also did not perish, which is good news.
No items were gained for players who chose Option 2 last round, but they are still alive.
---
OPTION 3 – Try to sneak up on the man and choke him to death in an attempt to take anything that he might have.
---
A few players chose Option 3 last round. Thankfully, it was not a trap. They cautiously snuck up beneath the man and then strangled him in his sleep.
He put up a bit of a fight, but they were still successful. Once he was dead, the players began to search his body. They came up completely empty…
The man had no supplies whatsoever on him. "Hmmm… It is a shame to just kill a man and not get something for it," the players thought. As they were considering trying a few bites so that they could at least eat because of it, a noise was heard in the distance.
Thinking that it may be something dangerous, and a little paranoid from having just killed somebody, the players chose to flee deeper into the woods.
No items were gained for players who chose Option 3 last round, but they are still alive.
DAY 4 ROUND 1 SCENARIO
---
The players are all working their way deeper in the woods and further from the city. It is getting darker and thicker out here in the woods.
Exactly how to proceed seems to be the main focus. Things like water, food, safety and shelter will all be periodical needs out here. Besides the potential dangers of other humans, there may also be dangerous animals out here in the wild.
As the players move through the underbrush, they hear a noise off to the side. Something or someone is rustling in the bushes. This could be another opportunity, or it could be a threat. Let's see what the options are.
OPTIONS
---
Options are limited this round. Things are rapidly progressing and decisions should be made with caution, so always choose carefully.
* OPTION 1 - Try to shoot into the bushes to kill it. (For players with a pistol and ammunition.)
---
* OPTION 2 - Try to run away as fast as you can
---
* OPTION 3 – Try to calmly and quietly sneak away from the rustling.
---
* OPTION 4 – Try to call out and search the bushes to see what it is.
PLAYER RESPONSIBILITY
---
Each player must reply to my comment below containing the Option that they wish to choose within the next 24 hours. If they do not reply to the comment of their choice, they will be eliminated. Also, any players who do not reply in time will be eliminated from gameplay and have to wait until Season 6 to try again.
Also, if your player has found anything, you must mention it when you reply or you will lose it. If your player found a pistol, then reply with something like the following:
I have an loaded pistol with 11 rounds of ammunition & Water Purification Tablets, I'll choose option 1 this round.
---
I will post an updated list of current players later. Thank you.
PRIZE POOL
---

The current Prize Pool is 175 SBD.
A Special Thanks to @liberty-minded for Providing the Title Gif.
---
---
Until next time…
Don't waste your time online, invest it with steemit.com

---