2018 MotoGP Schedule - Valentino Rossi Predicted Shocking in MotoGP Season 2018
Maverick Vinales and Valentino Rossi during the presentation of the Yamaha MotoGP team in Madrid, Spain, Wednesday (24/1/2018).
---
![image](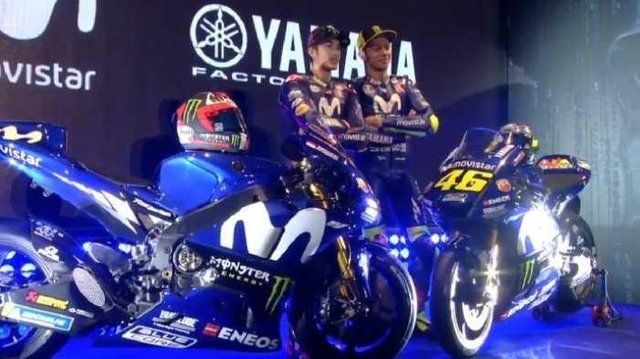 )
---
Tim Movistar Yamaha tampil cukup mengecewakan pada MotoGP 2017. Nah, bagaimana dengan MotoGP 2018?
Komentator Sky Sport, Paolo Beltramo, memprediksi bahwa tim Movistar Yamaha bisa tampil mengejutkan pada ajang MotoGP musim 2018.
Paolo Beltramo juga menyebut bahwa Valentino Rossi begitu termotivasi menyongsong musim 2018.
Hal ini terlihat dari keseriusan The Doctor saat tes pramusim MotoGP di Sirkuit Sepang, Malaysia, 28-30 Januari 2018.
"Valentino Rossi sangat bagus seperti biasa, saya melihatnya sangat termotivasi dan tidak sabar," kata Paolo Beltramo dikutip BolaSport.com dari Paddock-GP.
"Dia banyak mengendarai selama tes dan ini menunjukkan keinginan yang dimilikinya. Inilah fakta dasarnya."
Paolo Beltramo menambahkan bahwa saat ini Yamaha membangun motor yang lebih kompetitif.
Yamaha sendiri melakukan pengembangan motor baru dengan mengikuti saran dari Valentino Rossi, supaya tidak mengulang hasil seperti musim lalu.
"Selain itu, tampaknya Yamaha telah berhasil membuat motornya kompetitif, jadi bisa jadi kejutan untuk musim ini."
"Bagi saya, melihat Rossi begitu kompetitif membuat saya sangat senang," ujar Beltramo.
Valentino Rossi dan para pebalap MotoGP lain akan kembali mengikuti tes pramusim di Sirkuit Buriram, Thailand, 16-18 Februari 2018.
Berikut jadwal MotoGP 2018 :
GP Qatar Losail International Circuit (18/3/2018)
GP Argentina Autódromo Termas de Río Hondo (8/4/2018)
GP Americas Circuit of the Americas, Austin (22/4/2018)
GP Spanyol Circuito de Jerez, Jerez de la Frontera (06/5/2018)
GP Perancis Circuit Bugatti, Le Mans (20/5/2018)
GP Italia Mugello Circuit, Scarperia e San Piero (3/6/2018)
GP Catalunya Circuit de Barcelona-Catalunya (17/6/2018)
GP Belanda TT Circuit Assen, Assen (1/7/2018)
GP Jerman Sachsenring, Hohenstein-Ernstthal (15/7/2018)
10 GP Ceko Automotodrom Brno, Brno (5/8/2018)
GP Austria Red Bull Ring, Spielberg (12/8/2018)
GP Inggris Silverstone Circuit, Silverstone (26/8/2018)
GP San Marino World Circuit Marco Simoncelli (9/9/2018)
GP Aragon Motorland Aragón, Alcañiz (23/9/2018)
GP Thailand (New) Buriram International Circuit (7/10/2018)
GP Jepang Twin Ring Motegi, Motegi (21/10/2018)
GP Australia Phillip Island GP Circuit, Phillip Island (28/10/2018)
GP Malaysia Sepang International Circuit, Selangor (4/10/2018)
GP Valencia Circuit Ricardo Tormo, Valencia (18/11/2018)
---
***
@steem-post