Maverick Vinales and Valentino Rossi Create Broken Garage
Heavy loads should be shouldered Movistar Yamaha in MotoGP this season. Two of their riders, Maverick Vinales and Valentino Rossi disagree on the performance of Yamaha YZR-M1 2018.
---
![image](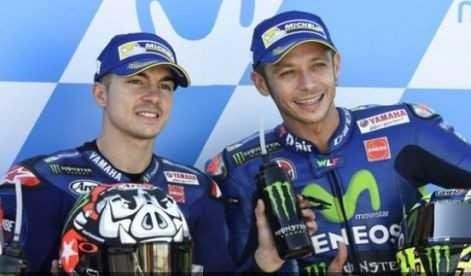 )
---
Each garage is now "split" in motor development. Yamaha Movistar Team Manager Massimo Meregalli said two preseason test sessions in Malaysia and Thailand further reinforced differences of opinion between Vinales and Rossi.
Vinales complains about a new chassis that does not fit the style of racing. '' Maverick can not turn as he wants, '' said Meregalli reported by GP One. Therefore, he wants to return to the 2017 chassis, which he wins three consecutive opening races.
In the garage next door, Rossi actually feel satisfied with the performance of a new chassis. Chassis developed from 2016 motorcycles. However, the 39-year-old driver asked Yamaha to find solutions on electronic systems. One thing that both agree is the performance of the new engine. They are happy with the top speed and power.
Meregalli explained, in Buriram a number of unpredictable problems suddenly appear. In fact, he continued, if you see lay out Buriram, originally, Yamaha suspect the track will match the YZR-M1. Tire problems are easily resurfaced on the third day of the Buriram test.
What is the root of the problem? According to Meregalli there are three. Namely tires, asphalt surface, and the choice of tires. Yamaha said the new motor does not allow drivers have a lot of opi in choosing a tire. If too hard the motor can not be fast. But if it's too soft, the tires will run out easily.
But there is an odd with Yamaha now. Yamaha satellite team rider Johann Zarco barely complained with his new bike. Yet the motor is left Vinales and Rossi last year. According to Meregalli, Zarco's M1 mounts with motor manufacturer teams have in common up to 90 percent.
But why Zarco can be so fast? '' I hope to answer that question after Qatar test, '' he said then laughed. Because of Zarco's bikes anyway. Rossi urged Yamaha to develop 2016 motorcycles, even since the Argentine Grand Prix last year. The result is Yamaha motor this year.
Amid the many homework to be accomplished, Meregalli kept confidence. He recalled three years ago when pre-season tests in Qatar ended, many say M1 is not helped anymore. It takes a massive overhaul to fix it. '' But in fact we came out as champions of that time, '' he said.
The last MotoGP trials will start today (1-3 March) in Losail, Qatar. It was the last chance for Yamaha to get as much data and solve the problem in the rest of the time, before the first race took place on 18 March.
''Could be (time remaining) is not enough, or otherwise more than enough. I know the mechanics in Japan are very tough and we trust them,''
---
***
@steem-post
**
---