Maverick Vinales Utak-Atik Yamaha Motor YZR-M1, Velentino Rossi: 'No'
** Movistar Yamaha MotoGP riders, Maverick Vinales (Spain, left) and Valentino Rossi (Italy), spoke after the US GP qualifying session at Circuit of The Americas (COTA), Austin on Saturday (4/22/2017).**
---
![image](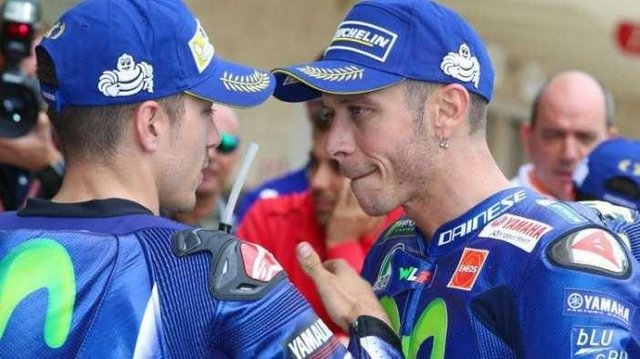 )
---
Yamaha Movistar team rider, Maverick Vinales, decided to make his own suit on his Yamaha YZR-M1 motorcycle.
Vinales, who did not want to lose his touch on the motor used later, tried to fiddle with his own bike.
One of them is to take back the chassis of the 2016 season and make an experiment in his motorcycle suit.
Unfortunately, the results achieved in the first experiment did not go well.
Marc Vinales, who tested his work in the last session of pre-season tests at the Circuit Buriram, Thailand, Sunday (18/2/2018), it was experiencing difficulties he did not know.
Not without reason Vinales trying to be independent with the motor of choice.
As previously reported BolaSport.com, Movistar Yamaha Team Director explained that technical input from Valentino Rossi is more heard than the input from Marc Vinales.
After the pre-season tests, Rossi refuted the assumption.
"No. If Maverick wants to use another suit, he can do it, because last year we also sometimes try different things,"
Vinales himself was finally unable to improve the slick lap time he achieved on the second day of test, Saturday (17/2/2018).
While Rossi able to sharpen the best lap time to 1 minute 30.511 seconds although not exceeded the best record Vinales, 1 minute 30,274 seconds.
However, the big PR is waiting for the Movistar Yamahapada team for the preparation period of one month.
Currently, both pebalap them have difficulty to approach the speed of its main rivals.
Finally, Marc Vinales' best shot is within half a second of the best lap times recorded by Dani Pedrosa (Repsol Honda).
---
***
@steem-post
**
---