Valentino Rossi Now Focus Fix This Part In The Motor
Movistar Yamaha rider team, Valentino Rossi, back to sharpen the lap time during preseason tests at Buriram Circuit, Thailand, Sunday (18/2/2018).
---
![image](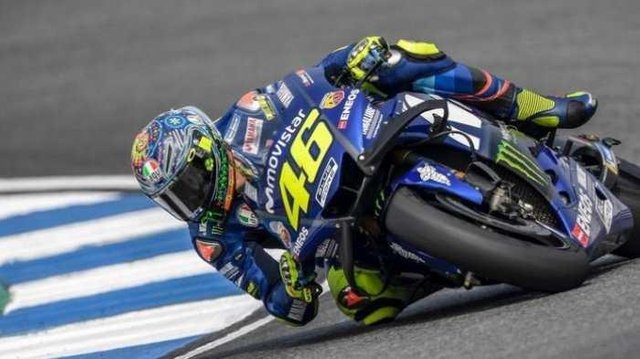 )
---
Movistar Yamaha rider team, Valentino Rossi, said that the problem faced this time is still about the grip on the rear tire.
"We always suffer from the back tires and everything about the rear tires," Rossi said quoted from Crash's BolaSport.com.
Valentino Rossi admitted that he was still hesitant to decide which type of tire that will be used later.
Selecting a soft (soft) tire will increase the speed of the bike even though it will have trouble at the end of the race as it gradually erodes.
Meanwhile, if you choose a hard type tire (hard), Rossi will lose the speed of his motor even though the tires will be more durable until the end of the race.
"So, we are working very hard, but everything is related to the rear tire," said the nicknamed The Doctor.
At the beginning of the pre-season test last Friday (16/2/2018), Rossi said that he wants to maximize electronic devices to catch up from Honda and Ducati.
Rossi also emphasized the importance of it although the improvement will be in vain without proper rear tires.
"It depends on the tire, because sometimes you change the tires and change all the feelings."
"Very similar to last year and with this condition is also very difficult to develop the bike because sometimes you get a problem and two hours later the problem is lost," he added.
On the last day of pre-season tests on Sunday (18/2/2018), Rossi was able to re-sharpen lap times.
In 70 rounds he performed at Buriram Circuit, Thailand, Rossi scored a best time of 1 minute 30.511 seconds and adrift far enough (0.730 seconds) from the best record that is inscribed Dani Pedrosa (Repsol Honda).
---
***
@steem-post
**
---