Steem-UA activity review and vote analysis; massive fly week; hashtag hopium

---
Details
---
Ok, so here goes another epic article on steem-ua and it's activities so far for the past week. In my first post about steem-ua, I talked about my reasons for delegating to steem-ua and my ideals as well regarding the project. Hence, I futhered a bit and became more active towards the project idea by implenting the tools in effectively promoting the project.
In one of my conversations with @scipio, I talked about different views to steem-ua in the sense that, it's a general view, both inside the box and outside the box. Obviously, everyone has their own view about the project steem-ua and quite alright, not everyone is a fan. In order to escape the inevitable and search for answers to everyone views although almost impossible, I had the task of provided a skeptical analysis of the activities on steem-ua from upvote distribution to the very least.
I'm still lagging a bit with the tools for a proper analysis but this article can stand as a stepping stone till I can as well improve on the layouts and charts. The week (judging from 7 days past) has been a successful one for @steem-ua, we've increased in delegation-numbers by at least 600%, I still feel that's an understatement to say the least. Just some minutes ago, we just hit 750 delegators and we're about crossing the 400,000 delegated steem power landmark. who knows, we could have well crossed the 400k landmark as I'm currently constructing this post. So, yeah, big achievements for steem-ua in just the opening days and suprisingly, we've had lots of supporters globally making this a reality.
Activity Review
---
The activity review for the week was analysed based on votes and user interactions for the past recent days on the steem blockchain via steem-ua
---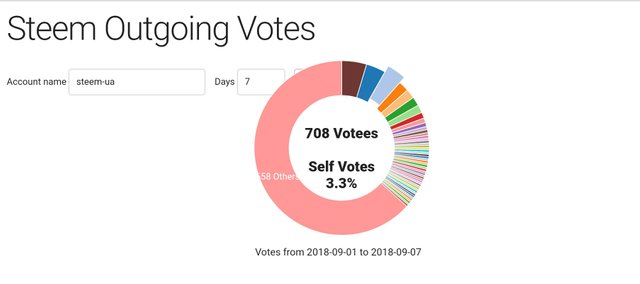 ---
Using steemreports.com, steem-ua has been able to deliver a total of 708 votes which were evenly distributed respective to time. Most of us might take a view of the whole so I had to simplify the calculations per time based in the sense that delegators increases as the day go by and so is the delegation and this toppled hourly if not minutes to re-calculate the voting poll and distribution. But on an average scale with respect to time from the past 7 days, steem-ua has successfully voted 708 times which was shared evenly among delegators on creative posts or articles. From the statz above, you can see, steem-ua has a minimal total of 3.3% of the vote counts with no other person above that range. I will expatiate on this in a bit.
---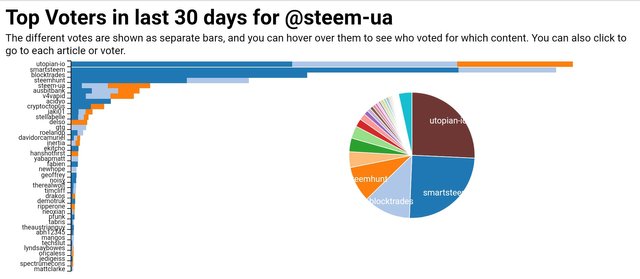 ---
The statz above display the top contributors in terms of vote weight for the past 30 days to steem-ua. In which we have @utopian-io, @blocktrades, @smartsteem and @steemhunt as the top contributors in terms of vote weight to the promotion of steem-ua. Of course and some influential steemians such as @ausbitbank, @stellabelle, @roelandp, @cryptoctopus and @acidyo and some others. This was analysed using steemreport using votes charts.
---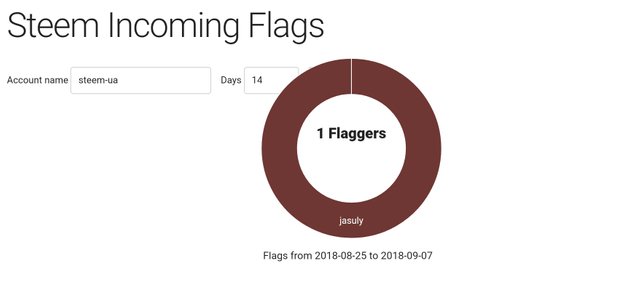 ---
Other than upvotes attained by steem-ua in the massive pump week, you didn't think there was gonna be flags, did you? Yeah, I had to draw out a chat of flags coming in as well and turns out a sum total of 1 flag was given to @steem-ua. This shows how efficient and positive the system is.
---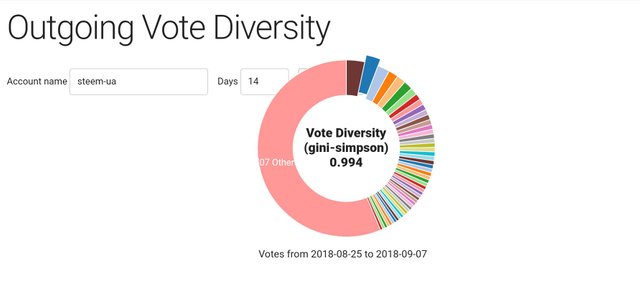 ---
Using Gini–Simpson Index in steem account Votes Diversity
I was able to pull out the statz for...
....the probability that two vote allocations taken at random are not to the same account. Our preferred measure as it has defined limits (0.0 to 1.0).
In the coming days, I would wrap up with the statz, for now we'll work with the basis. Keep on being influential. Steem-ua Rocks!!!!