Still in Defense of a High SBD: Why Witnesses Should not Implement Steem to SBD Conversions Now-

TL;DR: The conversion is a good idea later when we're bigger. Don't do it now unless the business case lands at our feet.
My fellow Steemians. A great debate entangles the many brilliant minds of the Steem blockchain Witnesses and public input from the user base could greatly aid the discussion of the issue at hand.
The central question posed is should we hardfork the Steem blockchain to allow Steem to be converted into SBD at a rate such that $1 dollar worth of steem creates 1 SBD.
On either side are good people trying to find the best pathway forward for Steem. We all go to the same moon, and the question at hand is what is the best way to achieve that. Underneath the question of should we hardfork the chain to do this lies the question "is it better for the platform to have high and low SBDs or just a stable SBD near 1 USD?"
How best to achieve platform growth?
I believe that focusing on growth is the best thing to do. Honestly I think both are approaches that intend to improve platform growth. Allowing a high SBD appeals to active posters. A stable SBD appeals to those that want to see it used as the base of commerce. Both are meant to improve the usage and acceptance of Steem.
Many of the top 20 witnesses who want a stable SBD through this conversion (there are more of them than those that want a high SBD) envision SBD functioning as the next generation visa, cryptopaypal, and/or a substitute for tether. We could even be a stable currency for a hyperinflated country. We all envision Bittrex listing prices as BTC_SBD just like they would BTC_USDT. This is a wonderful aspiration and we should make all efforts to get there. To be trusted at that level we need to be at an appropriate scale. To match even the smallest of those aims; a competitor to tether, I estimate we need roughly 1.6B SBD (the current number of tether).
To support 1.6B SBD at a blockchain limit of 10% of the marketcap then we need a market cap of 16B at the barest minimum. We as a community likely need a larger valuation before people would trust it completely because trust is diminished if we're at the extreme edge of our ability to support it. It's possible we don't need to match the quantity of tether penny for penny, but the earliest I could see this working is a $10B marketcap and we would likely need higher. We're currently hovering around $1B. We're not at the size yet that this makes sense which is why to my knowledge no exchange, major US business, or bank like Coin Base is knocking down our door asking us to provide a stable currency for them. We're the 32nd largest coin by marketcap. Egypt is the 32nd largest economy by GDP. To me it's similar to trusting the backing of the NY stock exchange with the Egyptian Pound. There's just not enough economy there to it to support it.
I want a high SBD because I believe it attracts active users now. I assume people come to blog at Steem for money. We pay them for proof of brain here. High SBD makes their hourly salary higher and makes Steem a more attractive place to proof of brain. Some of the pro Steem--> SBD conversion crowd doesn't believe this and so they don't follow the logic of where I take this next. This is a fundamental assumption I'm making: higher post rewards means more users. I also suggest more users equals a higher valuation. If investors are kind enough to keep high SBDs for a while then I envision we'll get to the necessary marketcap faster than by putting in the conversion right now. At that point we could conceivably institute the conversion with a business case behind it (tether, coinbase, bittrex, amazon, or ebay acceptance... something large enough to be worth giving up high sbd) and get the extreme benefit of working with one of those partners.
Am I against this conversion? No, not at all. Am I against it now? Yes, until we're larger or the business case lands at our feet.
What are the steps if we put in the conversion?

Code it (2 weeksish)
Announce it (2 weeksish)
Implement it
People start converting 1 steem for sbd at a rate of $1 worth of Steem for 1 SBD
then....
What happens next is speculation:
Pro-Steem-->SBD Conversion:
SBD is returned to $1USD very quickly
Businesses sprout and investment grows because SBD is a stable currency
The ecosystem grows because SBD is implemented as a Pegged asset in many places
Users come to the system because SBD is ubiquitous
Con- Steem-->SBD conversion
SBD tanks not only to $1 but below one with confidence destroyed after losing substantial value in 3.5 days. This requires inflation from the witnesses and/or reverse conversion to fix.
Bloggers lose incentive to continue posting on the chain and the active community shrinks.
The amount of people using the platform can't support either the SBD in place and we're not close enough to the lowest goal out there of tether to reach the aims of the conversion in the first place.
Steem and SBD go down in value
What are the steps if we don't hardfork for the conversion?

Nothing is done
Steem continues to grow at an accelerated pace as long as investors keep SBD at a higher rate
Steem value increases as more active bloggers are on the site
SBD goes up and competes with BTC as a cheaper/better store of value or SBD comes back down or a major potential business partner wants to integrate SBD but only if it's stable
We reevaluate

People are the value
I've stated nearly since I got here that people are the value of the currency. Currency is proportional to goods and services and goods and services are best approximated by the number of people in a currency ecosystem. If we want to increase the total value of the currency than the best thing to do is increase the number of people within it. At various stages of growth what is best to attract people here may be subject to change.
Does a high SBD increase the number of people faster at this stage or does a stable SBD designed for internet commerce move it faster?
Right now Steem is still in it's infancy and the priority should be attracting users. We have 50,000 active bloggers a day.
We have a handful of businesses. 90% of all the SBDs are sitting in Bittrex and Poloniex. They don't appear to be used in commerce hardly at all. I think we should focus on growing the active blogger base until it's large enough to have more businesses and then we can prioritize business needs appropriately.
Let me pose it to you this way. If you haven't started a business on Steem but you are the kind of person who might be inclined why haven't you done it? Is it because SBD isn't stable and you are unwilling to price things in USD and then accept Steem/SBD as the medium of exchange? Or is it because the Steem ecosystem isn't quite large enough and it's hard to figure out a business that could appeal to a wholly digital and global community of only 50,000 active users in a highly distributed geography? Are you worried that if your company only reached 1% of the active user base you'd only have 500 potential customers to support your business? Or are you more worried that you're going to experience a 10X swing in SBD price making it a challenge to stake a business in this virtual landscape? It's likely a mix...
As an entrepreneur building a digital game called Steem Monsters on the platform I can tell you I'm enthusiastic despite the fluctuation of Steem/SBD. I accept that as part of the risk of being in crypto. I can mitigate for now by pricing in USD. I can share I'm nervous about getting a return on my investment with so small a pool of users to choose from. Speaking personally I don't think it's price stability that's limiting our SBD usage so much as the number of people using our network.
Is there any evidence that high SBD is growing the Steem ecosystem?
As many of my readers know I created a group called the Minnow Support Project and house it in a Discord group called Peace, Abundance, and Liberty Network. Since from June 1st to mid December it took our team 7 months to go from 0 members to around 4,500. From mid-December to January we more than doubled in size to 9,500 people.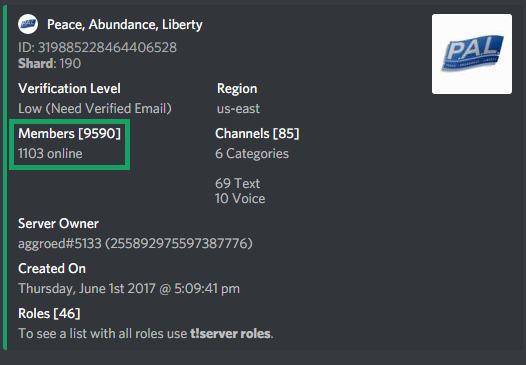 Here is unedited data going back to September about how we've grown thanks to tracking by @discordiant.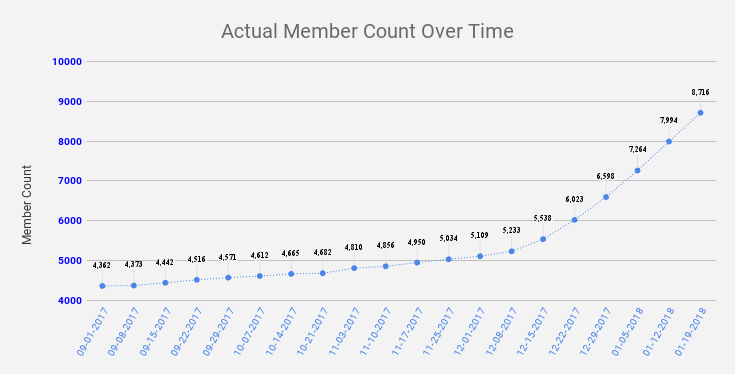 It is my contention that people come to Steem to earn rewards blogging. The increase in SBD price is what is bringing them here at a faster rate than what I've seen in months.
Price vs Activity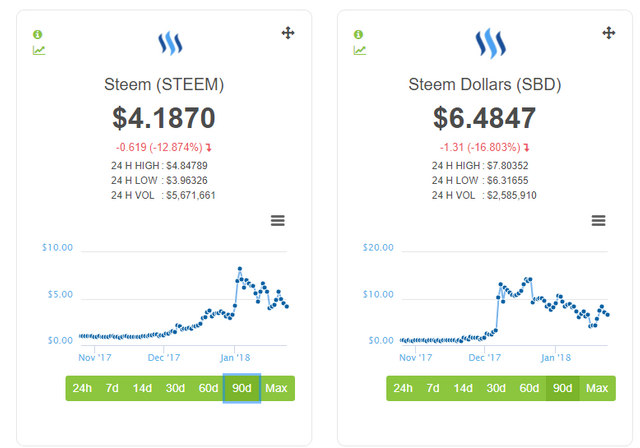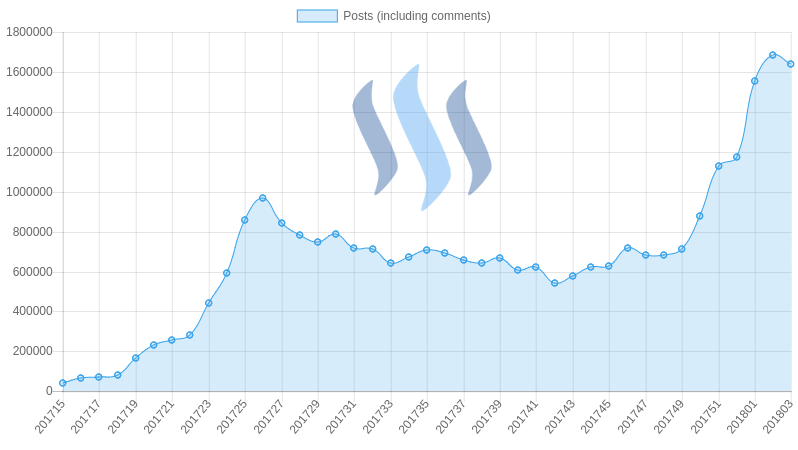 I interpret these (possibly incorrectly) as highly suggesting that high prices are driving high activity (thanks @reggaemuffin for the top graph and @penguinpablo for the second graph). The logic matches the correlation assuming active posters blog on Steem to earn money as a central motive. Since SBD is currently responsible for 88% of post rewards (see below) I assume high SBD explains the high activity.
Why do I think it's SBD that's responsible? Let's look at post rewards under different rules
I had a Peace Academy post payout just over a week ago.
The value shown on Steemit.com was 57.45
For my effort I was rewarded 24.131 SBD and 4.953 Steem. Steem at the time was $4.08 and SBD was $6.38.
The total payout in USD was $174.16 with 88% coming from SBD and 12% coming from Steem.
If this proposal goes forward the point is to drive the value of SBD down to $1. Because the amount of SBD is small and 1 steem goes a long with the conversion I don't expect a large spike in Steem to result in the short term. For the same post I assume it will look like this.
The value shown on Steemit.com stays close to 57.45.
For my effort I would be rewarded 24.131 SBD and 4.953 Steem. I estimate Steem to be $4.15 and SBD to be $1.
The total payout for my post would be $44.69 roughly 50% coming from Steem and 50% coming from SBD. I estimate active bloggers have post payouts quartered.
For the same post to earn as much in the new system I estimate steem would have to be roughly $15USD.
Value on Steemit.com would show $208
For my effort I would be rewarded 87.36 SBD and 5.81 Steem. I estimate Steem to be $15 and SBD to be $1.
The total payout for my post would be $174.72 with 50% coming from Steem and 50% coming from SBD.
So in my mind the pro-Steem --> SBD converters have to demonstrate how Steem will go up almost 4 times in value to justify it. Could a large business partner do that over night? Yes! Do we have any lined up? Not to my knowledge.
Stakeholders
I think it's best to answer this question by thinking through the stakeholders and how the changes are likely to effect them all.
Steem is made up of roughly 100 substantial investors controlling 93% of the stake.
Steem is made up of a dozen businesses on the chain.
Steem is made up of 50,000 active bloggers every day.
In my eyes all groups benefit by supporting and growing the active userbase with high SBD right now and when we're larger, have more businesses, and have a marketcap which attracts major business partners then we reevaluate. We have a kick ass platform, a great community, fantastic devs, and a ton of highly passionate people that want to see this work. I have faith that in cryptoland we're talking 2 years at most, maybe sooner until we're ready to implement this conversion. Let's do it then!
It's in good faith to the community I represent that I present these arguments as counter points to the majority of top 20 witnesses that favor Steem --> SBD conversions now. I highly respect my colleagues and appreciate the opportunity to add a voice to the public debate while arguing from the minority position.
Many of my fellow top 20 witnesses don't think high SBD is contributing to growth rate. Will readers please describe below how price is effecting their Steem habits?

---
The pro argument-
White paper concern argument a comment by @eonwarped from Raggae's post
@clayop thoughts