Scenarios!
Lots of Speculation on Tron-Steemit Acquisition: little substance
Last few days emotions are running high, lots of speculation on what was said, and what people read between the lines. What might happen, when will it happen, who will benefit, what should we do as a member of the steem blockchain community.... all these are questions on people's mind and there are opinions and speculative answers all over the place.
This leads to great discussions, I am thankful for that. There has been a lot said on the subject without much facts actually (except a couple of tweets, which were taken down, a simple AMA, and a press release where community members including me do not like one particular line). Yeah, I get it. However, please understand in real life M&A is often this way. There has been a lot told from Steem Blockchain's perpective (that is us). But lets see for a second from Tron's perspective. After all they are the one making the purchase (however small):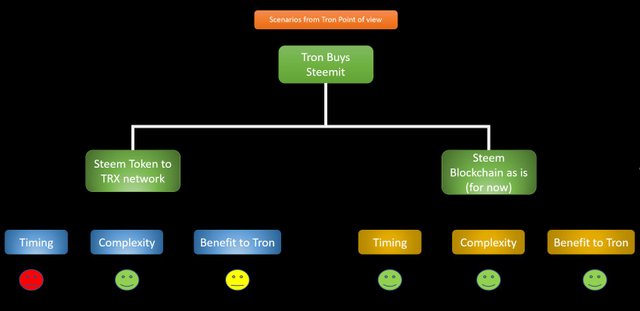 The diagram above should be self-explanatory and I tried to make it as simple as I can. But perhaps still there is some verbal explanation needed.
I do not consider myself a blockchain expert in any shape, form or fashion. However, I understand merger & acquisition quite a bit, been involved in quite a few myself. So I tried to see the 2 extreme scenarios in terms of cost-benefit analysis. Figuratively speaking, in terms of 3 matrices, timing; complexity of the process; and benefit to Tron. My smileys below are a simple attempt to express my view of those elements, it terms of how easy to execute and if there is any real benefit from the purchaser's perspective.
Feel free to share your view on those elements and that will actually make the discussion richer.
If I am a decision maker, and I am shown this matrix, it will be hard for me to make a decision on moving the Steem Token to Tron Network (for now). This "for now" is a fuzzy logic, if you put a gun to my head and ask the question, I will say my gut feeling is that it should be measured in years, not in months.