Beginners Guide to Depositing Steem From Bittrex to Your Steemit Account
This morning I made my first Steem transfer. I successfully moved 38 Steem from my Bittrex account to my Steemit profile. I'll be honest, it was a bit hard to understand the process to begin with, which is why I've decided to put together my own little guide to help everyone else move Steem into their account!
Note that this guide will focus on depositing Steem from Bittrex, as that is the exchange I use.
First, you need to buy some Steem
If you are a regular exchange user, you probably already know how to buy Steem with Bitcoin, so I will keep this part brief. Buy the amount of Steem you want to transfer to your Steemit account, and make sure that it is available in your Bittrex wallet.
The transfer process
The actual transfer process is very simple, but almost impossible if you don't know what you are doing. Make sure that you are logged in to both your Bittrex and you Steemit accounts.
The first thing you need to do is find your Steemit transfer key. Head over to your Steemit profile, and click on the Wallet tab. From here, you will see three options. You want to click on Permissions.

Under the permissions tab you will find your private keys. DO NOT SHARE THESE WITH ANYONE OR WITH ANY WEBSITE UNLESS YOU TRUST IT.
You need your MEMO key to transfer Steem to your account. Make sure that you click on Show Private Key to the right of the key before you copy it, or you will end up with the wrong key. Steemit doesn't reveal your true key until you click on this.

Now to Bittrex
On your Bittrex wallets page, you should see a list of all your crypto holdings. Next to each one you will see a small plus sign and a minus sign. Plus is for depositing to Bittrex, minus is for withdrawing from Bittrex. You want to click the minus sign.
Once you click it, you will see the following popup: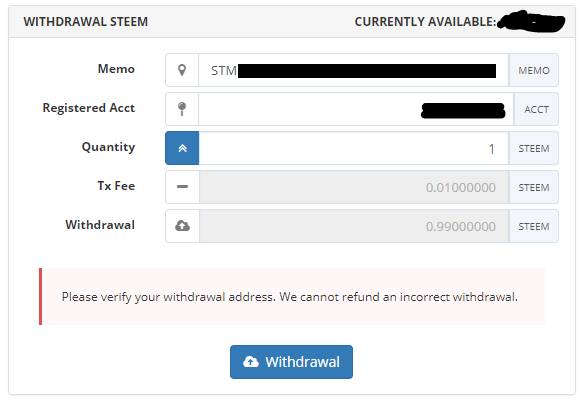 Now, you need to put information under all of the headings:
Memo: This is where you paste your key from your Steemit account. Make sure that this is right, or you may lose your funds.
Registered acct: Type your Steemit account name here.
Quantity: This is how many Steem you want to send from Bittrex.
Once you have filled in the required information and Double Checked It, click withdraw. Depending on how your Bittrex account is set up, you will have to either confirm your withdrawal via email or input 2 factor authentication.
As far as I am aware, the transaction fee is always the same, and transactions seem to process almost instantly! My Steem was already in my Steemit account by the time I had clicked across and loaded the page. From here you can either power up your Steem to Steem Power (to increase the size of your vote), leave your Steem where it is, transfer it to savings, or use it to buy Steem Based Dollars. More on this in tomorrows post.
Congratulations, you have made your first Steem transfer!
Please support me by upvoting and resteeming this post. Consider upvoting one of my newer posts if this one is more than seven days old.
Steem On!