The best protocol level solution to the Tron takeover impasse: DO NOTHING
View this post on Hive: The best protocol level solution to the Tron takeover impasse: DO NOTHING
---
In March 2020, many Steem users, including @dhimmel, migrated to the Hive blockchain in response to the hostile takeover of Steem. Please use the Hive link when sharing this post and comment on the Hive version to get in touch.
---
To recap the situation, Tron attempted a hostile takeover of Steem governance using sock-puppet witnesses elected with vested-exchange-STEEM and now STINC Steem. Currently there's a mix of Tron and duly elected witnesses in the top 20: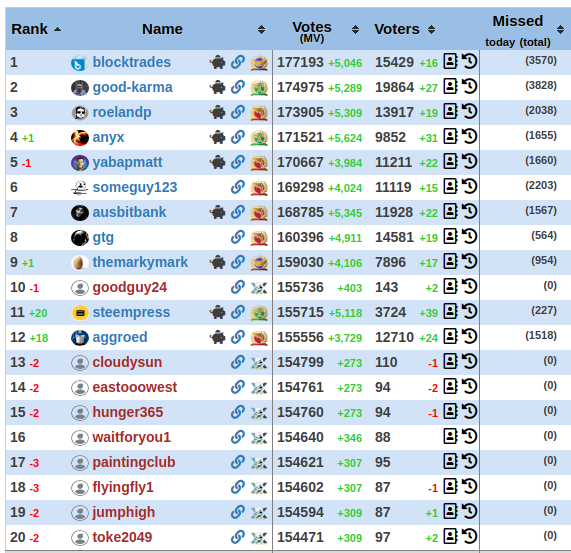 What is the best way forward? Do Nothing.
This strategy has a couple components.
Community witnesses should not support any hardfork to change power down rules. Exchanges don't deserve or need a bail out. They can initiate power down now, and get some liquidity in a week.

They powered up under consensus rules that everyone else is subject to. Let's not trash the impartiality and sanctity of the blockchain to bail out actors who attempted, perhaps unwittingly, to attack the blockchain. As far as I can tell, exchanges powering down is zero risk to them. They could always cancel the power down or power back up liquid STEEM. The fact that Binance and Huobi haven't initiated power down is worrisome because it indicates they're hoping for a bail out and perhaps playing dumb to force the issue.



Should Tron acquire a super-majority of witnesses and hardfork, economic nodes should refuse the protocol changes. It appears that if Tron does attempt a hardfork, they will do so without proper community feedback and review. Even if they regain a super-majority of witnesses, we the community are not forced to adopt their protocol.

Therefore, we should be prepared to keep our nodes running 0.22. This would create an unpleasant fork in the Steem blockchain database. There would be two STEEM tokens. It's not ideal for anyone in this situation, but at the end of the day, the community decides the protocol. Like in Bitcoin, miners cannot force protocol changes upon users just because they have the most PoW. Same with STEEM.



Concede that Sun's STINC stake is unencumbered. I haven't seen binding statements from STINC that their STEEM / stake would only be used in certain ways in perpetuity. I think Ned mislead the community and could face legal repercussions. See this compilation by @ura-soul. But whatever social agreement there was, it was never codified in the blockchain.

Actions speak louder than words, and it was a mistake to trust Ned's comments as paramount to protocol level constraints on the STINC stake, which were never put in place. If we can convince Sun to decline voting rights, that's a win, but it shouldn't be a requirement.
These three components are easy! We don't need to make any rushed decisions or actions. In fact, we don't need to do anything. It's a good idea to continue civil discussion with Tron and exchanges, given that they are large stakeholders. But let's relax.
Now it would be far preferable if we can retain sufficient witnesses to prevent protocol changes. There is risk that exchanges or Tron could gather additional stake to regain complete control. We need to make it clear that in this case the community will run the protocol they believe in and not blindly follow sock-puppet witnesses.
To avoid this situation, we should continue to get out the vote.
In the longterm, we should reassess witness voting such that one vest equals one vote and it's harder for a few entities to change the protocol.
Would love your comments and feedback!