MY YEAR ON STEEM: FROM LEARNING MARKETS TO MAKING A MARKET (+ 1 Cent SteemMonsters card Promotion/Game)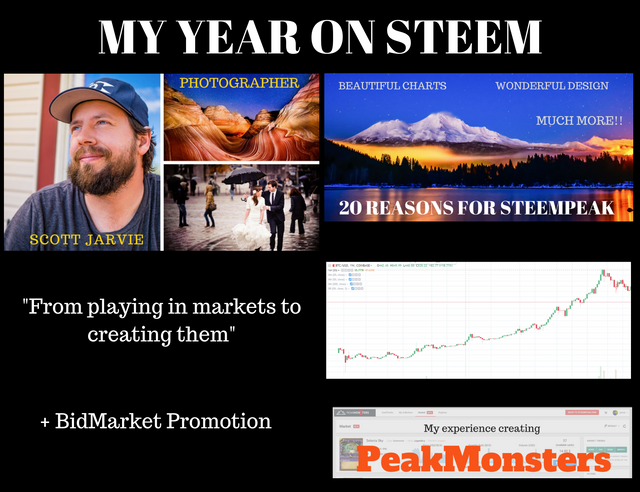 A PROMOTIONAL GAME ANNOUNCEMENT
To promote the new creation that @asgarth and myself helped create ("bid markets" on SteemMonsters) I will be listing ONE CENT cards into the steemmonsters market later today (Including several gold cards). The new bid market will give them the card at that price. Check @peakmonsters to see how the bid market works.
Today only 100 people have early access to our new creation... next week EVERYONE will have access... and I'll do this promotion again... keep an eye on @peakmonsters channel for that one.
-> Go bid to get those ONE CENT CARDS
https://peakmonsters.com/market

MY JOURNEY IN MARKETS - 2013-2018
Back in 2013 my old roommate did a documentary called "Life on Bitcoin" so i decided i'd put a few hundred dollars into Bitcoin.
Last December bitcoin shot up to $19k in value... so i logged back into the account i had forgotten for many years.
I then decided I'd try my hand at Market Trading. So I spent hundreds of hours learning and practicing and watching youtube videos non-stop (as I edited pictures on the other side of the screen.)
I knew market trading wasn't only about knowledge but about disposition... and while I learned how markets worked pretty well I'm still not sure i have the disposition for actual trading in markets. Plus I travel way too much and am without internet too often.
STEEM COMES INTO MY LIFE - December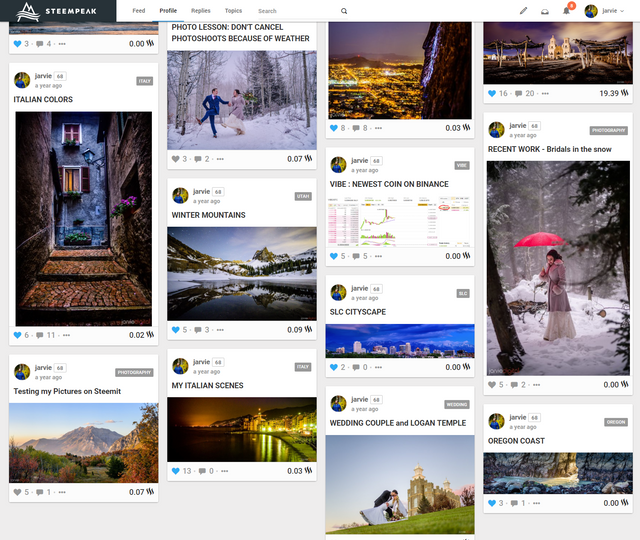 My first dozen posts on Steem
So while researching markets I of course was researching all types of cryptos and watching youtube videos. I stumbled across something that made me interested in Steem so i went to steemit.com and applied for an account and posted a test post. -> Nothing happened. I forgot about it.
But it was 1 year ago in december I created that account! Happy anniversary?
A WEIRD START - January 2018
I really didn't start Steem until January when a market trader I was watching talked more about it and tried to get his whole youtube audience over here. So I came back. It's funny because NONE of us knew a single thing about steem. In fact he had no idea what he was talking about back then. Telling us that if we all just voted eachother 50 times a day we'd all be rich. (keep in mind we were all brand new with 15 delegated sp)
Honestly he was probably sold some get rich quick scheme by someone else so i don't blame him one bit. In fact i'm thankful because it got me interested.
FROM HERO TO ZERO
At that time I had followings totaling close to a million across several platforms and now i began again with 0 followers but I was up for a challenge and I saw that at the time there were very very few professional photographers on the site. And I jumped in even though (like many people) I had platform fatigue and was barely posting on youtube or instagram anymore.
A CONFUSING START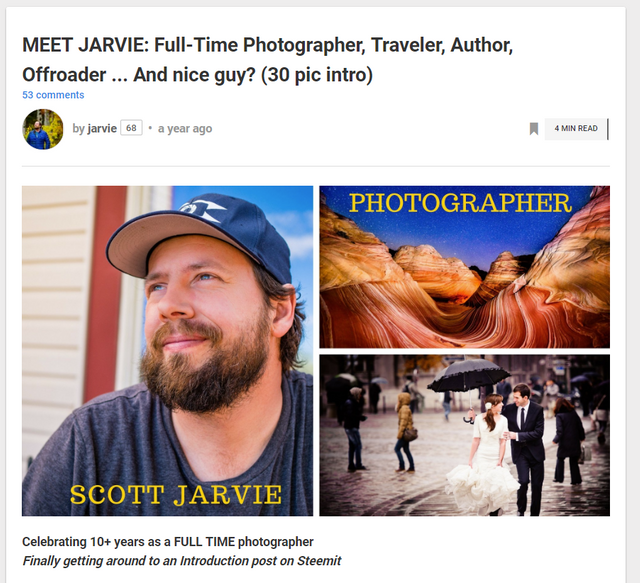 I still had no idea how steem worked and steemit.com was super confusing and very much non-intuitive. Therefore I spent way way too long trying to figure out this confusing place. (Hours upon hours upon weeks) And it didn't help looking back that I would search for articles and they would be outdated or just plane false or conflicting information.
But I recognized that the way to do well here was making connections. I couldn't depend on my large followings in other places and I wasn't about to try to convince my famous friends to come here when I still had no idea what to do or if it would really be beneficial. But I could sense there was something to it and I was excited.
BRINGING IN FRIENDS
So I invited my closest photographer friends to jump in ... there's a close knit group that goes on trips every year. I told them all about it spending what seemed like hours trying to explain this thing I still didn't quite understand (but teaching helped me understand) @caseygrimley and @derekkind stuck around partly because the 3 of us helped create the @photogames account which for a while really galvenized the photography community together with @photofeed about that time I got my sister @sjarvie5 to come in and play @photogames with us as well.
PHOTOGAMES = THE START OF STEEMPEAK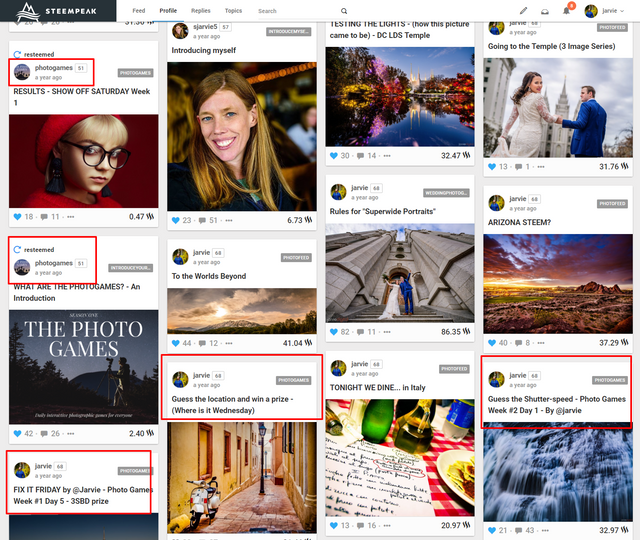 @photogames started end of Jan / beginning of February
It was in @photogames that I met @asgarth @r00sj3 and @dmytrokorol who would all end up being a part of @steempeak / https://steempeak.com. In fact it was on the PhotoGames Discord that @asgarth mentioned his project to make a new front end. And @dmytrokorol said he'd help with design and a little bit later i would tell @asgarth about a fun statistic i created GSMI and he would automate it into steempeak and I was hooked and ready to spend several hours a day for 6+ months straight on @SteemPeak and now @Peakmonsters
THE ANNOUNCEMENT OF STEEMMONSTERS
Way back in May is when @aggroed and @yabapmatt announced SteemMonsters I think. I was barely started with https://steempeak.com ... but I had learned about games like krypto kitties and figured this could be a lot of fun to use my steem, play a game and get in on the ground floor. I think I realized there would be buy/sell market opportunities in the future as well. So i was still in the mind set I could buy low and then in the future sell high as the cards went way up in value.
A MARKET OPPORTUNITY
One thing I love the most about steemmonsters.com was the philosophy that @yabapmatt talked about with decentralization ... other companies would be able to make their own games with these cards. And then he made a PROTOCOL that would allow anyone to create a market interface to facilitate the buying of cards.
I already wanted steempeak to some day to be a hub where people could see steemmonsters data... but this was even better we could make some money creating an awesome interface. So me and @asgarth created a separate company and became the first 3rd party partnership for steempeak.
The @steemmonsters team said they didn't have improving market interface on their roadmap anytime soon so that made us confident we could get ahead of the curve and create something great.
BIG JOB -> STEEMPEAK + PEAKMONSTERS
Now we were both working on two projects and would switch back and forth on them both. We've spent perhaps more time on Peakmonsters than we originally expected but we've also made it a much more full featured site than we originally expected.
And I think we're both more sold than ever that this game has a ton of potential and the market interface we created has even more potential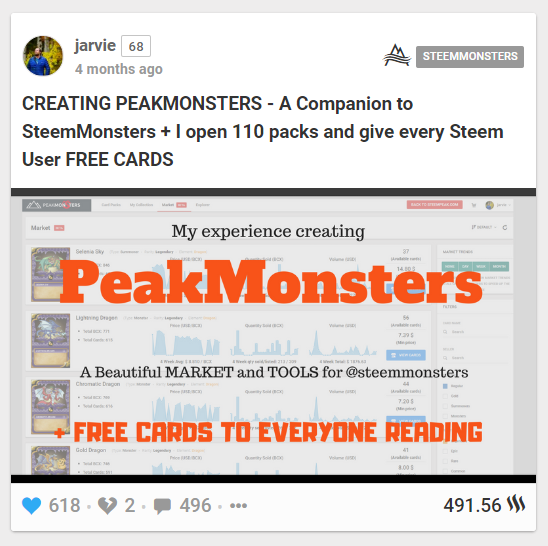 Listing cards in bulk
Buying cards in bulk
Seeing ALL steemmonsters transactions (blockchain explorer)
BCX stat so you could see the real value of cards
A battle blockchain explorer (so you could have better insights into playing)
Selling card packs
A loyalty rewards system
A credits system
Market trend statistics
Great filters for markets, collections, blockchain transactions etc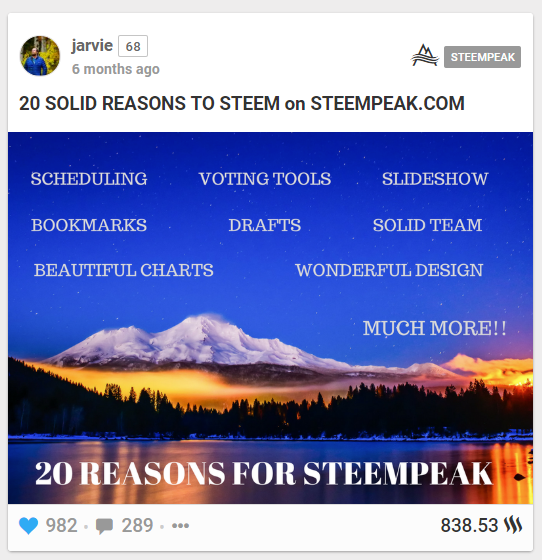 We started steempeak with two objectives...
Make a place so INTUITIVE we wouldn't have to spend hours explaining it to our friends.
Make a place that had ALL THE FEATURES we were already using elsewhere.
SO... We did!
Drafts
Templates
Scheduling of posts
Bookmarks
Analytics (graphs)
GSMI
Multi-account switching
No wait time on voting and commenting
Witness info
Activity feed + great filters
Wallet feed with great filters
Faster reply interface
Easy access to favorite users/topics
Removal of "trending"
Removal of deceptive $Dollar Sign
A portfolio view perfect for photographers
A more intuitive and informative wallet
Notifications
Default vote values
Image slider
Optional Beneficiary ammounts
Night mode
Several different view modes
Easy delegation button
Easy send money button
Easy witness vote button


And we made it super simple for ALL WITNESSES to have a fast easy way for people to vote for them

THE BID MARKET - Making the other side of a market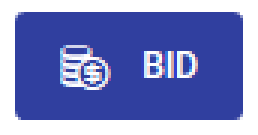 When @yabapmatt originally created the protocol for markets it was for listing cards you wanted to sell only. We finally got around to creating a system where people can bid a price that they're willing to BUY a card.
In all that time learning markets I knew you had to have BOTH SIDES of the equation to have a healthy functioning market. Well now it's a reality. People previously could get lucky coming in and seeing some low priced card and be the first to try to buy. But that wasted hours of people's life coming in searching mutltiple times a day... it also made it so people could create scripts and snatch up stuff for themselves which is fine... but we wanted a fair system where anyone can put a bid and if they were the highest bid they'd get the newly listed card.
THE PROMOTIONAL GAME
So to test the markets and make it fun later today I'll be dumping a bunch of 1 cent cards onto the market
We just launched and only yesterday did 100 people get access to making bids.
So we have a lot of work getting the bids populated
Those with the highest bids will get those cards I list today.
I will do it again next week when we do (what we hope is the final) another round of upgrades and make bids available for pretty much everyone!
MAKE SURE YOU KNOW HOW THE BID MARKET WORKS
Please check all the new posts on @peakmonsters to learn how the bid market works.
Keep in mind while you NEVER pay more than your bid (aka no fee to use the bid market)
IF peakmonsters finds you a card for less than your bid that's the only way the bid market makes money (we split that difference and give you 90% of that savings) so the 1 cent cards won't be just 1 cent and with this extreme example of 1 cent cards the price will vary a ton.
But the point is to populate the market with lots of bids but they should be real bids because they can easily fulfill at your actual price.
Let me know if you're playing... the more of the 100 qualified bid makers interested the more I'll list.

SO WHERE DO WE GO FROM HERE
I am really excited to finally get done with Bid Markets and move back to all the amazing things we have planned for steempeak... in the meantime I'll probably throw myself more into advertising SteemMonsters so that there are more Peakmonsters users... and thus more reason to keep making cool things over there.
But on SteemPeak I'm looking forward to making this such an intuitive easy site to use that i can easily invite my friends here and they won't have the same confusing experience I had 12 months ago on steemit.com ...
I want to create a place that makes a creator happy BECAUSE it makes their fans happy to be here. So we need to create a place that's awesome for fans and not just creators. And I want creators happy because it helps them make money... But I will never tell them they'll get rich off of Rewards Pool. That get rich quick stupidity I will fight against always. You SHOULD have to work hard to make money and in this arena the money shouldn't have to come from steem rewards pool. A dependency on rewards pool or steemit inc is not a viable business plan for any company on steem and any blogger on steem. It's cool if it works but NEVER plan on it.
2019 GOALS
INTUITIVE: I want steempeak.com to be the most intuitive site on Steem (Our original goal)
FULL FEATURED: I want steempeak.com to have all the features we were using when we said we wanted all the features on steempeak. That means we still have autovotes left on that original goal, it's the one final site I still go to outside of steempeak. (along with 50 new features we've thought of since)
ONBOARDING: I want to create a blog post and have 20 friends/fans come in and in just minutes they will easily comment for their first time on steempeak.
INFLUENCER READY: I want all my super influential youtuber and photograper friends using it not because of my friendship but because they honestly believe in it and because it will benefit their lives.
MARKETING: I want steempeak.com to be a household name to millions of people by the end of the year. (And i don't want to have to depend on any other company to do that... I want to do that through our own marketing efforts)
MARKETS: I'd love to see SteemMonsters grow from 4000 users to 40k users ... maybe 400k. And in that same breath I want to see Peakmonsters go from 400 users to 4000 users (if not 40k users)