STEEM/HIVE - Well we don't have to worry about a lack of exposure!
It seems the recent Steem hardfork announcement is quickly getting around
One of the fears anytime a hardfork is done is whether or not it will get enough recognition, awareness, and adoption to ultimately make it successful.
It is very rare that a forked chain becomes more valuable than the original chain.
We have seen it happen a few times in the past, under different circumstances, but it's not common.
This one might be different however...
Very rarely has such a large portion of the community all left with a hard fork.
I don't have exact numbers, but just looking at the comments from active users and we could see something like 80% of the current community leaving with HIVE.
That doesn't mean they won't also use steem to some degree, but as of now it looks like HIVE is going to be taking the lion's share of community assets/resources.
One of the problems with these things ultimately being successful is that there isn't enough press about them...
HIVE doesn't have that issue in the least.
The announcement was made less than 24 hours ago and we have already seen news reports in Cointelegraph, Coindesk, and several others.
Check it out: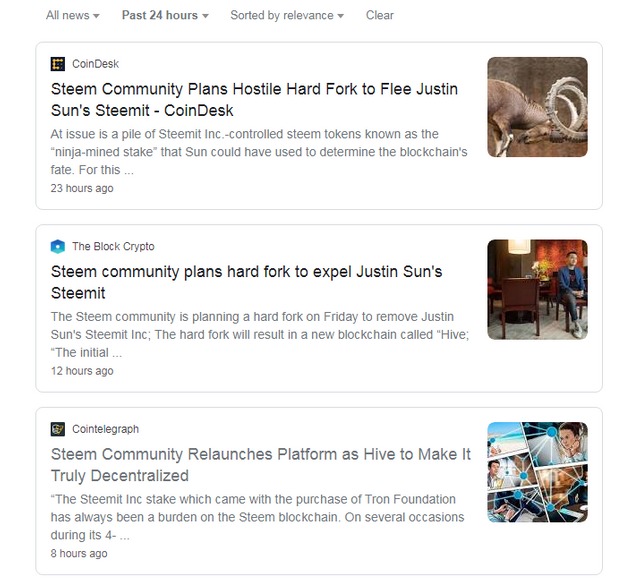 (Source: https://www.google.com/search?q=steem+steemit&tbm=nws&source=lnt&tbs=qdr:d&sa=X&ved=0ahUKEwiQnMrBjqXoAhXEGTQIHR6eCQEQpwUIIw&biw=1600&bih=761&dpr=1)
Cointelegraph and Coindesk are two of the most popular crypto news sites in the world...
Major news sites are doing their part reporting on the developments regarding steem and now HIVE.
Plus the price of steem going up like crazy, up roughly 100% now, doesn't hurt at all!
It remains to be seen exactly how successful this fork will ultimately be, but it won't be due to lack of awareness.
That problem is already being addressed.
Stay informed my friends.
-Doc