Steem - The Confusion Continues... Justin Sun deletes latest Tweet
Justin Sun just announced Steemit.com is migrating to Tron... then shortly after deleted that announcement
Anyone that claims they know exactly what is going on right now is mistaken.
We have gotten so many contradictions over the past 3 days it is difficult to keep up!
The latest one being this announcement: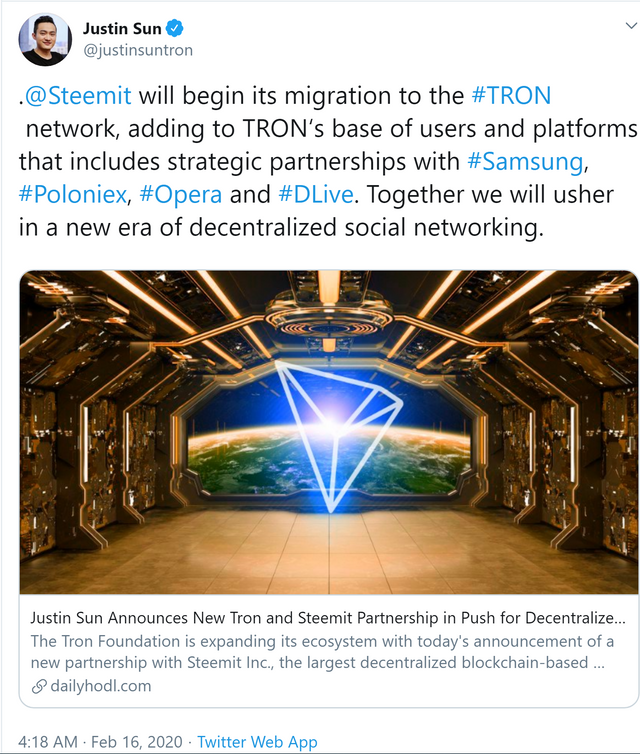 (Source: https://dailyhodl.com/2020/02/14/justin-sun-announces-new-tron-and-steemit-partnership-in-push-for-decentralized-social-networking/)
Only to see it deleted a couple hours later from his Twitter...
If you follow the original link you get to this...
https://twitter.com/justinsuntron/status/1228971875851632640

Why would he delete it from his Twitter?
Good question!
My guess is either that the news is factually incorrect, or the news is factually incorrect.
Why else would you delete it?
It's possible that the news was mostly a rehashing of news that was already out there, or they simply just got some details wrong.
Either way I would not get too worked up over anything at this point.
It's clear that either the details aren't worked out yet or they can't fully explain those details in a way that is understandable to those that know what he is talking about.
Either way, my overall take from the AMA yesterday was that Sun is now the largest investor in steem and he will do what he needs to in order to make it a success.
Everything else is mostly noise at this point...
Until I seem him deviate definitively away from that line of thinking I will not worry about things too much at this point.
It doesn't make sense to.
He said flat out that he is now aligned with current steem holders and that he wants to do what is best for current steem holders.
Until I see that change I won't sweat things too much.
Stay informed my friends.
-Doc