Check Your Witness Votes For Dead Weight Regularly; Use Steemian.Info
With all the personal attacks and drama on Steemit recently (particularly in the trending page), it's a good idea to remember the one thing you can (sort of) do about it at the micro level.
Vote.
Now, of course you can do this by simple memory or research, and that is often sufficient. But, @Drakos also has a tool that will let you see who is slacking off at a glance, in ways that you will not otherwise normally be able to determine without checking into their witness server/node more deeply.
Find it at www.Steemian.info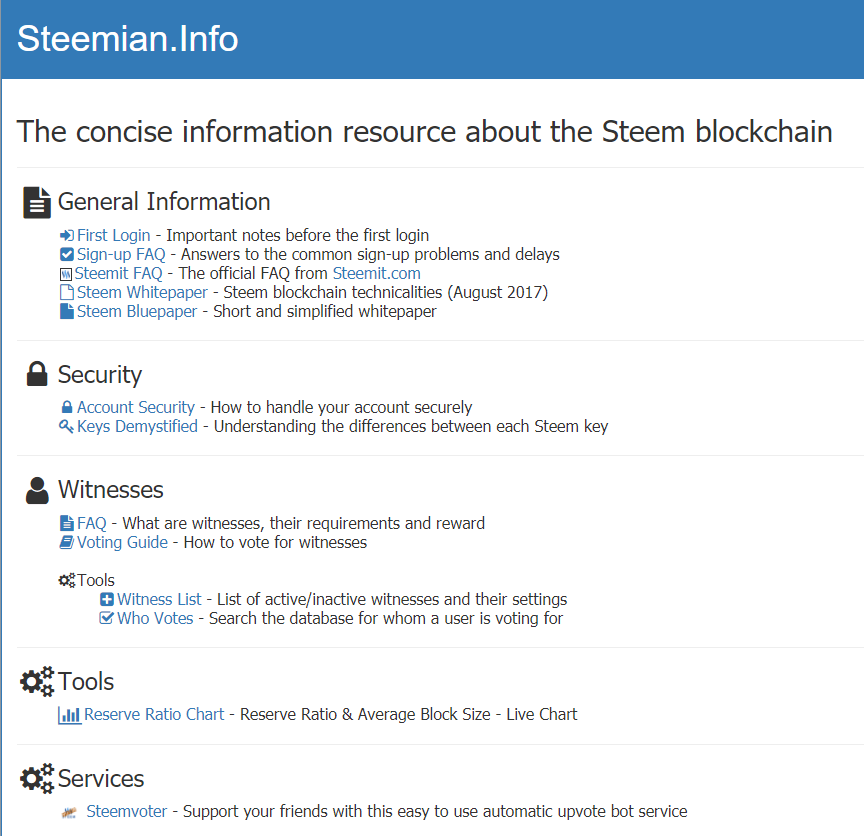 There are a lot more things it can do, too.
Let's take a look at the witness info section. Here's a typical snapshot: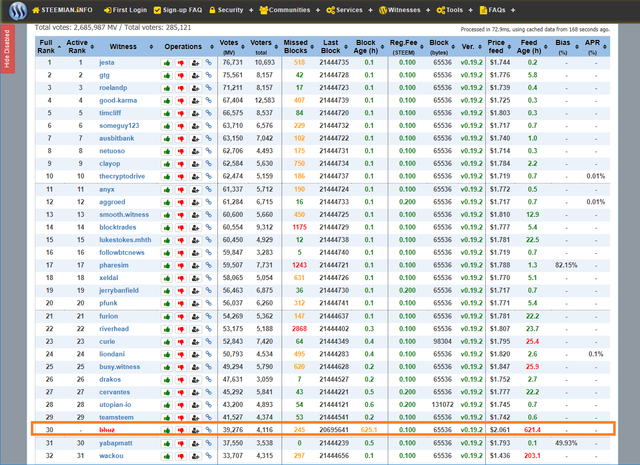 Note the area enclosed in orange.
A red name with strike-through is a "dead" giveaway for a dead witness. In the above shot, we can see witness #30, Bhuz, is dead with a 621 minute feed time. If you look at the other witness feed times, you will see that is far too long. Normally, one would decide to unvote Bhuz here until (and at least) he can restore an accurate and timely price feed.
Of course, technical problems are not the only, or even main, way to determine who one will vote for as witness. It's more of a minimum-competency threshold - if a witness can't keep an accurate price feed and a live note operating, they probably (definitely) aren't a good choice for such a technical position.
As Bernie Sanders is fond of pointing out, a lot of these witnesses don't really do anything, and just treat Steem as their own free, passive income. Don't vote for them.
Try SteemEngine and get rewarded for every follow or vote!
See my explanation of SteemEngine here.
Post via Busy.org for added exposure and upvotes from Busy!
See how to get extra votes from Busy.org here.

See my explanation of SmartSteem here.
Try SteemFollower today and get rewarded for every vote!
See my explanation of SteemFollower here.

Join us at the Minnow Support Project! (click me)
We also have a Radio Station! (click me)
...and a 10,000+ active user Discord Chat Server! (click me)
Join the Steemit Poker League! (@spl)
World's Largest Cyptocurrency Freeroll Poker Site, open only to Steemians!
Sources: Google, @Drakos
Copyright: SmartSteem, PALNet, SPL, @Drakos, Steemian.info