Gods Unchained // The "right" game built on the wrong blockchain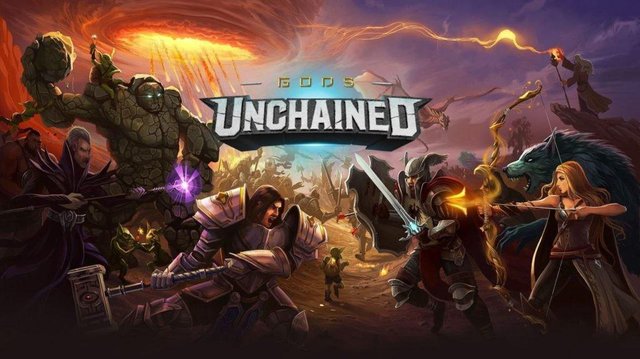 Most of you guys have heard about Gods Unchained. It's a Ethereum based card game that utilizes NFTs to create a game where you are the owner of your cards and can trade them freely using the Eth blockchain.
Awesome on paper. The game itself is a slight clone of hearthstone but that should not take away from it's quality. All games are clones of other games in one way or another. Even the most successful games like Blizzards WOW were built on the ideas of older MMOs. Hearthstone a game built from the ideas taken from games like Magic the Gathering. Diablo from older ARPGs like Baldurs gate (Disregard the Diablo mention, seems i was wrong on this one).
The quality of the game is undeniable. It can easily compare to the AAA games in it's characteristics.
So what's the problem? Why am I writing this post?
The problem is the ease of use and market fundamentals that stem from Ethereum.
I keep on repeating, Steem is the blockchain with the highest adoption level in the crypto space considering it's MC. When @aggroed and @yabapmatt launched Steem Monsters they tapped into the large amount of users that Steem has. Tens of thousands of people got introduced to the game and the game grew. It grew consistently and at this time the game has around 3000 active players, almost 4 millions card market cap on a blockchain that's 500 times smaller in MC then Ethereum. Recently completed their second kickstarter that raised 250k USD. Consider that. Now let's look at GU.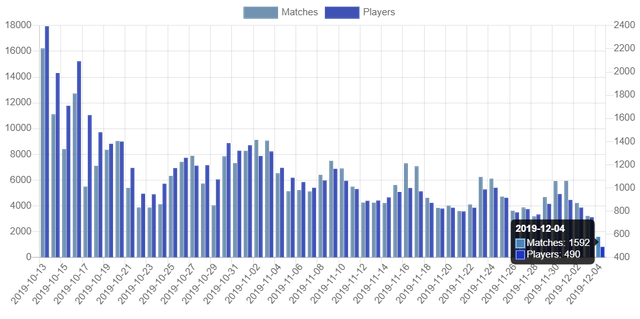 At this moment a game that received 15 million USD in funding,(I repeat... It's 15 with 6 zeros) a large chunk from Coinbase, and it has between 500-1000 players daily.
Did the game fail? Does it suck?
Absolutely not. It's a full-fledged game with a true use case for blockchain tech. I'd even wager that it's core gameplay is superior to that of Steem Monsters.
That is exactly why I say it's the right game for the wrong blockchain.
Steem due to it's rewards system is by far, and I emphasize that, the only blockchain out there that at this time has a resemblance of a potential for mass adoption proven by the success of steemit being a top 800 website in the world with steem only having a 1.5 billion market cap during the ATH.
But could GU get the funding on Steem it got on Eth?
Absolutely not. Big money drives the market and if you want to build something of quality, like the GU team did, they had to go to the blockchain that can allow for that.
Unfortunately, their decision is what will be their ball and chain.
Today I tried selling 2 cards on GU. The total in price around 50 USD. I tried to cancel my previous trade price and to do so it took me 15 minutes for one card and 35 minutes for the other. To describe the levels of my frustration i would have to devolve into my Grinch persona. Even with lowest fees I payed around 7 cents.
That kind of fee might not seem like much but it's a huge stifling factor for the market.
The equivalent of a GU card on Steem Monsters that is of lowest grade goes for almost the same price, a few cents above, of a GU card in GU. (Remember, Steem has 1/500th the market cap of ETH)
Those cards are worth about as much as the fee you pay on ETH and you will wait for the max time and lowest fees to get the common card you want to not overpay.
Consider how bad that is for the card market and price movement. The price stabilization at card real in-game value will take months. Something that Steem monsters achieved in a couple days with the Untamed packs.
The Ethereum blockchain put the game in a state of snail pace and the games adoption is literally dead at this point.
The money is there, Devs might prosper monetarily, Eth has the attention of the overall market, don't get me wrong, I'll keep on enjoying the game but the game due to it's god awful base it's built upon will never reach heights in user number. Something any video game should strive towards.
There are too many hoops to jump through. Fees to pay, the attractive part of being able to own the card overshadowed by the fact that you have to wait unreasonable times to trade, pay fees, buy Ethereum, understand how wallets work, how fees work.
All of that when Steem Monsters gives you a steem account for free, let's you buy with a credit card and all you have to do is put in a 5 word password to access your cards and trade them in 2 seconds and earn $ every single day.
You know what else is funny?
Due to steem being what it is reward wise, and due to a steem whale @acidyo that's invested in GU, you can earn more from playing GU and writing about your experience on Steem then you can earn by playing Gods Unchained.
Steem does more for the GU players then the game itself because the game had to be built on Ethereum to get funding.
Even looking at the numbers of OCD Guild players on GU, a significant chunk of the 500-1000 daily players are actually Steemians.
While Ethereum might have the money behind it just doesnt have users.
You can pump the price of a cryptocurrency as high as you want but you can never convince the user to use it if the experience sucks.
CONCLUSION:
It is a undeniable truth that big money is holding crypto hostage. It is also an undeniable truth that big money doesn't care about adoption rather only cares about the need for new investors to buy up their bags. That will keep crypto in a perpetual state of stagnation simply because everyone dismisses the need for a quality consumer experience.
Do I want a part of it if it's a pain in the ass to use?
Gods unchained is a prime example of a blockchain game that was built because "big money wanted to appease big money" which will make the game unable to break the constraints of mainstream relevancy because investors don't care about adoption, (and picking ETH was a must) making the game constrained by the limitations created by the inefficiencies of Ethereum, making the user jump through hoops to play the game at a level of reasonable satisfaction.
Investors only care about their bags being sold for a higher price when user experience is a side thought.
Just a few thoughts as always.