A Use Case For Blockchain Immutability And Why Easy Signups Are Absolutely Necessary
An acquaintance of mine is a marathon runner. He trains a lot and competes at an amateur level. I just read a Facebook post of his in which he explained that he discovered that the centralized service that he has used for keeping his training records is about to be closed. My acquaintance explained in the post that the data are for various reasons very difficult to retrieve and there is a real possibility that it will all be lost. That information is quite important to him because he really wants to know how he once attained a personal record time.
Where blockchains blow centralized and siloed data storages out of the water is not only the immutability but the permanence of the data stored. Once something is posted to a public blockchain it will remain available for as long as the chain runs. The survival of a public blockchain like Steem does not depend on any particular app, which is why it makes no difference whether, say, Actifit will survive as a business. The data, however old, can always be retrieved from the chain using generic tools like SteemWorld.
I was about to recommend Actifit to my Facebook friend but I decided to take a look at the signup page first: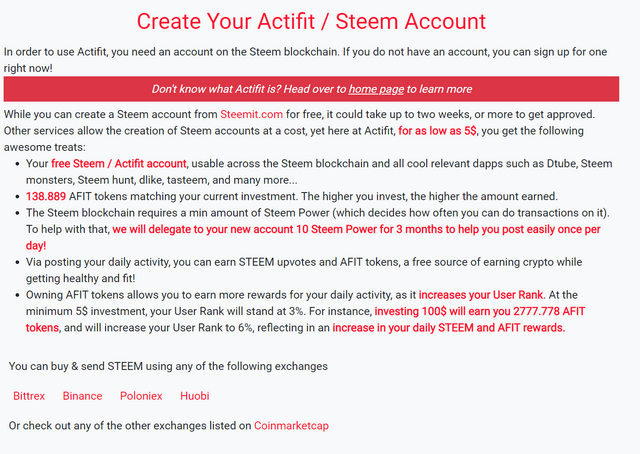 Ok, some general information first. That's a lot of information.
Then the actual form: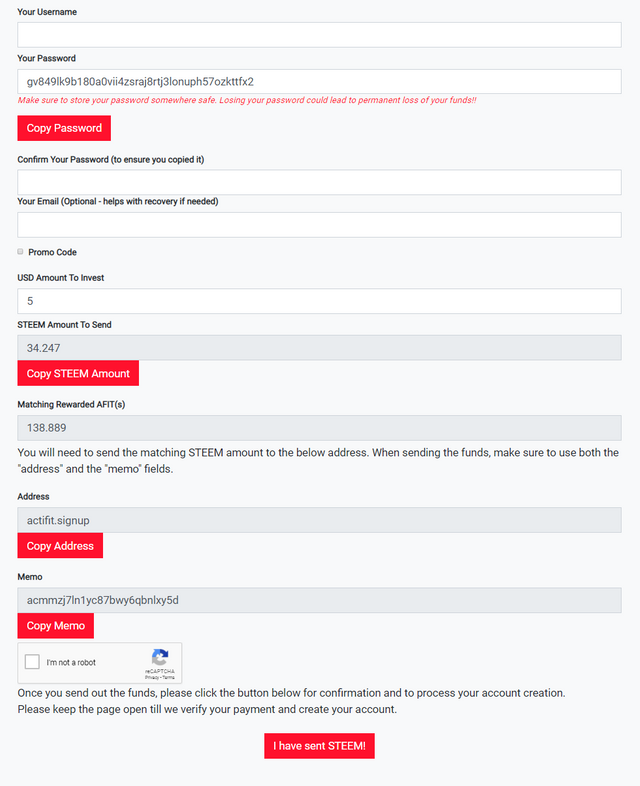 Hello team @actifit, are you out of your minds???
Are you really planning to get a lot of people on board by having them go to an exchange to buy STEEM first? Seriously! I know Actifit is a fitness application and jumping through hoops is a form of fitness training. But these are the wrong kind of hoops!!!
Do you seriously think you're going to onboard the masses when your signup process is like this?
The first order of business is to make sure the entire process can be completed without leaving this page! Put yourselves in the shoes of the average internet user. In just one page, you have introduced novel concepts like Steem Power and you talk about signing up as an investment. The user wants to make posts about their training sessions and you introduce stuff like investing money to them! Besides, you're leaving your users to their own devices by just providing links to four cryptocurrency exchanges. They will have to deal with stuff like international bank transfers to go through it all because they're going to have to transfer fiat to one of these exchanges somehow.
How likely is it that the average internet user for whom "blockchain" is just a word would ever dream of going through all these steps to create an account? Not bloody likely! This is pathetic.
It is absolutely necessary that you make it possible to purchase an account with a credit card. The typical internet user is very comfortable with paying for stuff online with a credit card. It's extremely quick and easy. Also, you should point out the Steem Keychain browser extension to your new users.
To recap:
Signups must be trivially easy. Never make your users jump through any extra hoops. The process should be possible to complete on a single web page.
P.S.
Poloniex has delisted STEEM. Please update your page. A whole lot of other exchanges will follow suit sooner or later if our apps continue to do this poor a job at onboarding users.
I'm not going to recommend Actifit to my marathon running Facebook friend in the comment chain. Sorry, but it's no use trying to onboard people like this. If you want to succeed, streamline the fucking process!
HTH