How To Get People Interested in Joining Steem?
I don't know the answer to that question. It's obvious to me why I should write a blog and publish photographs on Steem and nowhere else if I had to choose one platform. The money is simple vastly better than anywhere else. Steem is also decentralized and I have true ownership of my content on Steem. While I can be flagged and demonetized that way there exist no heavily bureaucratic system of algorithmic filtering I could become a victim of out of some stupid arbitrary reason like a technical glitch or something. For example, @gamer00 was banned from Twitter because he made a Finnish language tweet that included the abreviation "kys." (from kyseinen meaning "that in question"). Some algorithm on Twitter ignored the language and interpreted "kys." as the English language acronym KYS meaning "Kill Yourself". @gamer00's emails haven't been answered to and there can be literally a million other cases in the queue before his. Nothing like that can happen on Steem.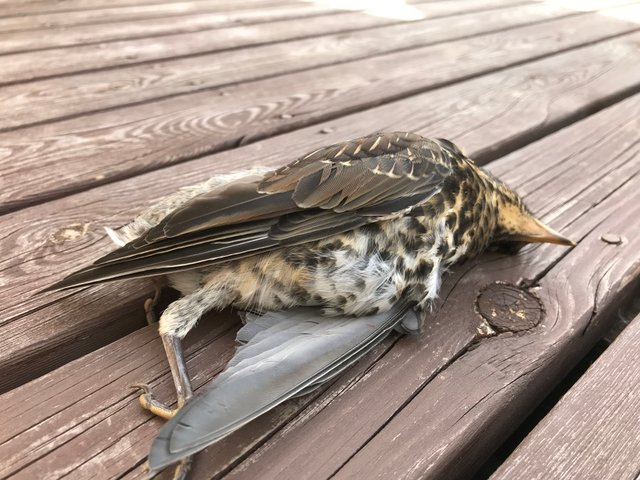 This bird is as dead on arrival (the cat brought it to us) as my onboarding efforts.
I know people have successfully onboarded new Steemians. Hell, I was once onboarded myself! Is there a strategy involved? How do you talk to people who you think might be interested in joining Steem and would benefit from that? Is it a numbers game or do you somehow pick out the promising ones from a crowd with some kind of radar? @tarazkp has onboarded dozens of people. Some of those people were active for close to a year! He has said at some point that he's done with onboarding for now, though, because very few of his catches had staying power as they seemed to fall victim to the last crypto winter. But I think it would help Steem if our numbers kept going up.
Please help me, I want to learn how to do it. I recall having easier time getting pretty young women to go to bed with me when I was young and single than getting people to join Steem has been for the past couple of years, which is an indication of what a fucking disaster my onboarding attempts are. LOL
There is a business aspect to this as well. I know some people have been saying that onboarding is best left to apps and that Steem may not be ready for mass adoption, yet. I'm talking about organic growth here. I've got a couple of account tickets claimed already and I'm technically ready to onboard a couple of friends or other people interested.