I JUST INVITED ONE OF THE GREATEST INTERNET PERSONALITY TO JOIN US ON STEEM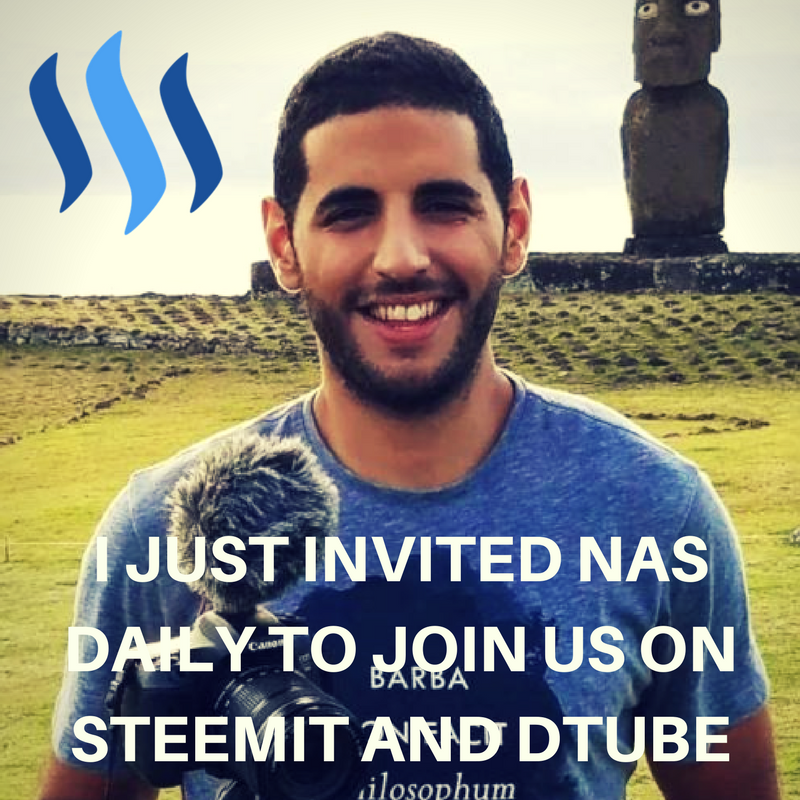 Image from NAS DAILY facebook page
Hello steemians!! I hope and trust everyone is doing fine.
Personally, i am doing awesome.
Who is NAS DAILY??
I know some of you are probably wondering and asking who NAS DAILY is .
Incase anyone has no idea who NAS DAILY is, NAS DAILY is a great legendary Vlogger who travels the world and makes 1 minute videos about different people and communities across the globe. He currently has millions of followers (over 3 million people) and posts most of his videos and work on his Facebook page.
I have always been a great fan and follower of his awesome 1 minute videos since it's where i have been drawing a part of my inspiration from.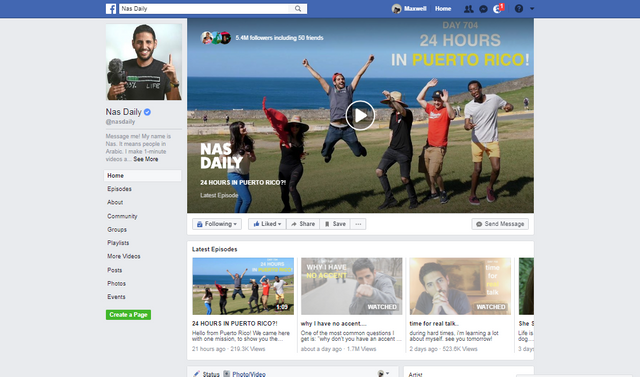 You can check out the NAS DAILY official page here for more information.
How i got to invite NAS DAILY to steem
So early this morning i was surfing through the internet and decided to check out a little bit of facebook.
Since i am in the NAS DAILY GLOBAL facebook group, I bumped into one of the post in the group by the NAS DAILY team requesting for moderators to help run the facebook group.
I took a few minutes asking myself whether i should apply for a position or skip.I thought and thought critically then finally decided to apply for the position through mail.
In the mail, i introduced myself, told him a little bit of my story, explained why i should be considered for a position, mentioned decentralization plus the idea of zero censorship and finally invited him to Steemit and dtube.
Here is the facebook post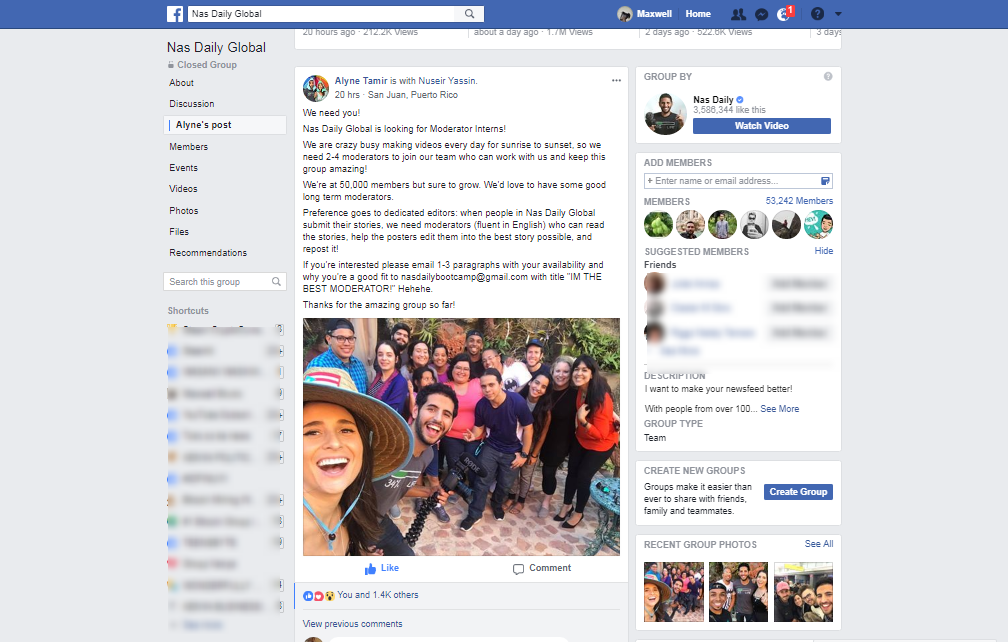 We need you!
Nas Daily Global is looking for Moderator Interns!
We are crazy busy making videos every day for sunrise to sunset, so we need 2-4 moderators to join our team who can work with us and keep this group amazing!
We're at 50,000 members but sure to grow. We'd love to have some good long term moderators.
Preference goes to dedicated editors: when people in Nas Daily Global submit their stories, we need moderators (fluent in English) who can read the stories, help the posters edit them into the best story possible, and repost it!
If you're interested please email 1-3 paragraphs with your availability and why you're a good fit to [email protected] with title "IM THE BEST MODERATOR!" Hehehe.
Thanks for the amazing group so far!
You can also see it here
Below is my application through mail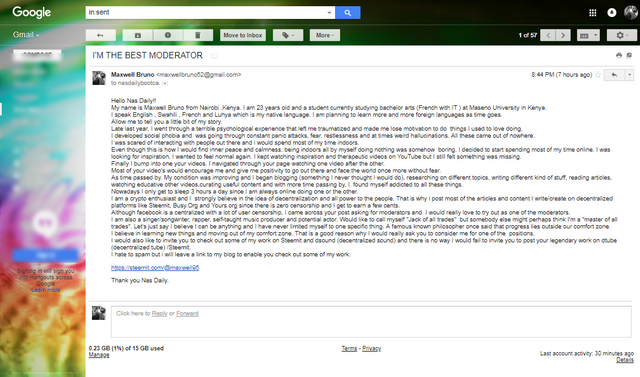 Hello Nas Daily!!
My name is Maxwell Bruno from Nairobi ,Kenya. I am 23 years old and a student currently studying bachelor arts (French with IT ) at Maseno University in Kenya.
I speak English , Swahili , French and Luhya which is my native language. I am planning to learn more and more foreign languages as time goes.
Allow me to tell you a little bit of my story.
Late last year, I went through a terrible psychological experience that left me traumatized and made me lose motivation to do things I used to love doing.
I developed social phobia and was going through constant panic attacks, fear, restlessness and at times weird hallucinations. All these came out of nowhere.
I was scared of interacting with people out there and i would spend most of my time indoors.
Even though this is how I would find inner peace and calmness, being indoors all by myself doing nothing was somehow boring. I decided to start spending most of my time online. I was looking for inspiration, I wanted to feel normal again. I kept watching inspiration and therapeutic videos on YouTube but I still felt something was missing.
Finally I bump into one your videos. I navigated through your page watching one video after the other.
Most of your video's would encourage me and give me positivity to go out there and face the world once more without fear.
As time passed by,my condition was improving and I began blogging (something I never thought I would do), researching on different topics, writing different kind of stuff, reading articles, watching other educative videos,curating useful content and with more time passing by, I found myself addicted to all these things.
Nowadays I only get to sleep 3 hours a day since I am always online doing one or the other.
I am a crypto enthusiast and I strongly believe in the idea of decentralization and all power to the people. That is why i post most of the articles and content I write/create on decentralized platforms like Steemit, Busy.Org and Yours.org since there is zero censorship and I get to earn a few cents.
Although facebook is a centralized platform with a lot of user censorship, I came across your post asking for moderators and I would really love to try out as one of the moderators.
I am also a singer/songwriter, rapper, self-taught music producer and potential actor. Would like to call myself "Jack of all trades" but somebody else might perhaps think I'm a "master of all trades". Let's just say I believe I can be anything and I have never limited myself to one specific thing. A famous known philosopher once said that progress lies outside our comfort zone.
I believe in learning new things and moving out of my comfort zone. That is a good reason why I would really ask you to consider me for one of the positions.
I would also like to invite you to check out some of my work on Steemit and dsound (decentralized sound) and there is no way I would fail to invite you to post your legendary work on dtube (decentralized tube) /Steemit.
I hate to spam but i will leave a link to my blog to enable you check out some of my work.
https://steemit.com/@maxwell95
Thank you Nas Daily.
Conclusion
I am positive he will get to reply to my application. One thing i am proud of is the fact that i got to spread the word about steem and steemit to one of the most influencial internet personalities with a massive following in the mainstream media.
Imagine this
Supposing NAS DAILY considers and accepts my invitation to join steemit and starts making his lovely videos on dtube...?? That would bring more than 3 million followers to steem and dtube since he would probably highlight and a make a video about the steem blockchain in one of or a number of his posts where he would also get to invite his followers.
Imagine beyond possibilities
I played my part as a steemian who strongly believes in the steem platform and i trust there is nothing that is beyond reach.
We should aim and target such huge influencial personalities to join Steemit.
That way this platform will grow at a supersonic speed and surpass other huge platforms.
Like i said!! Nothing!! Absolutely nothing is impossible.
Let us now wait for more than 3 million new steemians including NAS DAILY to join us on steem.
Thanks for taking your time to read this.