Building Steem's Meme Community With Memehub
Edit: To clear confusion, you can visit the website and start meme-ing right now. This isnt an abstract "Future Project" without a product yet.
We already have the basic platform up and running at Memehub.lol.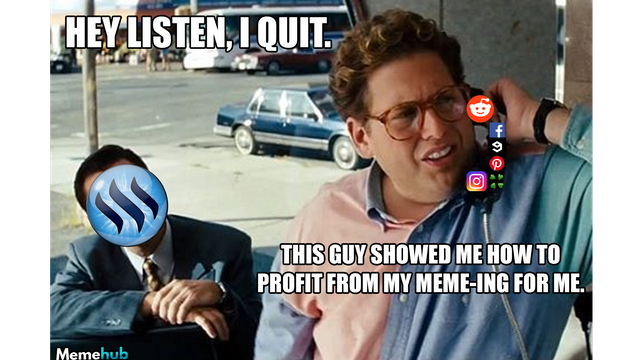 ---
The ubiquity of memes in today's internet culture is unquestionable.
Every well-known platform has a solid meme culture thriving on it, albeit cultures vary wildly between them. It is time that Steem embraced memes in such a way as to send a shockwave through the meme community.
---

---
We are currently developing a meme website with Steem integrated!


Steemians, Memers, and Steemian Memers will be able to turn the laughs from memes into upvotes on Steem! A place where a meme community for steem can be cultivated properly and culture established.
---
Status
Website


The non-Steem MVP alpha version of the website is available at

Memehub.lol

! Explore the meme platform for Steemians, and let us know if you find any bugs! We have deployed the website/app without steem first to get it stable prior to going live on the Steem blockchain.

---

---

This announcement is a bit premature; We are still working out minor bugs we found during the first deployment. We decided to go ahead and announce given the current environment of the steem price, Libra, and Voice. We believe the steem community needed this boost sooner than waiting a couple weeks until everything was perfectly ready to go to beta testing.

SO GET HYPE FOR A MEME COMMUNITY FOR STEEM!

---

We are fully committed to ensuring the quality of this project but we need your help by using/testing the platform prior to going live on steem. For collaborating, expressing opinions for development, reporting bugs, general feedback, or wanna help, you can contact us on our discord server

Memehub Discord

---

---

Note

: Some features are under construction and not part of the MVP version. Things are still subject to change; the general goal is the best meme website with Steem integration manageable with the available resources at each stage of development.

---

Steem Integration


---

The code is officially in development. Users will earn points called LULz for participating in meme-ing on the website. These points will be convertable into Steem via upvotes from the Memehub acct.

---

Top Memes


Every day the Memehub Steem acct will broadcast a post with the Top 3 Memes of the day from Steem connected accts on the Memehub website to the Steem blockchain. With steemconnect permissions, comments with content of how many LULz were earned on the meme by the poster of the meme will broadcast from the Steem acct of that poster. Then they will receive upvotes from the Memehub acct at voting percentages: 50% for first, 35% for second, and 15% for third.

---

From LULz to Steem


The Memehub Steem acct will broadcast a post, weekly, for comments from user's Steem accounts to receive upvotes from the Memehub Steem acct throughout that week.

The method for how upvotes will be distributed to users for their LULz will take the form of bidding for a share of a 100% vote from the Memehub Steem acct when at 100% voting power. The upvote percentage received out of the 100% upvote, will be calculated as the ratio of the amount of LULz a user bid relative to the total LULz bid in the round. A good analogy is that converting LULz to Steem is similar to how vote bid-bots sell their Steem upvotes.

---

App


Get your laughs while on the go! We have apps developed, just not deployed yet. Once the website deployment is considered finished, the apps will be deployed and announced in a later post.

---

Fully Live


After the MVP version of the website and app are stable without Steem and the Steem code tested on the testnet, then stable when live on the blockchain/website, we will consider the website fully live!

---

Post-Live Development


The first feature under construction we aim to address after the Steem-mvp version is fully live, is a voting page to gauge the opinion of the user base for what feature to implement next in the development process and proceed from there.
---
FAQ
Why not just post memes straight onto the Steem blockchain?


The amount of the meme community strictly focused on creating OC memes or templates is dwarfed by the amount of pure nonchalant sharing of memes. The dankness and freshness of a meme is generally more valuable then the sharer being the creator, or even who the creator is. This mentality clashes with Steemit posting principles, as we quickly found out when joining this platform. This is also one reason (of many) why Dmania has failed in recruiting and incubating the meme community on Steem. Also, it is impossible to determine the original creator of a meme, absent trusting a watermark if present or imposing restrictions that conflict with the nature of dank meme propagation.

---

How does Memehub fix this?


One way to view it is that the Memehub website will work as a bridge between meme-ing and Steem. It will provide the natural habitat of memers on one side, and Steem rewards on the other. These Steem rewards will come directly through upvotes from the Memehub steem acct for that purpose and indirectly through upvotes from Steemians who get a laugh out of the memes.

---

This prevents Steem from being flooded by meme posts that are not by the creator. Which allows the meme community to interact naturally with Steem, without the inherent clashing of the manner in which meme communities/cultures operate and the principles of posting on the Steem blockchain. This also ensures that there are quality memes on the steem blockchain, as voted on by users, such that anyone on Steem will observe a flourishing meme culture on the platform. So Another applicable analogy is that Memehub works as a filtering mechanism for what memes end up on Steem as voted on by the Steemians that meme.

---

How seriously does Steem need this?



MEMES ARE THE STANDARD MEDIA OF COMEDY ON THE INTERNET!
MEMERS NEED STEEM AND STEEM NEEDS MEMERS!

---

Every major centralized corporate social media platform that Steem looks to contend with has a meme community with its own culture as a core element.

ALL OF THEM!!!

---

Where there are memes, people will follow!
Where there are people, there will be a demand for dank memes!

---

The subreddit r/memes has 4.9 million members; Lets give them something better than reddit karma! Let's give them Steem!

---

The "Memes" facebook page has 16 million followers. Facebook is creating globalcoin but lets give all these memers Steem instead!

---

The

@Epicfunnypage

Instagram acct has 13.6 million followers. Lets give these Instagramers Steem for looking at memes!

---

COMEDY IS UNIVERSAL!

---

There are vast communities of memers on pintrest, 9gag, memedroid, 4chan, etc that only make money for the companies that run the platforms with their meme-ing. Lets give them value for their effort in spreading laughs and smiles.

---

LETS GIVE THEM STEEM!
---
What are some other PROS of the Memehub website?
Users do not have to have a Steem acct to use the website which allows for mass adoption of memers, before converting to steemians. Since the signup process is what the average internet user is accustomed to, the transition to using Memehub is effortless. (One of the deployment bugs we are currently working out is the sign in with facebook/gmail options)
Without a Steem acct, users will not be able to convert their LULz into Steem. This is how the meme community gets funneled to and incorporated into Steem. Naturally, the memers will want to get the value of their LULz, hence will create a Steem acct to do so. This opens them up to the entire Steem ecosystem in general, in a stepwise manner via memes. Thus establishing a solid meme comunity core element for the Steem blockchain.
By creating a hybrid community where Steemians and not yet Steemians interact via meme-ing, we strongly believe that this will facilitate the conversion of memers into Steemians by its own nature as well.
Aside from what has been listed, this provides a platform for Steemians themselves to enjoy and share memes in a non-chalant manner and still earn Steem for it.

---

Everyone needs a laugh; Everyone enjoys a laugh; including Steemians.
---
I am a Steemian that loves memes!
How can I help?
Start using using the website: we need people posting and voting on memes to get the ball rolling on various levels.
SPREAD THE WORD!!! Tell all your meme loving friends about how soon they will be able to get paid for laughing at memes!
Delegate to Memehub: The higher the reward from a Memehub upvote, the more incentivized memers are to become steemians.
Follow Memehub on Steem: Get updates on development and a daily dose of dank memes once the Steem integration is live.
Upvote Memehub Posts: helps us spread the word on Steem and helps increase the value from Memehub upvotes to memers as rewards.
Upvote the Posters that produced the Top Memes (Once Live): you will get a good laugh from their memes, it supports the thriving of a meme community on Steem!
I will make the source code open-source at the appropriate time:
Devs who love memes or just love the benefits of Steem having a meme community and want to contribute can do so.
We are looking for support: from the large players in the Steem community to help us cultivate the meme community for the Steem community on a platform that provides the best medium between the two. @steemtank @oracle-D @therealwolf @dtube @blocktrades @utopian.io @aggroed @enginebloc @theycallmedan @themarkymark to list a few that I know of given my experience on steem so far, that I would like to see interested in this project. I know @justineh at some point made a popular post on memes that were steem related, so maybe this user would be interested in support the project. Also, the meme contest hosts on steem currently, @fibra59 and @richtvns.
We are looking for support and feedback:
From the Steem community at large. Tell us your thoughts and opinions in the comments! Obvisously your thoughts matter to us! Resteem to get more of the community involved!
Anyone can get in contact with us through our discord:
For collaborating, expressing opinions for development, reporting bugs.
Memehub Discord
---
More Information Coming Soon