Kikimoji's Chinese New Year of the Rat- 7th Hand-drawn sticker pack released & avail today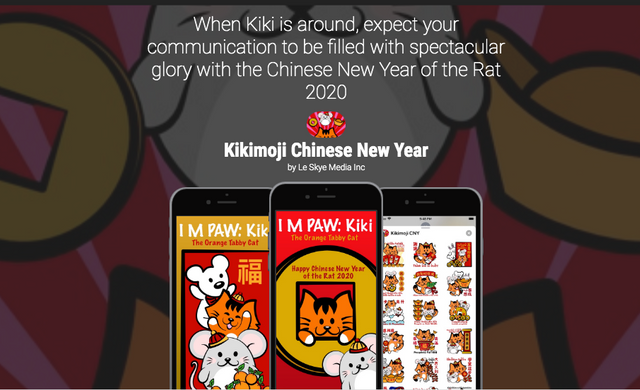 Released Jan 15, 2020: See 2020's KikiMoji 7th sticker pack available in the App Store @ https://apps.apple.com/ca/app/kikimoji-chinese-new-year/id1494821788
When Kiki is around, expect your communication to be filled with spectacular glory with the Chinese New Year of the Rat 2020. Break the ice in conversation with these fun-filled handcrafted stickers of I M PAW: Kiki the orange ginger cat, Snowie the white bunny, Latte the teddy bear, and Mikey the mouse. Spice up this Chinese celebration with your loved ones, friends and coworkers by sharing your joys, laughters, adventures, red pocket wealth and prosperity. Filled with endless good luck wishes and phrases, stick this beautiful cat and friends inside bubbles, layer on top of photos and stickers. Follow I M PAW: Kiki and friends; the newest and coolest characters in the world.
I M PAW: Kiki is an adopted rescue ginger cat with a curious, funny, playful and sometimes mischievous personalities; stealing the hearts of his human companions with his super adorable and kawaii ways. Want to know more about this cat's adorable journeys? Come and visit I M PAW: Kiki official website at https://www.impaw.com/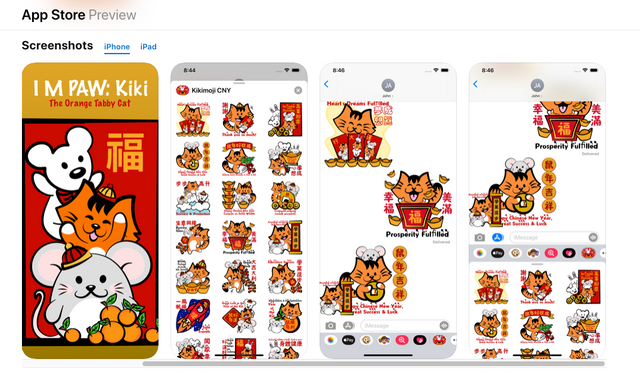 This pack features:
30 high quality hand-drawn stickers crafted with love

Ease of use; Just tap the sticker you want, and DRAG & DROP the sticker into your message

Share worldwide good luck greetings, charms and wishes with your loved ones and friends

Overload of laughter with your friends and acquaintances

100% Earth-friendly

More cuteness to come in upcoming I M PAW: Kiki and friends sticker packs

Check out the various Chinese New Year fun and communication using laptops, tablets, mobiles ranging from words of good luck, health, and safety to wealth and prosperity! Whatever the activity you've decided to do, express it to your people whom you care about!
P.S- If you like I M PAW: Kiki stickers, follow the Creator @katmeisteradores, and spread the cuteness and rate it 5 stars!
#share #digitalillustration #chinesenewyear #sticker #ios #iosapp #stickers #cuteness #appstore #friends #family #webtoon #toon #cartoon #art #artwork #illustration #digitalart #new #trending #newproduct #marketing #linkedin #today #now #cat #pet #firstday #design #business #handmade #technology #branding #tech #technology #follow #creative #onlineshopping #productdesign #productreview #love #latesttech #ilovemygadgets #mobile #innovation #growth #value #feedback #market #digitalproduct
Check out my websites:
https://linktr.ee/impaw_kiki