🚨 Campaign to get STEEM listed on Binance! 🚨 Community Coin vote! @ned @jerrybanfield @everybodyelse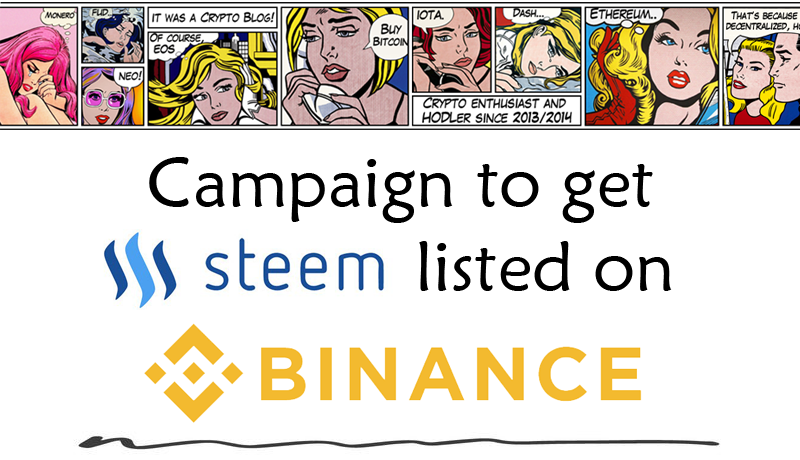 Binance Exchange is having another Community Coin of the Month vote, and we need to get STEEM nominated so we can all vote to have it listed on Binance Exchange! I am only a small minnow with no influence, and only people involved with the project can submit the application to get STEEM added.
This post is (another) attempt to reach some of these people in the hopes that they will pick up this initiative and submit an application. If you are a developer for STEEM (@ned?), or if you are involved with it's marketing like @jerrybanfield, or if you know anybody that qualifies to submit the application, please consider doing your part for the betterment of the entire STEEM ecosystem.
Why Binance:
Binance Exchange is great, and most of you know it already. It boasts the lowest trade fees, has the most popular coins and nowadays has surpassed Bittrex as the go-to place for cryptocurrency.
Getting added to Binance will:
Open up STEEM to new markets, including Asian markets
Getting listed on Binance means you're a popular coin, as such it is a marketing move in itself
Binance will allow for cheaper trade/withdrawal fees for Steemians who look to diversify (or buy in)

What is required:
It's very simple! Somebody who is a developer or otherwise involved with STEEM needs to go to
this application form
and fill it out.
You can read a description of the process in the news announcement too
, to find out more.
After this application STEEM (and/or SBD) should be listed on the next community coin vote alongside other contenders. It will then be a matter of which cryptocurrency gets the most votes. Every Binance user is allowed to vote, and in order to cast a vote every user needs to pay a 0.1BNB fee to vote. This cost is to prevent vote-spamming, I believe.
With the size of the Steem/Steemit community, there is no reason we should not completely dominate the voting process!
The only thing keeping us from being listed is the hurdle of the application!
In fact, I wonder why this application hasn't been made previous times yet! It doesn't matter, because all that matters is that we can do it now.
The application for the Community Coin of the Month vote closes on 2017/12/31 4:00 AM (UTC)! That is only a few days away!!!

Please, Top-level Steemians, if you can help, let's work together to get STEEM listed on Binance! There is NO reason not to do this.
If you're not a STEEM developer or a Top-Level Steemian, you can help by:
Contacting people who do know others that can help and pointing them here
Upvote or Resteem this post to get it visible in the hopes that relevant people read it
Thanks for your help!




(Art by Roy Lichtenstein)