"Better the Devils you know, than the Devil you don't" ... Migrating to a new blockchain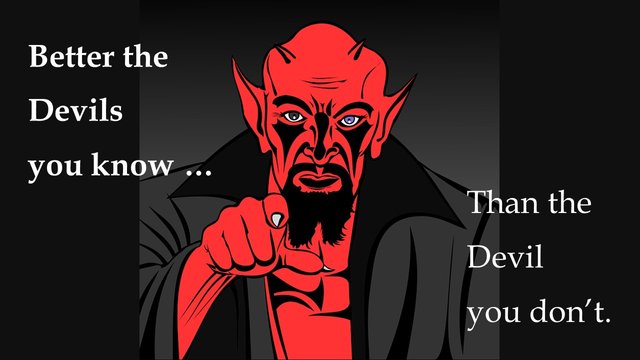 I just finished reading a post published by STEEM Witness @ats-david entitled, "How to Save STEEM." I encourage you to read it before reading this article. The purpose of the post was to argue in favor of a mass migration to a newly created blockchain, one in which Justin Sun would have no stake. The essence of STEEM/Steemit, it was opined, was not in a 'name' but rather an ethos shared by a community of like-minded individuals ... Steemians.
Because I'm a serious writer, the first thing I noticed about the post was the care of composition that was undertaken in its creation. It was well written and well edited. Because I'm a serious person, the second thing I noticed was the hypocrisy.
Suddenly, Everyone's Found Religion
This post, and many recently emanating from Whales, Witnesses and Dev's, invoke the language and sentiment of heroes and patriots, the good guys drawing their swords in the face of impending tyrannical oppression. Expressions of honor and nobility are now so ubiquitous that one could be forgiven for believing that Merlin had magically transported them back to the court of Camelot.
Followers of this blog will be well-acquainted with my years-long harangue against the flagrant cheating and miscreant skullduggery that reduced STEEM/Steemit to little more than a den of thieves. Bidbots, circle jerks, multiple account self-upvoting, spam, abusive downvoting by Whales, etc., etc. A quick scroll through Trending demonstrated the sheer magnitude of the corruption.
Having adopted the ethos of a whorehouse, everything was for sale and 'strategic community initiatives' rarely amounted to more than quibbling over price. To wit, I recall a high-profile Whale trying to garner support for a 'Bidbot for Witness Votes.' "If a Witness wants a Whale's stake-weighted vote, they ought to be willing to share in the resulting financial benefits." Unapologetically, he referred to his would-be piece of the pie as a "kickback." So much for the sanctity of blockchain governance.
I was not alone in voicing my disdain and disgruntlement. Indeed, a virtual army of content creators screamed bloody murder. Whales and their hand-picked Top 20 Witnesses had rigged the system such that 'quality of content' was irrelevant. Shakespeare-returned-from-the-grave
would have been lucky to make $5.00 on a post without first engaging in some form of vote manipulation. All the while, two paragraph posts, riddled with grammatical and syntactical errors, earned hundreds of dollars. "Well, quality is subjective." Perhaps, but vote buying and selling is not.
Who orchestrated all this chicanery?
You guessed it – the Whales, Witnesses and Dev's.
They owned and operated the bidbots. Some of the real assholes in their midst drove an inestimable number of users from the blockchain for the crime of commenting upon a post whose author was, at the time, on their shit list. And, because Whales and Orcas owned 85% of the SP, their diversion of the blockchain's 'limited internal capital' (SP) via delegations (to DApp developments in which they held financial interests), resulted in there being next to nothing left over to compensate content creation.
No matter.
For on countless occasions, content creators were told by the higher-ups that "Steemit was shit." That the only thing about the STEEM blockchain that was of value were their DApps … as evidenced not by market demand, but by their saying so. Effectively, the blockchain had become an 'alternative source of venture capital' for DApp development while Steemit was reduced to little more than a façade, a fiction that enabled the VIP's to buy time for their DApps to gain an audience while claiming that, unlike other blockchains, STEEM already possessed "a going concern."        
When not vilified, the chorus of complaints were ignored and everyone came to understand the name of the game.
It was never about what was 'right or wrong' or 'fair or unfair' or even 'sustainable or unsustainable.' Rather, it was about having 'skin in the game' and 'voting your stake.' It was 'Survival of the Fittest' and 'Let the Devil Take the Hindmost.' And, as the First Principle of the Law of the Jungle is 'eat for today,' short-term self-interests nullified considerations about the long-term consequences of such behavior.
But there's always a Bigger Fish … and along came Justin Sun.
All of a sudden, the sacred and inviolable principles of 'having skin in the game' and 'voting your stake' were conditional upon 'supporting the status quo.' And, rather astonishingly, in the absence of 'actual commercial contracts' to ensure compliance with the status quo, 'implied social contracts' would poof into existence, employing legal reasoning so twisted that 'pretzel-like' would become a surprising, yet apt, metaphor.  
Justin Sun didn't need an operating system like STEEM, he had one, TRON. What he did need was a crypto-based social media platform like Steemit to offset EOS's launching of Voice. EOS is, arguably, TRON's most natural competitor and Justin Sun simply couldn't let Dan Larimer's
blockchain possess something his did not.
And so, not uncoincidentally, on February 14th the long-awaited Voice Beta launch was dramatically eclipsed by the announcement of Sun's Steemit Inc. buyout, a deft PR coup. A great many Steemians rejoiced ... an infusion of money, marketing and manpower.
But it didn't take long for the STEEM Whales, Witnesses and Dev's to grasp the likely implications of said acquisition. If Justin Sun insisted on SP being used as originally intended, to curate content on Steemit, the ability to re-direct Reward Pool payouts into their DApp projects would come to a screeching halt. They'd have to raise capital independently … just like every other software developer on the planet.
For all the moral outrage and high-minded talk about 'protecting the community,' it's hard to imagine how Steemit content creators living under 'Justin Sun's tyranny' would be any worse off than their living under the 'liberty of the Ancien Régime.'
'Better the Devils you know, than the Devil you don't,' is cold comfort for those living under the boots of the former.
To Be Fair
To be fair, I don't believe any of the belligerents have comported themselves particularly well. Both sides have engaged in inflammatory behavior and rhetoric, and egos and emotions are now eviscerating common sense and reason.
And, despite my generic criticism of Whales, Witnesses and Dev's, there are a number of exceptions and I'm the first to offer salutation where it is warranted:
@theycallmedan is a Whale who has tirelessly busted his ass promoting the blockchain, often at substantial cost to himself.
@steemchiller's signature DApp, SteemWorld, is universally admired and no one I know is anything but completely supportive of his endeavor.
For years, @timcliff earned widespread respect and admiration for his steady hand in matters of blockchain governence. Although, as the sole dissenting voice relating to the SoftFork, he was quickly disavowed by Whales and Witnesses and now ranks #48 on the Witness List. When an honorable man is so dishonorably treated, it is a stain upon us all.  
And lastly, there was nothing especially egregious about @ats-david's post which was the inspiration for this article. His post was simply in the wrong place at the wrong time and hence became a representative example of a larger phenomenon.    
Note to Whales, Witnesses and Dev's
As has been repeatedly opined, 'voting your stake' means 'voting your interests.'
So, to all you recently-turned-solicitous Whales, Witnesses and Dev's clamoring for a mass migration to a newly created blockchain - on the assumption that everyone will follow you to the Promised Land ... you might wish to consider whether the interests of people like me align with the interests of people like you.
And, before you conclude you're capable of leading an Exodus, you might want to first determine whether anyone considers you Moses.

Quill