Steem Total Value Powered Up - $64 million - May 28, 2021
This is next in my series of posts reviewing the amount and value of powered up STEEM on the Steem blockchain. For previous posts, see the end of this entry.
Noteworthy this week, we have reached another new high in terms of powered-up STEEM, but once again the approximate dollar value dropped because of widespread market declines.
---
Before moving on, just for fun, here is an experiment:
SteemPredicts: (Over/Under) Do you think the powered up STEEM on Thursday - June 3 - will have a value above or below 2,000 BTC? Vote in the comments.
(I will upvote the correct answer on June 3, in order to distribute a few curation rewards to correct voters.)
Now, back to the numbers.
---
Here are the numbers as of a few minutes ago.
Total value locked in powered-up STEEM (USD): $64,128,529.17
STEEM market cap $207,632,167.382
Locked value in terms of other tokens:
| token | price | locked_value equivalent |
| --- | --- | --- |
| tron | 0.07 | 896,739,462 |
| steem-dollars | 8.56 | 7,491,650 |
| bitcoin | 35,100.00 | 1,827 |
| ethereum | 2,397.40 | 26,749 |
| litecoin | 173.43 | 369,766 |
| steem | 0.54 | 118,295,620 |
And here are the charts, based on data collected daily since April 10.

VESTED STEEM
Every day since May 16 has seen a new high.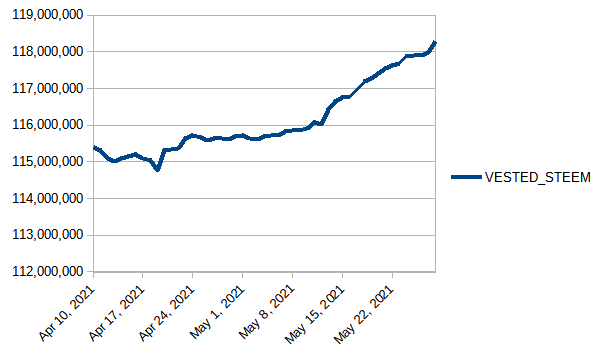 Value of powered-up STEEM in terms of USD
This is up from the May 23 low, but still down in comparison to previous weeks.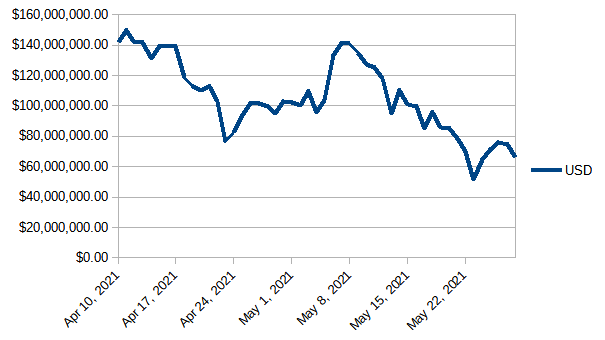 Value of powered-up STEEM in terms of tron (TRX)
Continued parallel movement near the range between 800 million and 1 billion.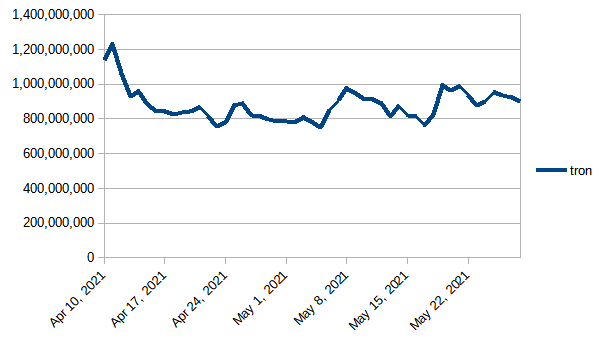 Value of powered-up STEEM in terms of Steem Dollars
SBDs are continuing to show strength in comparison to powered-up STEEM.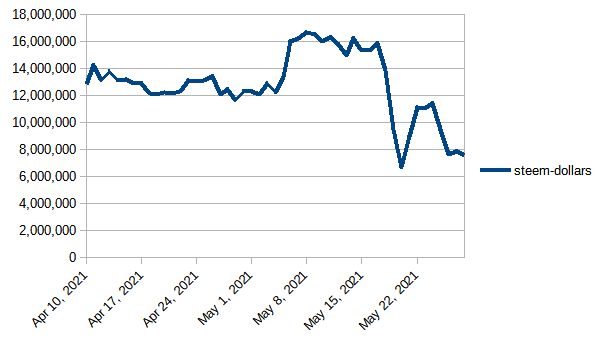 Value of powered-up STEEM as a percentage of Steem's market cap
This is actually my favorite metric, but you have to basically ignore the numbers before May 14, since they came from a different web site at a different time of day. After May 14, the percent of market cap has been trending upwards, slowly.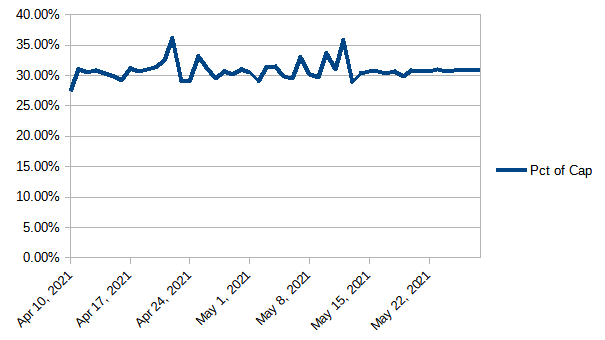 Value of powered-up STEEM in terms of bitcoin (BTC)
Not happy to see this number drop below 2,000, which was a mental benchmark that I have been tracking - for whatever reason. But, at least this sparks a question for the comments.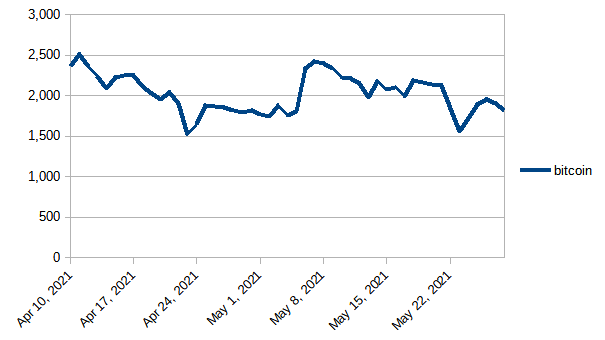 Value of powered-up STEEM in terms of ethereum
Parallel motion in terms of ethereum and litecoin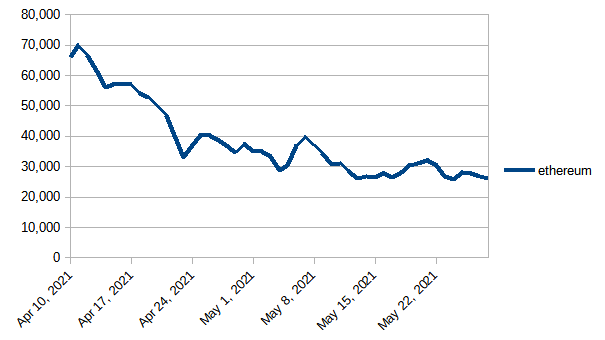 Value of powered-up STEEM in terms of litecoin
Parallel motion in terms of litecoin and ethereum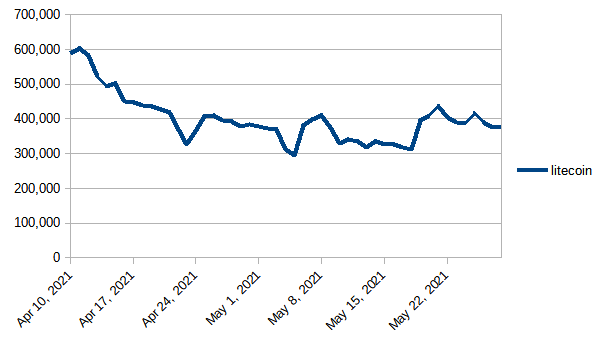 Notes
Reference prices for STEEM and other tokens are downloaded from coingecko.com
Marketcap data came from coinmarketcap.com through May 13 and from coingecko.com after that.
Previous posts