Marketing: Steem vs. Hive (german/ english)
Ich möchte Hive nicht schlecht machen, aber dort gibt es einen Mangel an Verständnis für Marketing. Vergleichen wir hive.blog mit steemit.com, dann sind die Daten sehr eindeutig.
Ok, Hive ist noch jung, aber dennoch sehe ich als SEO Insider sehr eindeutig Signale, dass es bei Hive an einigen Stellen der Marketingstrategie massiv mangelt. Vielleicht gibt es gar keine echte Marketingstrategie.
Wir sehen im folgen einige Graphen von SEMrush. Dieser Anbieter für statistische Auswertungen im Marketingbereich für Websites ist sehr etabliert und die Ergebnisse sind über jeden Zweifel erhaben.
I don't want to make Hive bad, but there is a lack of understanding of marketing there. If we compare hive.blog with steemit.com, the data is very clear. Ok, Hive is still young, but as an SEO insider I still see very clear signals that Hive is massively lacking in some areas of the marketing strategy. Maybe there is no real marketing strategy at all.
We see some SEMrush graphs below. This provider for statistical evaluations in the marketing area for websites is very well established and the results are beyond any doubt.
Hive.blog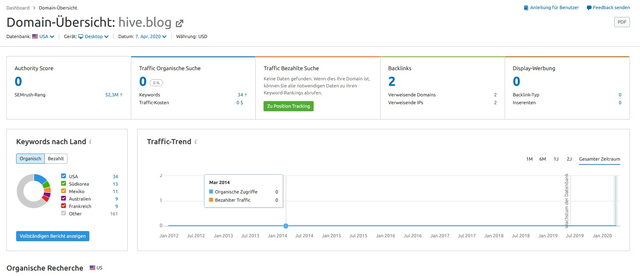 Hier zum Vergleich Steemit.com
Here for comparison Steemit.com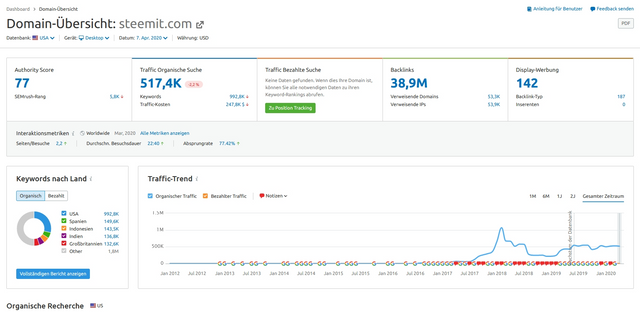 Wieder Hive.blog
Hive.blog again
Hier sehen wir, dass auf Grund mangelnder Daten gar nichts angezeigt werden kann.
Here we see that due to a lack of data, it cannot be displayed at all.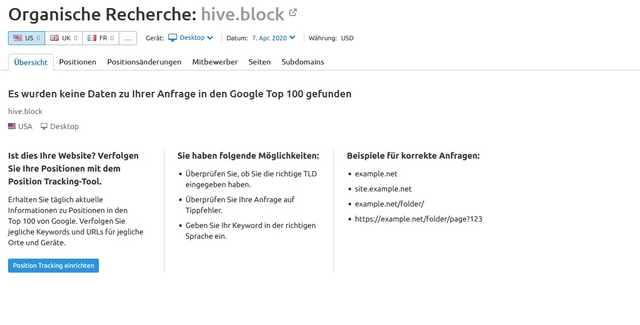 Das selbe Segment für Steemit.com
The same segment for Steemit.com

In Sachen Marketing muss Hive noch sehr viel lernen. Allein eine gute Entwickler-Tätigkeit genügt nicht um ein Projekt erfolgreich zu machen. In Sachen Marketing hat Hive noch einiges zu tun.
Wir sehen das auch sehr gut in den Rankings bei Google. Hive ist hier praktisch fast unsichtbar. Ich vermute, durch das massenhaften Spiegeln von Content greift hier der abstrafenden Mechanismus des Dublicate Contents. Google mag keine Dublikate und weiß sehr genau, wer zuerst da war.
Hive still has a lot to learn in terms of marketing. Good developer work alone is not enough to make a project successful.
We see this very well in the rankings on Google. Hive is practically invisible here. I suspect that the penalizing mechanism of the publicate content takes effect here due to the mass mirroring of content. Google doesn't like duplicates and knows very well who it was first.
Ich bin schon sehr lange im Bereich Suchmaschinenmarketing beschäftigt und besitze auch wichtige Zertifikate, die meine Expertise beweisen.
Ich rate Hive sich von dem Konkurrenz-Denken zu verabschieden. Als direkter Konkurrent von Steemit hat Hive.blog keine Chance. Steemit genießt ein viel höheres Trust von den Suchmaschinen, allein durch das Alter. Das kann Hive nie aufholen. Hive muss einen eigene Weg finden, ohne aggressiv gegen Steemit zu agieren. Solche Aktionen gehen in der Regel nach hinten los.
I advise Hive to say goodbye to competitive thinking. As a direct competitor of Steemit, Hive.blog has no chance. Steemit enjoys a much higher trust from the search engines, just by age. Hive can never catch up. Hive has to find its own way without acting aggressively against Steemit. Such actions usually backfire.
Suchmaschinen sind sehr intelligent und sie wissen und werden es nie vergessen, dass Steemit zu erst da war. Wenn Hive einen eigenen Weg gehen will, dann muss dieser neu sein und darf nichts nachahmen was Steemit tut. Im Web hat immer der Erfolg dessen Marketing besser ist. Hive muss sich da etwas einfallen lassen, wie man vernüftiges Marketing auf die Beine stellt.
Search engines are very intelligent and they will never forget that Steemit was there first. If Hive wants to go his own way, then this must be new and must not imitate anything that Steemit does. On the web there is always success where marketing is better. Hive has to come up with something about how to get marketing right.