Help Steem Get Listed On Niffler! Community Support Needed!
Can we repeat our successful campaign to get Steem listed on Netcoins and get Steem listed on Niffler.co too? You'll have to act fast, though.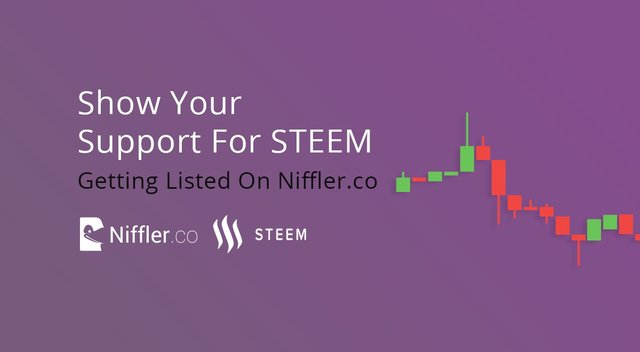 Source
Netcoins Contest Was A Hype
Not so very long ago, you, me and the entire SteemIt community worked hard to get Steem to win the Netcoins contest. It was an example of how strong our community can be if we all work together.
The contest was a real hype on SteemIt and its alternate interfaces: my feed was filled with people trying to get others to vote. And it worked. We won the contest.

Why Is This Different?
10 minutes ago, I stumbled upon a post by @guiltyparties: 'Get Steem Listed On Niffler.co'.
Apparently, this campaign has been running for 3 months, and this is the first time I hear about it. I bet the same goes for a lot of you too.
Now I'm wondering why there has been such a fuzz about Netcoins, while Niffler barely got any attention.
You can read the original invitation post - which was created 3 months ago here.
In those 3 months, only 275 Steemians showed their support, while we need 5000.

What Is Niffler.co?
Niffler.co is a real time simulated crypto exchange that allows newbies the ability to learn about crypto trading without the risk,…once they get good enough, they can make money by teaching others!
Source
Niffler will list SteemIt for free, providing there is enough support.
For the reasons why it is important to get Steem listed on a simulated crypto exchange, I suggest you read @guiltyparties' post about it HERE.
Let me quote the two most important reason that are named in that post:
Trading STEEM in a sandbox will translate to encouraging experienced traders to explore STEEM, invest and join our ecosystem.
and
It would give us a great professional profile with a lot of exposure amongst the trading community. It would also allow Steemians using the Niffler platform to explore branching out through STEEM into other cryptocurrencies without incurring losses.
Source

What To Do To Support This Campaign?
It's easy. Niffler.co has created a special signup page for us, Steemians.
All you need to do is register with your name and your email address, and choose a username.
Once you've done this, your vote has been counted.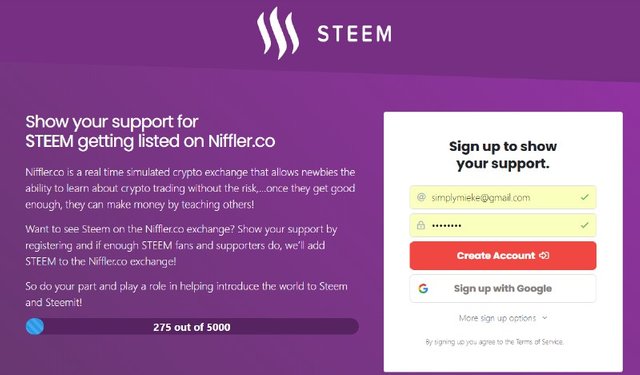 Source
Since the campaign has already been running for 3 months, I don't know how much longer Niffler.co will keep this offer open.
So go there now, sign up and spread the word. If we want Steem to grow, we all need to step in and do out part to make it happen.

Graphic created with The Logo Creator Software
Subscribe Ro RSS Feed | Subscribe To Newsletter
More Posts You Might Like


Join us @steemitbloggers
Animation By @zord189