Spinbot : State of the Bot (October)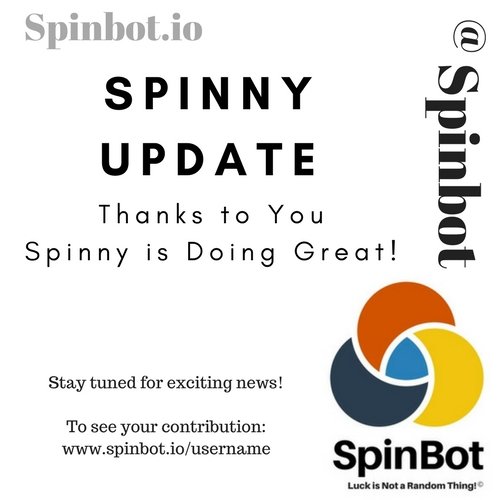 Firstly, we would like to thank you for supporting our project. Without you, Spinny would be a sad and lonely bot!
We'd like to announce a few exciting developments in the @spinbot project.
Firstly, you probably already know but we'd like to make you aware if you didn't, Spinny has a website now!
---
1.) Go to www.Spinbot.io for general information.
2.) To check your status as one of Spinny's friends, enter the following URL:
http://www.spinbot.io/username (The username is your steem account name)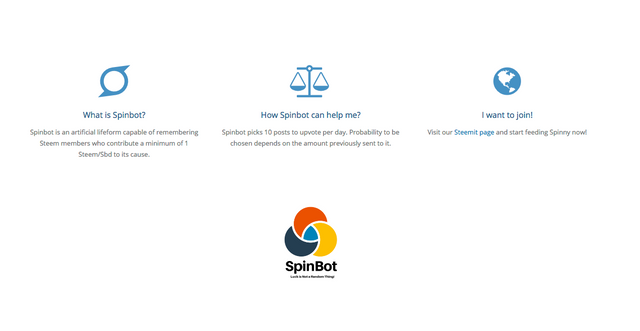 ---
For those of you that don't know what @spinbot is yet, there are some amazing new reviews about our service!

---
We would like to personally thank @buzzbeergeek for this outstanding review of our little Spinny!
https://steemit.com/steemit/@buzzbeergeek/review-of-spinbot-a-new-kind-of-voting-bot
---
We like to describe Spinny as an artificial lifeform spreading happiness in the form of up-votes.
To join the revolution simply send a minimum of 1STEEM or 1SBD to @spinbot to gain a place in Spinny's heart.
Every user who sends 1 STEEM or SBD to @spinbot will be remembered forever and earns a chance to randomly receive one of 10 Spinny upvotes per day.
What's New?
Spinny has gained a record number of new friends and currently has a follower count of almost 70 Steemians in just a few short weeks! If you are a friend but haven't yet received an upvote from @spinbot just be patient, Spinny doesn't forget a friend!
Of course Spinny's vote is dependent upon how much you feed him, the more you feed him the higher probability you will have to receive his upvote. However, Spinny was built with minnows in mind and that's why on Wednesdays and Sundays minnows who have only sent 1 Steem or SBD are more likely to get Spinny's vote because on those days, he throws probabilities out the window and randomly votes on friends regardless of how much they have fed him! This makes Spinny one of the most progressive and caring bots on the planet!
More Exciting News?
We have some exciting new promotions planned for next month. We can't tell you much about it yet but as soon as it's ready to unleash, you'll be the first to know!
Final Thoughts
Keep in mind that Spinny runs on fuel of integrity, honesty and good will!
We've taught @spinbot how to eat SBD now and we will be accepting SBD or STEEM at a 1 to 1 ratio for Spinbot credits. Credits can only be earned by feeding Spinny so don't worry, Spinny's love will only grow for you as you feed him.
We would like to thank you for your support and encourage you to drop by our discord room to discuss Spinny with other members and how we can make it even better! Please, find the link in the bottom.
---
What can Spinbot do for you?!
| What? | Currency | Advantages |
| --- | --- | --- |
| Upvote Posts | SBD / STEEM | Earn a higher percentage chance of upvote based on total Steem investment |
| Comment on Posts | FREE | Promote your blog when Spinny upvotes on other people's posts |
---
CURRENT PARAMETERS:
| Parameter | Value | Remarks |
| --- | --- | --- |
| Minimum Feeding Amount | 1 STEEM / 1 SBD | Minimum STEEM / SBD you can send to @spinbot to be remembered |
| Daily Feeding Limits | 1-10STEEM or 1-10SBD | Maximum STEEM / SBD limit you can send to @spinbot is 10STEEM / 10SBD per day |
| Chance of gaining upvote | 10 Random Votes Per Day | Chance of Upvote depends on the amount of STEEM you have fed Spinny with. Two days per week Spinny ignores the amount it has been fed (assuming user has fed him a minimum of 1 STEEM or SBD) and votes randomly regardless of total amount sent. |
---
Provide us with feedback
We are happy to hear your thoughts!
Join our Discord chat
Get support, promote your posts, and connect with many of Spinny's fans! Spinny currently operates on websites including steemit, busy.org and other Steem blockchain interfaces.