How Can You Buy STEEM in India ? | Secure and Fastest Method | COMPLETE STEPS :)
Hey Guys,
I hope you're doin well.
---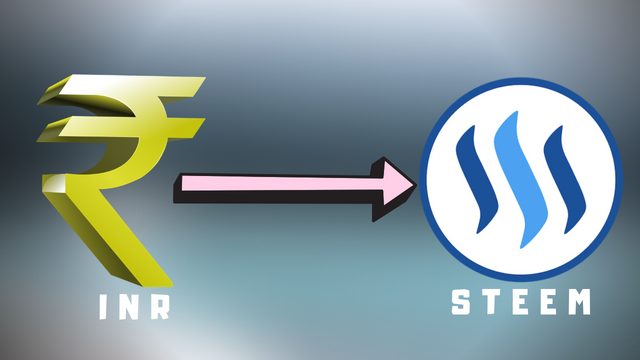 Well in this article I'm gonna reveal you the easiest method which you can definitely try while buying STEEM from the Indian nation. The exchange is highly secure and deals really quick and also do have a real fast customer care service.
HERE's WHAT YOU NEED TO DO -
Go to https://coindcx.com/signup?r=26374444$$Prkfqx and create yourself an account. Make sure you get exactly the following screen when you hit the link. Just follow the on-screen instructions.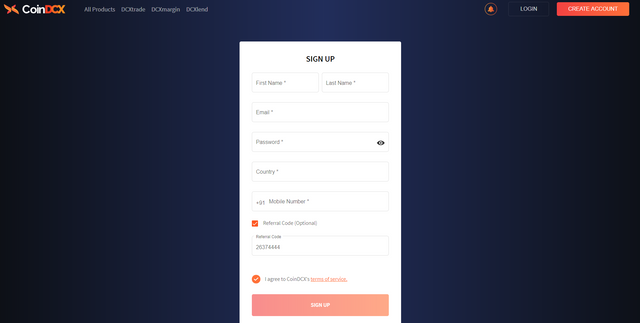 Login to your account with your credntials and a OTP will be sent to your given mobile number, after you've logged in this should be up on your screen.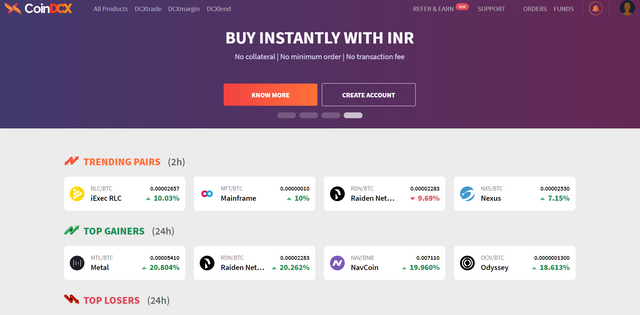 Get Your KYC done. It usually takes just a day to the max to get verified. Go to your profile and you'll see their your KYC status. https://coindcx.com/profile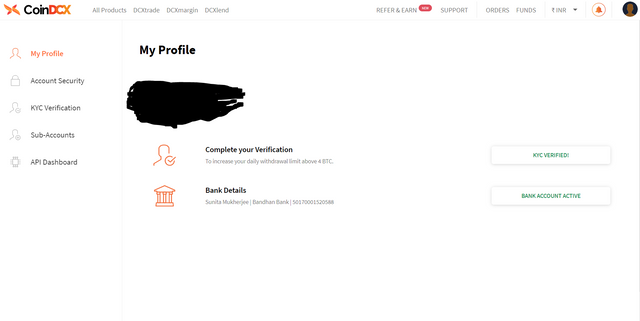 Once you've verified your account you're good to go. Just go to your INR wallet, from the drop down menu of FUNDS available on the top right section of the homepage.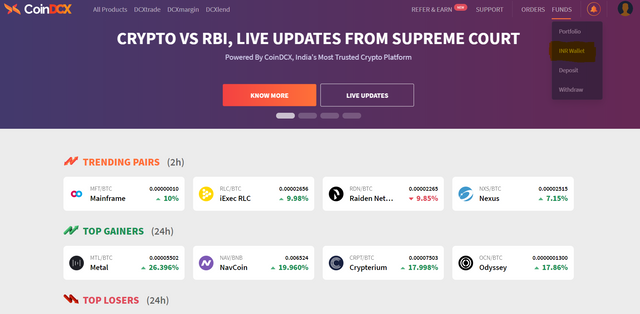 Now you'll get over here


Hit DEPOSIT INR TO WALLET and simply follow the on-screen instructions.


REMEMBER
INR DEPOSITS ARE PROCESSED FROM 11AM - 7PM

Now once you've got your fiat into the exchange you'll need to trade it for some crypto. Most prefererably Bitcoin. Click on PORTFOLIO from the drop down menu.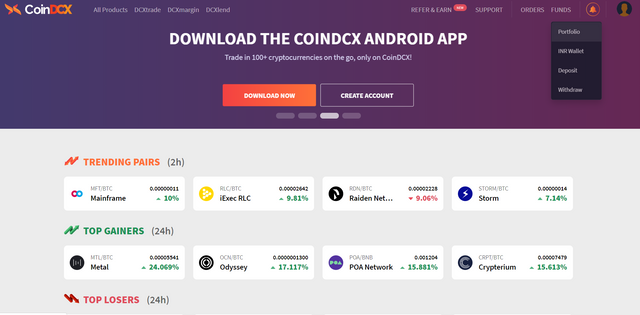 Now hit TRADE just next to your INR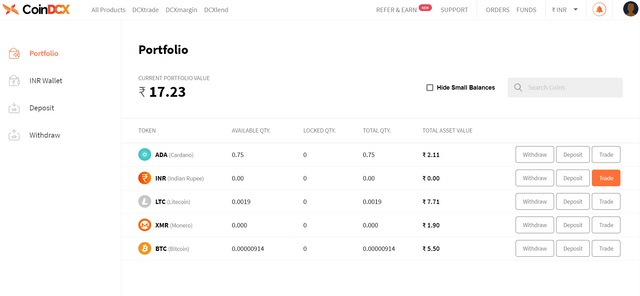 Now Buy BTC as per your requirements using your fiat currency in this exchange by pressing the BUY BTC in the bottom right corner of the page.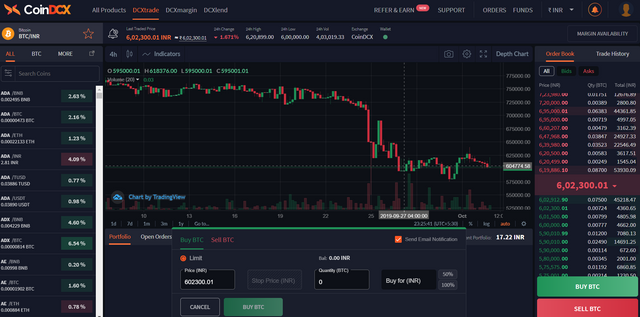 Now, once your order gets filled come back to your PORTFOLIO and click on DEPOSIT next to your just traded BTC.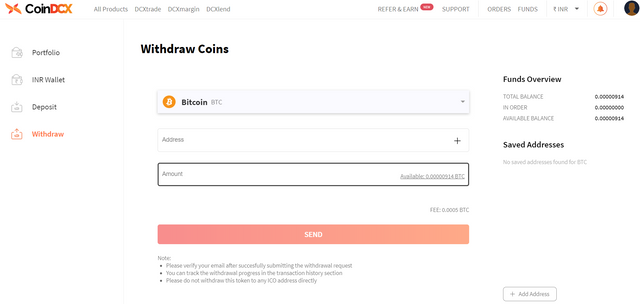 KEEP THIS TAB OPEN AND OPEN A NEW ONE AND HEAD TO https://blocktrades.us/trade, and login in there or create an account if you don't have one
Put in BITCOIN in the SEND column while STEEM in the RECEIVE column upon the trade page upon @blocktrades.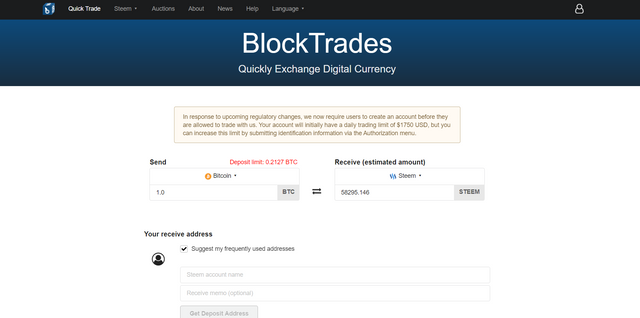 Enter your STEEM username in the given column. And click on GET DEPOSIT ADDRESS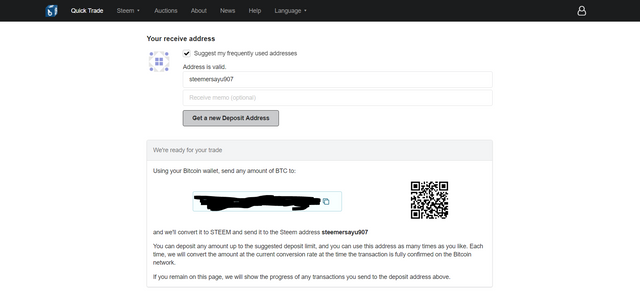 Now copy the provided receiving BTC address and paste it on the tab which you were in STEP - 9 and enter the amount you wanna withdraw and click on SEND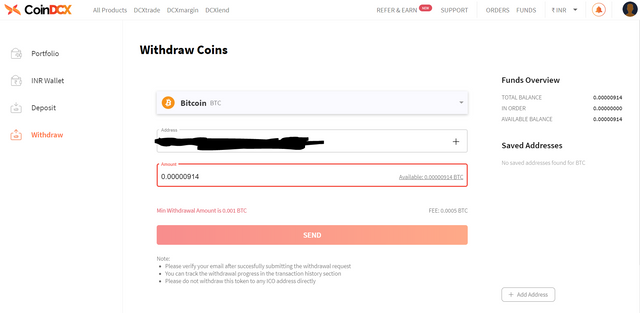 ---
BOOM !
That's it ! You've successfully converted your fiat into STEEM now ! You will shortly receive your STEEM tokens in your @steem wallet soon after @blocktrades verifies your transaction ( which is lightinging quick ). You've now got your STEEM ready to roll !!
I personally have tried this method out a lot of times and have got my job done pretty smoothly without any hiccups and my thumbsup for everyone behind. Do give this superfast and efficient method which is secure a try for your next INR to STEEM journey.
I WILL BE BRINGING A SIMILAR STEP-WISE ARTICLE ON HOW YOU CAN GET YOUR STEEM CONVERTED TO INR very soon :p
---
Please RESTEEM this blog for maximum visibility :)
@STeemersayu907