UPDATE: v0.13 - Schedule your posts on steemit! - Steemitlabs.com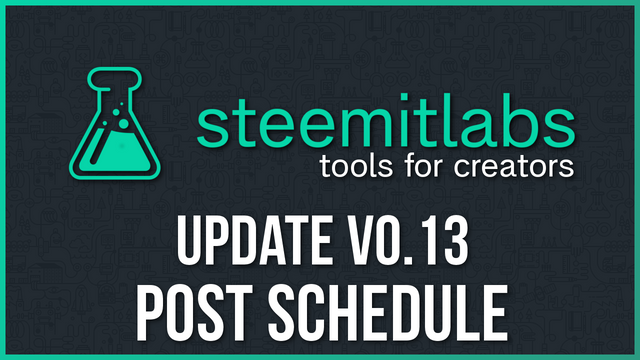 Post Schedule :: UPDATE v0.13
Have you ever wanted to public post at specific date and you wasn't at home or you just didn't have access to your PC? Now it's possible! In this update we added awaited option for steemit bloggers namely Post Schedule. You can now schedule post up to 7 days without giving us any private keys. Simply you are making post like on steemit but you have option to select publication date of your post. You can use our editor or standard steemit and just paste message into message body form. Below you have a little preview how post schedule looks like. Keep in mind that its still in beta, please report any issues. We have also fixed couple of bugs and issues.


New Post Page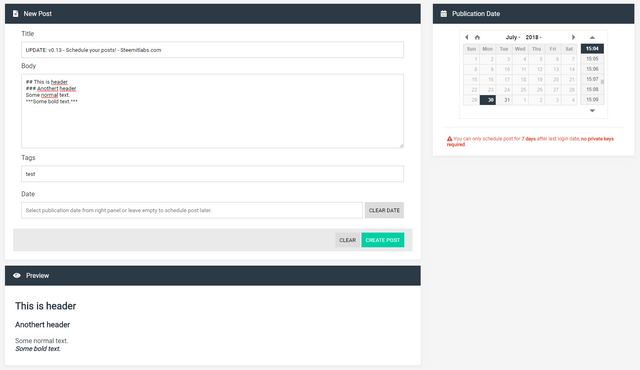 My Posts Page without any post scheduled

My Posts Page with posts scheduled


Change Log
v0.13
Front End

Fixed avatar sizes in delegation page
Fixed calculatior bad voting power values
Fixed misspelled gift name in alert box
Fixed misspelled "votePrecent" in alert box and labels
News page is now using steemit markdown instead of custom markdown
Changed currency changes from 1 hr to 24 hr
Changed display of live streams in streamers online page
Added Post Schedule

Back End

Added support for post schedule

Alert Box

Fixed text to speach "SBD"
Fixed gift names

Event List

Added new three themes
Added size option instead of theme to make small event list

Post Schedule

You can now schedule posts up to 7 days
You can see all your scheduled and steemit posts in my posts page
You can create, edit or delete a scheduled post before post creation date
You can enter up to 4 tags, tag steemit labs will be added automatically

Lista Zmian
v0.13
Front End

Naprawiono wielkość awatarów na stronie delegacji
Naprawiono błędne wartości mocy głosu w kalkulatorze upvote
Naprawiono błędnie napisane nazwy prezentów w alert box
Naprawiono błędnie napisany "votePrecent" w alert box i labels
Zmieniono kurs zmiany waluty z 1h do 24h
Zmieniono wyświetlanie się live steamów na stronie streamers online
Dodano Zaplanowane Posty

Back End

Dodano obsługę dla zaplanowanych postów

Alert Box

Naprawiono czytanie "SBD"
Naprawiono nazwy prezentów

Event List

Dodano trzy nowe skórki
Dodano możliwość zmiany wielkości listy zamian osobnego szablonu

Post Schedule

Możesz teraz planować posty na 7 kolejnych dni
Możesz teraz zobaczyć wszystkie swoje zaplanowane posty jak i posty ze steemit na stronie my posts
Możesz teraz tworzyć, edytować i usuwać zaplanowane posty
Możesz wpisać do 4 tagów, tag steemitlabs będzie dodany automatycznie

Delegations
Help our community growing, delegate your steam power to @steemitlabs. We will use your voting power to help our users creating quality content. If you ever want to take your delegation back, you can always to that. More information here.
Top Delegators

Steem Chat , Steem Projects, Steemitlabs, DLive Group
I'm sorry for all grammatical mistakes, I'm trying hard to write as best as i can.