💸 Bulid a passive income & earn STEEM every day! 🔥 150 STEEM CONTEST INSIDE 🔥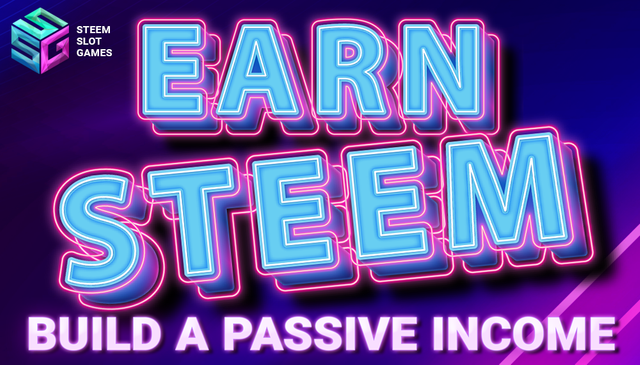 Our new system allows you to get up to 100 STEEM for every player you invite! 💰
All you need to do is invite your friends to play and the dividends for each game they played will be sent to your game account at the end of each day!💸
👉 Check out how simple it works: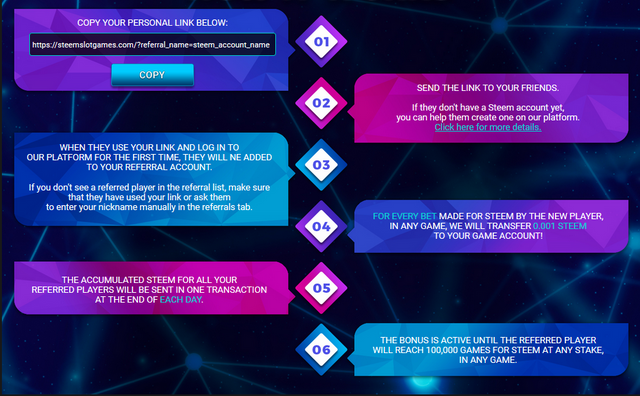 For EVERY GAME played by your friends (at any stake), you will get 0.001 STEEM! "Dividends" will be paid until your player reaches 100,000 games played for STEEM on our platform.

For example, if you invite 7 players and each of them will play 10,000 games you will receive 70 STEEM in dividends! Rewards are paid for each invited player, regardless of the number of players.
You can track the progress of each player in a clear and convenient way:

The accumulated STEEM for all the games played by your players will be sent to your game account at the end of each day. You can withdraw earned STEEM any time or use it in the games and try to smash our bank! 😎
You can find more details in the "Referrals" tab, here:
👉 Click and visit the "Referrals" tab 👈
⚡ That's not all! ⚡
🎉 Any new player who registers an account on SteemSlotGames.com can claim a bonus! 🎉



You can find more info about Account Creator in this post:
👉 Click and check out our Steem Account Creator 👈
🍀🍀🍀
🎁 CONTEST! 🎁
For a good start of the whole action, we have a contest for you!
🔥 Resteem this post to get a share from the 150 STEEM reward pool! 💸
Rules:
Only users with a Steem 55+ reputation can take part in the contest. Only active users who have written a post on their Steem profile in the last 30 days will get their reward. Accounts flagged by any kind of spambots are excluded from the game. Each player will receive an equal share of the prize pool. The prizes will be sent on Tuesday (29.04.2020) to your game accounts.
-------------------------------------------------------------

SSG.com is the first random games platform using ONLY Steem Blockchain and STEEM token! All of our games are fair, fully random and easy to play!
To provide our players with the maximum level of security the login is possible through SteemConnect. Thanks to this all your keys are encrypted on your cookie file and they remain 100% private. You can learn more about the safety and rules of the game in
"How to Play"
tab.
Please remember to always play responsibly and to deposit only the amount of STEEM that will make the game only an entertainment.