Steem Featured on Yahoo Finance Media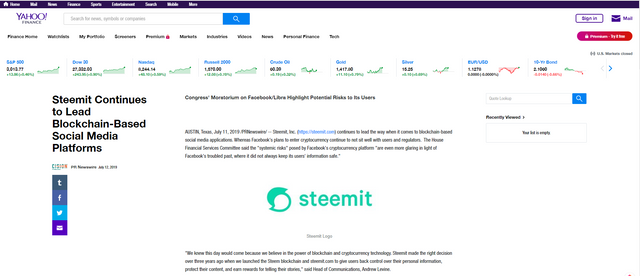 Steem recently featured on Yahoo Finance, the news article originated from prnewswire.com and was then picked up and syndicated by a lot of news outlets including Yahoo Finance.

The news source is cited as Steemit, Inc which is encouraging to see that they are stepping up and showing a passion to get Steem to another level, HF21 is almost under the belt, SMT development has started again and now it seems they are ramping up PR. This is certainly a new side of Steemit, Inc that we are seeing and hopefully the trend continues and they keep this up.
With @elipowell at the helm, it seems that the once struggling company that laid off staff in 2018 has rebounded from strength to strength and is proving their mettle.
GO STEEM!
Steem News Archive
I have been collecting news articles where Steem is featured and have collated it on one of the @tokenbb forums in a section called STEEM IN THE MEDIA please feel free to create a new topic and link any media or articles you find where Steem is featured.
---
If you like what I do, vote for @thecryptodrive witness with this vote link: https://steemit.com/~witnesses
Or use the quick SteemConnect link: https://app.steemconnect.com/sign/account-witness-vote?witness=thecryptodrive&approve=1