Interplay of Steem / USD, SBD / USD and Steem / SBD (Steem三种价格如何相互影响)
Daily Prices of Steem / USD, SBD / USD, and Steem / SBD
Steem兑美元,SBD兑美元以及Steem兑SBD的每日价格
I can not find a chart with all three prices on internet, so I decided to plot them myself. Steem / USD price is from yahoo finance, Steem / SBD is from internal market via steempy and SBD / USD is calculated from the other two prices. Here Steem / USD means how much USD 1 Steem worth, the same for the other two symbols.
因为在网上找不到这三种价格在一起的图,我只好自己画了。Steem兑美元的价格来自yahoo财经,Steem兑SBD的价格通过steempy下载自内部市场,SBD兑美元用前两种价格算出来的。

Three Sections
In my naive analysis, I will divide the prices into three distinct sections as shown with the two dash lines. I will try to proposal some explanations of the price interactions in these regions.
在接下来的粗浅分析中,我把价格用虚线分成三个不同的阶段。我会试着给每个阶段的价格提出不同的解释。

Fooled by The White Paper: beginning - Sep 2016
被白皮书迷惑:开始 - 2016年九月
In the first half year, market participants did not know how to price SBD, so they relied on the definition from the white paper, where it dictates SBD as "A stable cryptocurrency pegged to the U.S. dollar." and promised SBD could be redeemed for 1 USD in the future. Traders made markets for Steem / SBD around 1 USD, as a results, Steem / USD and SBD / USD have the similar prices.
在最初的半年里,市场参与者不知道如何给SBD定价。因此,按照白皮书的定义,大家都选择在1美元左右交易。因为白皮书似乎把SBD铆钉在1美元左右。结果是Steem兑美元和SBD兑美元价格接近。(如上图)

SBD Bottom Protection In Action: Sep 2016 - Nov 2017
SBD触底价格保护机制启动:2016年9月 = 2017年11月
During these 14 months, Steem / USD dropped below 1 USD or around 1 USD. The protection mechanism of SBD kicked in, SBD starts paying interests (my guess, I didn't know for sure). Since you can always convert SBD back to one dollar worth of Steem on blockchain, SBD was fixed around 1 USD.
在这14个月中,Steem兑美元始终低于或徘徊在一美元附近。白皮书中所定义的SBD价格保护机制启动。SBD很可能开始支付利息(我猜的,没看到数据)。因为在区块链上,SBD可以被兑换成价值一美元的Steem,其价格也就被锁定在一美元附近了。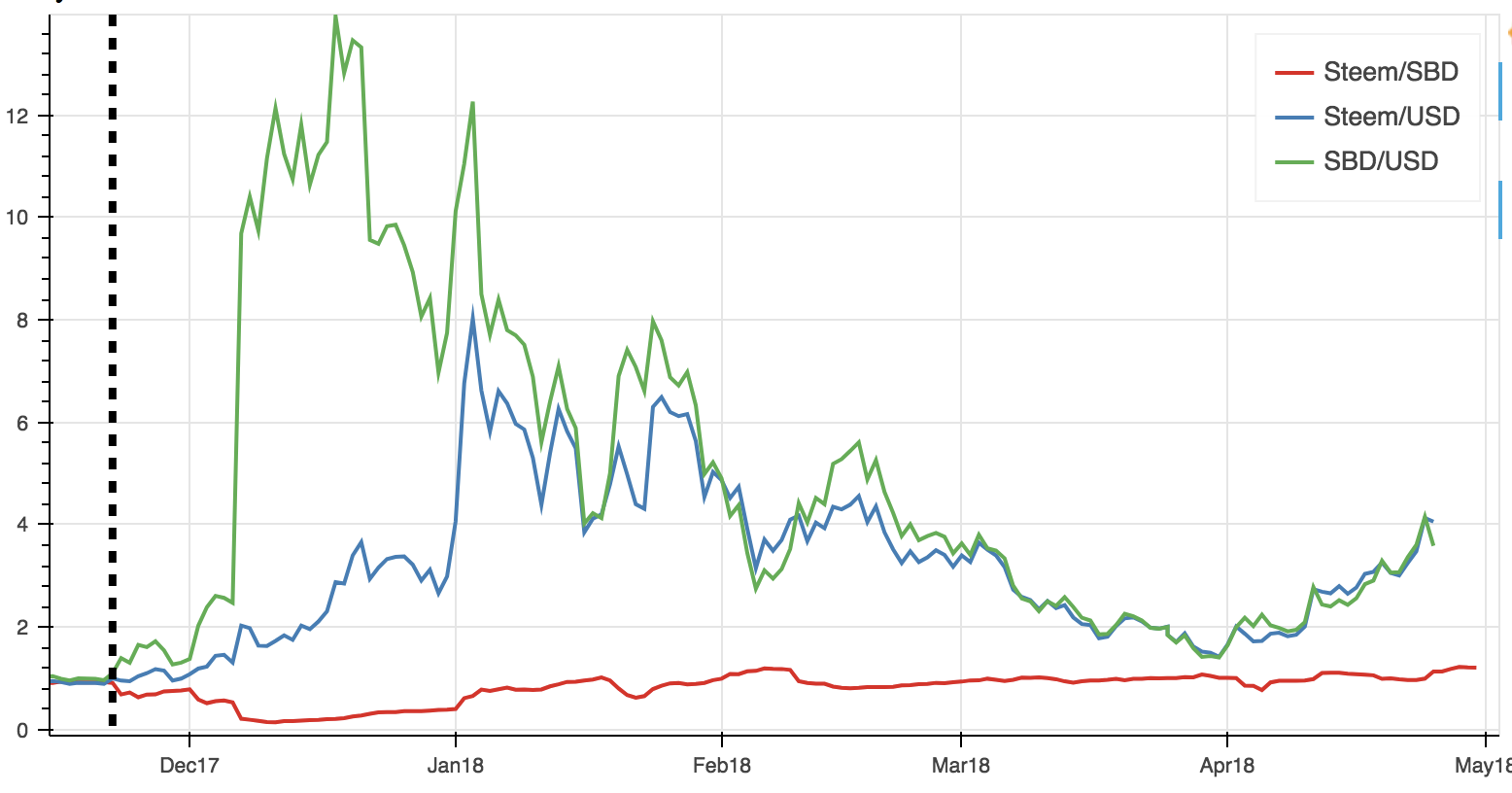 SBD Is Better: Nov 2017 - now
SBD更好:2017年十一月 - 现在
Now, most people realized that SBD has a smaller market cap (max supply = 10% Steem) and a safe bottom at 1 USD, while at the same time it could grow its value based on the impact of steem community and enjoyed the same free transaction fees. It's a better choice for holding liquid asset comparing to Steem. In this period of time, SBD / USD is trading higher than or around the same price as Steem / USD. As a results, Steem / SBD is fluctuating around 1 or below.
现在,大部分人认识到SBD的供给量更小(最多相当于10%的Steem),而且有保底价格一美元。与此同时,随着Steem社区的成长,SBD将有更大的影响力,而且和Steem一样没有手续费。SBD就成为持有流动性高的资产的更好的选择。这可能就是这个阶段SBD兑美元等于或高于Steem对美元的价格的原因,也是Steem兑SBD在1左右或以下浮动的原因。
Disclaimer: These are very naive analysis from a person without any track records. Please make you own judgement and don't invest based on this article.
声明:本人没有技术分析的经验,这些粗浅的分析仅供参考。请自行判断,不要基于本文投资。