Hardfork complete but not as planned.
It seems the Hardfork was hacked and the funds that were going to be removed from specific accounts was sent to Bittrex instead.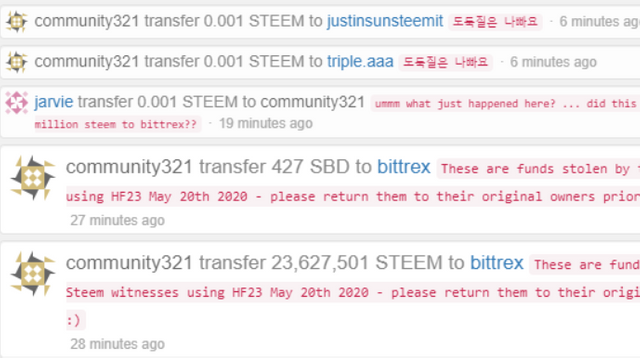 I have no idea how this will sort out, but one thing I know for sure that everyone that is closely involved in okay with tampering with everyone else's stake so it is pretty hard to be upset.
I am sad to see the KR community witnesses quit.
I have no idea how Bittrex will sort this out, but at least there is a clear list of who the funds belong to and sincerely hope even though they are willing to mess with other people's stake that they get their funds back.
Highly entertaining but also sad.
I have no sympathy for those who will mess with other people's stake getting messed with in return.
None of this would have happened if there had been an attitude of stake is sacred and should never be messed with.
Play stupid games win stupid prizes.
Tune in tomorrow for the next drama
Whoever hacked this HF GREAT JOB! It's an amazing thing to do.