Memperkenalkan MIRA
Hai teman-teman steemit dimanapun berada. Ini ada informasi menarik dari tim steemit, tentang MIRA. Ini merupakan program baru yang dikembangkan untuk steem dan mungkin sangat bermanfaat untuk kita semua.
Di bawah ini adalah terjemahan bebas dari postingan @steemitblog tentang Perkenalan MIRA. Jika ada kekeliruan dalam penterjemahan, saya mohon maaf, karena sebegian terjemahan menggunakan google penterjemah.
Hi friends steemit wherever you are. This is interesting information from the steemit team, about MIRA. This is a new program developed for steem and may be very useful for all of us.
Below is a free translation of the @steemitblog post about Introduction to MIRA. If there is a mistake in the translation, I apologize, because some translations use Google Translator.
Berikut terjemahan bebas dari tulisan aslinya:
The following is a free translation of the original writing: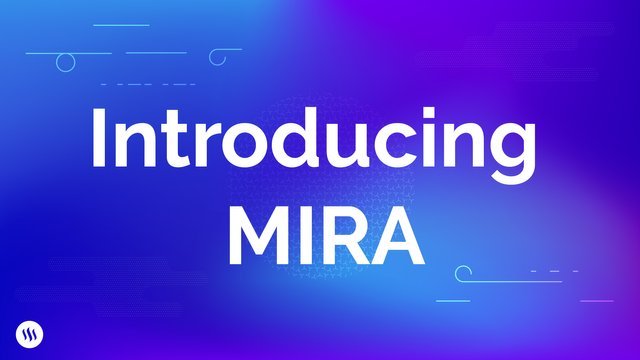 Hello Steemians,
Pada hari Senin kami berbagi pembaruan singkat tentang kemajuan kami dan sekarang kami ingin memperbarui Anda pada teknologi baru yang kami kembangkan untuk Steem yang disebut MIRA, yang merupakan singkatan dari Multi Index RocksDB Adapter.
Tujuan dari MIRA adalah untuk memungkinkan node node blockchain Steem untuk menyimpan hampir semua data yang diperlukan pada disk dalam database modern daripada di RAM. Salah satu hal yang kami fokuskan sekarang adalah RocksDB bekerja dengan konsistensi data. Kami memiliki implementasi MIRA pertama yang dilakukan dan dibuat dengan steemd, dan saat ini sedang mengerjakan debugging dan pengujian.
Salah satu keuntungan dari ini adalah bahwa node akan lebih berperforma pada perangkat keras rata-rata. Manfaat lainnya adalah bahwa node akan jauh lebih murah untuk dijalankan. Dalam kedua kasus, ini membantu Steem lebih mudah diadopsi oleh pengembang aplikasi dan pertukaran. Akibatnya, Steem harus menjadi lebih terdesentralisasi karena hambatan masuk untuk menjalankan node secara dramatis diturunkan.
Tim Steemit
Salam penterjemah
@zaizafh