How IAT Revolutionalize Real Estate Industry Using Blockchain Technology
The IATokens concept aims to revolutionize the real estate industry using Blockchain technology through the development of the IAT Platform.
IAT comes as a breakthrough solution for investors in real estate so they can get optimal returns on their investments in a more convenient way. The blockchain and digital technology applied are aimed at providing protection for investors for any risk they might get.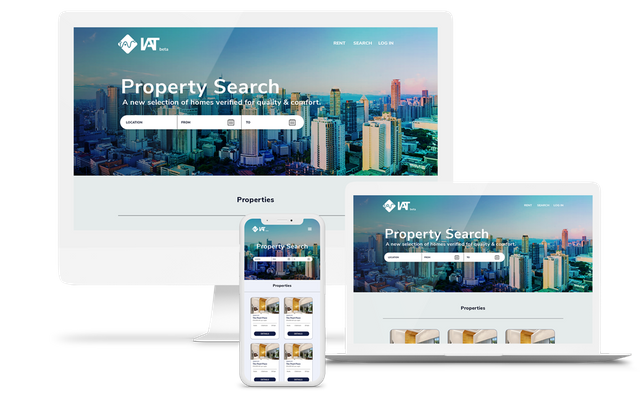 Introduction about IATokens
The IA Tokens concept is a form of real estate tokenization and will be released via a process of Initial Coin Offering or ICO on the Ethereum network and will be ERC- compatible.
On these platform, the company offers to select the necessary asset from an extensive catalog in which there is a desire to invest. The team created Real Estate and IA tokens .It is possible to use these tokens in transactions and at the same time make a profit. The platform will offer a wide range of opportunities, such as equity investments, crowdfunding, p2p sales, rental, resale of new construction projects, real estate advertising. In addition, the company offers various bonus programs that will motivate sellers and users of real estate.
Investing in real estate has long been considered the most reliable means to preserve and increase wealth, and there are probably as many as human civilization. And at present, this type of investment has reached truly global proportions. This is a huge and rapidly developing market, which until recently was inaccessible to many segments of the population.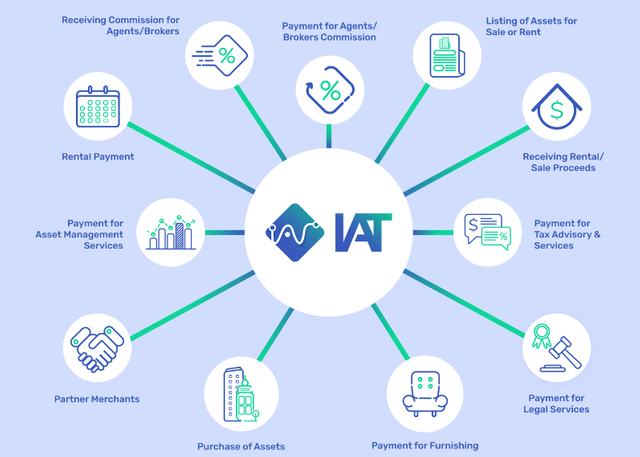 How to Control Your Investments
SAFE & SECURE
Asset ownership is stored immutably and decentralised on the Ethereum Blockchain. This means that your transactions are transparent and secure.
P2P EXCHANGE
You can sell your blocks (shares) through our online auction feature or directly through Peer 2 Peer exchange with any of our members meaning your returns on a highly sought property are worth as much as anyone is willing to pay for it!
PAYMENT
Payment is made by Smart Contract or paid directly into your bank account in FIAT cash.
TRACK
Track your payments and investments through our online platform, get notification via email on your winning bids or sales from our online digital agent
CONTROL
Your Private key gives full control of your assets and payments on the IAT Network platform
With IAT, they aim to change the way people invest in the real estate industry. People with much lesser income can now invest and earn in this kind of industry. Also making it simpler and easier. IAT is made on top of the blockchain technology which means more transparency, faster transactions and more cost efficiency.
The Innovative Solution
The innovative solutions realized in IAT provide the harmonic combination of classic methods of investments in real estate with the possibilities of the most progressive and modern achievements of digital economy. IAT will allow to invest in investment tools, such as real estate, in a simple and convenient way. At the same time, it will give to investors the access to use the developing distributed economy of digital opportunities such as blockchain and cryptocurrency.
The simplicity and convenience of investing, the exclusion of intermediaries, the elimination of borders and freedom of choice, stable guaranteed profit, the highest level of reliability and security of investments are the main features of IAT.
What improvements IATokens offers?
High investment reliability
Reception of direct income from real estate investments and indirect, from the growth of the value of the IAT token
Owning a portion of all properties owned by the IAT platform
Low threshold for entering the real estate market
All processes on the platform are transparent and protected by blockchain technology and smart contracts.
one of the advantages of IAT is the token guaranteed by real assets. IAT is the first project to have its own cryto currency called IA TOKEN, and this token is guaranteed with tangible assets. not only assets, but also assets with high security, namely Real estate.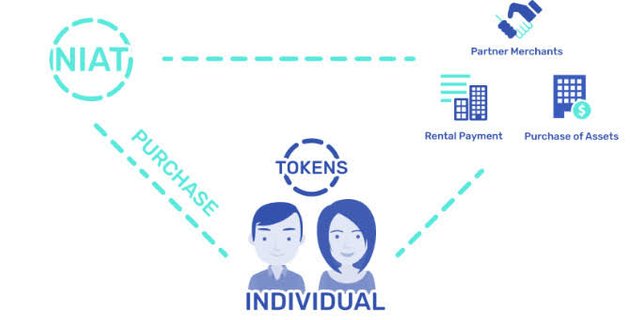 This planning stage system will release a token IAT in the market (guaranteed by real assets) which has its own platform and will eliminate circulation free of token insecurity and also the volatility of digital currencies and the possibility of digital currency destruction will not affect the price of IAT tokens , because the value of the token is based on tangible assets
Why people should use IATokens
IAT provides for the internal tokenization of all property owned by the company. The IA token will be the cryptocurrency expressed part of the value of all objects belonging to the platform, i.e., it will actually be provided with real assets, and the owners of IA tokens will become owners of the corresponding part of IAT real estate. In addition to IA tokens, developers release utility-token. All investors who want to buy IAT tokens will receive an equivalent benefits as a bonus.
IAT Platform will revolutionize people see and interact with real estate investment. It is the procedure of the future and IAT will take the first big leap into the crypto sphere from the oldschool real estate practice.

As we know property investment requires considerable capital and other things. This platform provides a solution to this problem by providing opportunities for anyone to invest in property with a minimum of $50. In addition, selling property takes a long time, but their platform takes advantage of this process and provides opportunities for customers who have assets to trade the "share" property they have, this certainly provides a healthy cash flow scheme with passive income for both parties. where customers who have shares get a share every month and the owners of property assets who get income without the need to sell their property assets.
Buy IAT using PROB, Get 40% Bonus
For more information