Do not rush to the edge of the precipice!
Dear Brothers, I have been a little absent for reasons that many already know, however, I thank all those who send me their good wishes for Discord!*
Also our Apostle Daniel Marcelo is living a strong moment for the death of his sister, I ask you to please pray for HIM and for your family. God comfort your hearts!
---
The topic that concerns me today is:
Do not rush


Nobody in a healthy conscience would wish to be in front of a precipice, without the glimpse of some other solution around him to avoid throwing himself into it.
At least as far as a literal precipice is concerned, nobody would want to. But, did you know that many of us, at times, place ourselves exactly in that situation? Through unthinkable acts and inconsistent words or, acting hastily.
Proverbs 4:26 Advises us: "Examine the path of your feet, and all your ways will be established."
Some definitions of the word considering the dictionary are: Enjoy with maturity, consider suspension. On the other hand, to precipitate is the same as to throw oneself in a precipice, to proceed unthinkingly. The act of acting without thinking causes many people to lose the best of God simply because they do not exercise self-control. The precipitation is undoubtedly the cause of many setbacks, exaggerations and frustrations that we see there.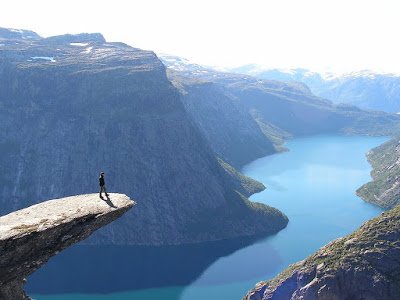 Source
I always say that it is better to take time to make a decision and do it correctly, than to decide in seconds, something that will last for a lifetime. It can be tragic to act like that.
When we consider the Holy Spirit, sent to guide us to the whole truth, we are pondering the path of our feet. What we do in the momentum can harm not only ourselves, but also those who are close to us.
I know that there are times when our soul seems like a giant carrying a building on its back and our tongue seems to have a will of its own, I have already gone through such moments and I do not say that I escaped successfully from all, on the contrary, the fact , to drop words like arrows already put me in many discomforts.
But, we are all growing and learning to use our language for good. However, to make important decisions in life, always cultivate the habit of thinking, thinking and thinking a little more, in fact after being born again I learned to pray to know what to do, finally, as a child of God, I can and , I must be guided by the Spirit of God.
The excitement of new and great things can not take the place of obedience to God in our lives and, even when we disappoint with people or go through certain frustrations, it is not acting on the impulse that will solve the situation. Do not make decisions based on the emotion of the moment, as they can ruin your life and delay God's plan for you. The Bible says that when we reflect, our paths become orderly, when we stop and analyze before deciding, we put our steps in order to get exactly where we want to go.
The shortcuts are not valid when it comes to the path traced by God for us, He is the one who knows where we should go.
As @sirknight said yesterday; many run, they are afraid... all this happens when people lose control and rush to flee, so there are many examples.
My recommendation is always:
Trust in the LORD with all your heart, and do not lean on your own prudence. Acknowledge him in all your ways, and he will make your paths straight. Do not be wise in your own opinion: fear the Lord, and turn away from evil; Because it will be medicine to your body, And refreshment for your bones.
Proverbs 3: 5-8
Be wise and strong