Do not give up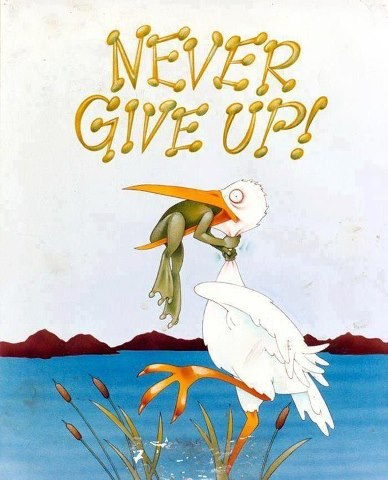 Source
---
---
When we hear voices that do not come from God we begin to weaken there is the role played by our enemy to defeat us.One of the things that Jesus did not like about the Pharisees is that they looked like whitewashed graves, outside they were well practicing the law but their hearts were far from God.
They were like this because they lost hope, from within they gave up, which led them to live a life of hypocrisy and lack of mercy. This is the danger of being dominated by thoughts of defeat.
John 8:44 King James Version (NIV)
44 You are of your father the devil, and the desires of your father you want to make. He has been murdered from the beginning, and has not remained in the truth, because there is no truth in him. When he speaks a lie, he speaks of his; because he is a liar, and a father of lies.
Reina Valera 1960 (RVR1960)
Reina-Valera Version 1960 © Bible Societies in Latin America, 1960. Renewed © United Bible Societies, 1988.
---
---
Satan's strategy is to steal our hope, he has the goal of giving up and losing faith and hope, and we begin to focus on the things of the world that in the church and on the things of God, we weaken.
How many nights and mornings the enemy comes to mind to steal our future, we look at a wall of impossibility. but our hope is linked to God not in men or circumstance. You know where faith comes from, to hear from looking at the word of antiquity and see what God did in ancient times.
If you ask God for a prayer and it has not been answered, it does not mean that God will not do it in time, it is there that the enemy waits to steal, steal and destroy.I quote the verse from John, since Jesus made reference to the religious of the time, they lived by the law they did not know grace, in a time these people believed in Jehovah, but legalism hardened his heart and they lost their way .
Do you know when we lose hope? when we do not know God, we have heard him as the Pharisees but we have never found him, no one who knows Jesus remains the same. All good, fair, good name we must think, we must not let the pause...
We cannot give up soon, because God's thoughts are not ours, and after a long trial comes a great victory, do not be discouraged.There are many examples of perseverance in the word, such as that of Noemi and Ruth, although Noemi had lost hope and had entered into bitterness of the soul, Ruth became forataleó in God, took courage and fought for the blessing of both.
We can never remain in mara, place of bitterness unless our requests to the God of heaven are known and his peace will give us hope again.
Wait on God, the battle of knee and faith begins so that our hope is returned.
The word says that there are three that remain faith, hope and love, and the greatest of them is love.
God is the same yesterday, today and forever and ever.
---
---
Apostle Daniel
@refurgechurch